Court denies Trump immunity
By HENG WEILI in New York | China Daily Global | Updated: 2020-07-10 11:29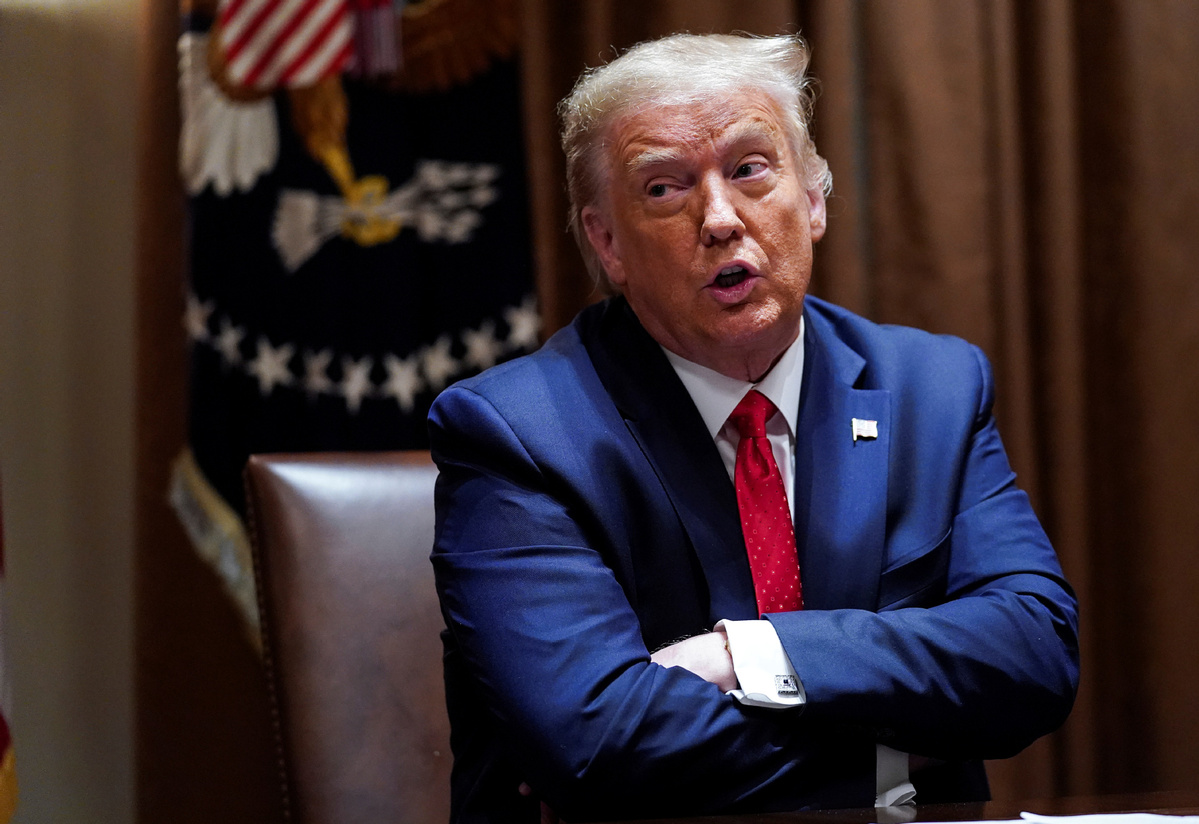 The Supreme Court in two rulings on Thursday denied President Donald Trump's claim of "absolute" legal immunity against attempts by New York prosecutors and congressional committees to access his financial records, but lower courts still will have to resolve some issues in both cases, which likely will not occur before the Nov 3 presidential election.
The president's two Supreme Court appointees, conservatives Neil Gorsuch and Brett Kavanaugh, joined Chief Justice John Roberts and the four liberal justices in both 7-2 rulings, rejecting Trump's arguments that the Constitution gave him immunity from any criminal proceedings as a sitting president.
Manhattan District Attorney Cyrus Vance, a Democrat, and three House committees issued subpoenas for financial records to third parties, not to the Republican president himself. Trump sued to block enforcement of the subpoenas.
In the New York case, the top court ruled that the subpoena sent to Trump's accounting firm, Mazars LLP — which called for various tax returns and other financial records to be turned over to a grand jury as part of a criminal investigation by Vance — can be enforced.
In the other case, the justices rejected Trump's arguments on expansive presidential powers as he tried to block subpoenas sent by the House committees to Mazars and two banks for his financial records.
But the court also faulted the broad arguments made by the House about why it needed the records and sent the litigation back to lower courts for further review, likely delaying the outcome to after the election.
"We are pleased that in the decisions issued today, the Supreme Court has temporarily blocked both Congress and New York prosecutors from obtaining the president's financial records," said Jay Sekulow, Trump's personal lawyer. "We will now proceed to raise additional constitutional and legal issues in the lower courts."
"It gives him what he most needed politically, which is to avoid pre-election disclosure," Chris Bryant, a constitutional law professor at the University of Cincinnati College of Law, told time.com. "I have very little doubt they are high-fiving over there at 1600 Pennsylvania Avenue."
The New York Times Editorial Board wrote that "the bottom line is that Mr. Trump will almost certainly get to keep hiding his tax returns (Remember those? The ones he promised to release five years ago?) and his other financial records from the American people, who will be asked to decide in a matter of months whether to give him another term."
"While defeated on his claim that he is above the law, Trump is now beyond the law until after the November election," said Representative Lloyd Doggett, a Texas Democrat.
But Trump still voiced displeasure with the rulings.
"Well, the rulings were basically starting all over again, sending everything back down to the lower courts and you start all over again," Trump told reporters at the White House on Thursday. "And so, from a certain point I'm satisfied, from another point I'm not satisfied because, frankly, this is a political witch hunt the likes of which nobody's ever seen before. It's a pure witch hunt. It's a hoax, just like the Mueller investigation was a hoax that I won, and this is another hoax, this is purely political."
House Speaker Nancy Pelosi said Democrats will continue investigating Trump and seek to enforce the subpoenas.
Trump's argument that he was immune from any criminal process "runs up against the 200 years of precedent establishing that Presidents, and their official communications, are subject to judicial process", Roberts wrote.
"No citizen, not even the president, is categorically above the common duty to produce evidence when called upon in a criminal proceeding," he wrote.
Roberts also rejected the suggestion that the decision would subject future presidents to harassment by local prosecutors, noting that the court in 1997 did not accept a similar argument made by President Bill Clinton when he faced a civil lawsuit brought by Paula Jones, who had accused him of making unwanted sexual advances.
"Congressional subpoenas for the President's personal information implicate weighty concerns regarding the separation of powers," Roberts wrote. "Neither side, however, identifies an approach that accounts for these concerns."
House committees issued subpoenas seeking Trump's financial records from Mazars LLP, Deutsche Bank and Capital One.
NBC correspondent Pete Williams wrote that "because of grand jury secrecy, however, Trump's tax returns would be unlikely to become public if they are handed over to the DA unless prosecutors file criminal charges against current or former employees of the Trump Organization."
The investigation launched by Vance's office in 2018 into Trump and the Trump Organization was prompted by disclosures of hush payments to two women who said they had past sexual relationships with him, pornographic film actress Stormy Daniels and former Playboy model Karen McDougal. Trump and his aides have denied the relationships.
The House Oversight Committee in April 2019 issued a subpoena to Mazars in response to the testimony of Michael Cohen, Trump's former lawyer. The House Financial Services Committee has been examining US property deals involving Trump.
The House Intelligence Committee is investigating whether Trump's dealings left him vulnerable to the influence of foreign individuals or governments.
Reuters contributed to this story.