Judicial independence 'intact' under new law
By Gu Mengyan in Hong Kong | chinadaily.com.cn | Updated: 2020-07-10 14:26
A prominent Hong Kong barrister said criticizing the Hong Kong chief executive's power to select the judges to hear national security cases is "grossly unfair."
Critics say the practice undermines Hong Kong's judicial independence, but Senior Counsel Ronny Tong Ka-wah told China Daily in an interview on Wednesday that "judicial independence" means judges independently deal with cases before them, free of interference from outside agencies.
The National Security Law for Hong Kong, which took effect on June 30, stipulates that the Hong Kong leader shall designate a group of judges to adjudicate on national security cases.
"The chief executive appointing judges has been a part of the city's judicial system for a long time. There's no system in the world where judges can appoint themselves," said Tong, who is also a member of Hong Kong's Executive Council.
Tong said that under the Basic Law, all judges in Hong Kong are appointed by the chief executive upon the recommendation of an independent committee.
Chief Executive Carrie Lam Cheng Yuet-ngor is unlikely to know exactly who is the best suited to hear cases related to national security, so she has to consult with the chief justice, and that's what she did, Tong added.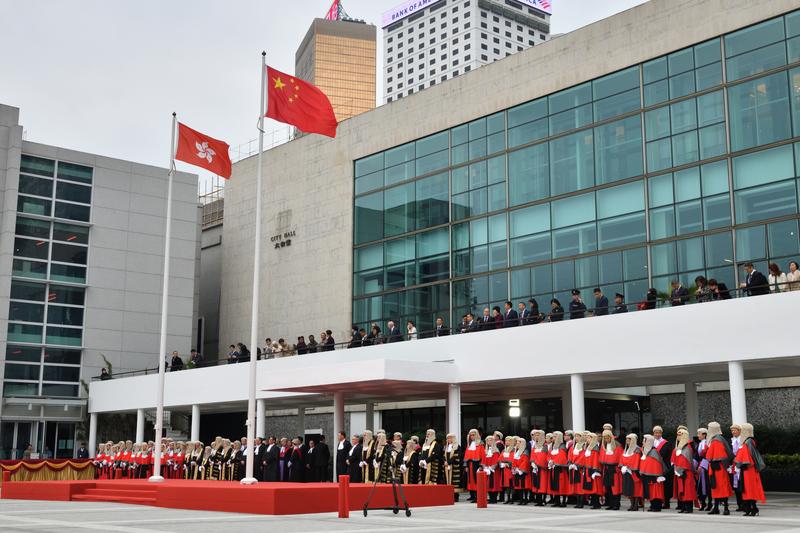 Lam earlier designated six magistrates to rule on national security cases after consulting with Chief Justice Geoffrey Ma Tao-li. She said she will have no involvement in the assignment of judges in individual cases.
Tong said the accusation that judicial independence is undermined is an "insult" to every serving judge in the city because it implies quite a few judges are corrupt and receive instructions from the central and the special administrative region governments.
"I got very angry when I heard about it. It's the most unfair and demeaning accusation against our judges. Because that suggestion somehow insinuates that there are good judges and there are bad judges," he said.
The common law expert also noted that the new law establishes "a reasonable compromise" between the protection of individual rights and the protection of State secrets. A case under the law will come before a three-judge panel if it is not heard by a jury.
Tong said most Hong Kong people can be at ease with the law's Article 4, which stipulates that the rights and freedoms guaranteed specifically by two international human rights covenants will be respected and protected. "This represents Beijing's respect for the 'one country, two systems' principle," he said.
Reference to filibustering
Tong, a former Hong Kong legislator, said a few provisions of the new law were motivated by specific events related to last year's social unrest.
"I am relatively happy to see the elements of four offenses clearly spelled out and close to common law language," Tong said, adding that he believes people who say the law is ambiguous may not understand national security laws.
He cited Article 22 in the "Subversion" chapter of the new law, which criminalizes "seriously interfering in, disrupting, or undermining the performance of duties and functions" of the SAR government. Tong said the article is "not vague at all" and could be applicable to some lawmakers who paralyze the Legislative Council with endless filibustering.
LegCo's House Committee, which scrutinizes proposed bills, had failed to elect a chairperson to head its meetings after protracted opposition filibustering that lasted from October to May. Some sessions were marked by scuffles with LegCo security guards and disruptive chants from opposition lawmakers.
"I tend to take the view that if you were to paralyze the working of the legislature for half a year or more, the damage could be quite serious, … which results in no laws being passed within the period and effectively obstructs lots of government work. In this case, I think you come quite close to infringing on the provision," Tong said. It's the responsibility of the courts to measure the seriousness of the damage, he added.
'Double standards'
Tong also addressed the issue of foreign interference, commenting on remarks by US Secretary of State Mike Pompeo, who recently called the National Security Law for Hong Kong "an affront to all nations".
Pompeo specifically referred to Article 38, which he said could lead to charges against Americans who are not in Hong Kong or on the Chinese mainland. Article 38 of the National Security Law says foreign nationals outside Hong Kong having committed relevant offenses against Hong Kong are subject to prosecution.
Tong said such views are typical of Western politicians, reflecting the double standards when issues relate to China. In fact, the US has far more extraterritorial laws than other jurisdictions, he said.
US prosecutors have increasingly used extraterritorial jurisdiction to levy charges against foreigners accused of terrorism or organized crime-related offenses, for example, by linking suspects to the influx of drugs to the country or to money laundered through US financial institutions, according to analysis by InSight Crime, a Washington-based nonprofit investigative body.
National security cases always involve "foreign forces" — people not on your territory but trying to harm you, Tong said. "You should not let criminals escape justice simply by leaving or remaining out of certain territory. It's not in the interest of justice," he said.
But Tong acknowledged that the article, like similar stipulations in national security laws of other jurisdictions, will be difficult to implement. "That is something that every national security law would have to face," Tong said.