Polish President Duda retains office in tight race
By JULIAN SHEA | China Daily | Updated: 2020-07-13 09:41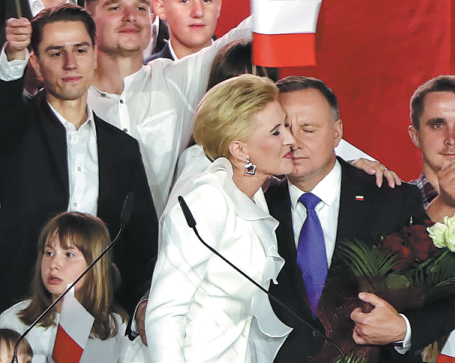 Poland's incumbent President Andrzej Duda has beaten challenger Rafal Trzaskowski by a narrow margin to be reelected as president, in a vote that could have a major bearing on the country's future political direction.
According to figures from the National Electoral Commission based on a count of votes from almost all the districts, social conservative Duda beat his more liberal rival, the mayor of the capital city Warsaw, with 51.2 percent of the vote, the smallest margin of victory since 1989.Final results could vary slightly, but Duda's lead appeared unassailable.
Turnout was at 68.2 percent, and with a very small number of polling stations having not yet returned their ballots on Monday morning, the result could not be declared absolute, but electoral officials said they were confident those figures would not affect the final outcome.
"I don't want to speak on behalf of the campaign staff, but I think that this difference is large enough that we have to accept the result," said Grzegorz Schetyna, the former head of Poland's opposition Civic Platform group.
Duda and Trzaskowski were the last two candidates left from an original list of 11. The election had been due to take place in May, when Duda's opinion poll ratings were higher. Despite the novel coronavirus outbreak having not even hit its peak, his Law and Justice Party was keen for it to go ahead, before one of its junior coalition partners sided with opposition criticism of the proposal, and the ballot was delayed.
It had been thought that Poland's many overseas voters would deliver a lot of support for Trzaskowski, and Civic Platform said it had heard of numerous reports about Polish voters abroad failing to receive their voting papers in time.
In the run-up to the election, Duda was welcomed to the White House by US President Donald Trump, who said: "I don't think we've ever been closer to Poland than right now."
Duda had got an apparent endorsement from Trump with a last-minute White House invitation in late June. Trump praised Duda, saying: "He's doing a terrific job. The people of Poland think the world of him."
Relationship with EU
One of the election's main issues was Poland's relationship with the European Union, an organization Trump has frequently criticized. Duda's successful reelection could mean his government could go ahead with policies which are likely to increase those tensions.
Duda's campaign also focused on defending traditional family values in the mostly Catholic nation of 38 million people, and on preserving social spending policies.
The party's policies include hugely popular monthly cash bonuses of $125 per child to all families irrespective of income. They have helped alleviate poverty in rural regions, and given all families more money to spend.
Duda, who first took power in August 2015, will also likely go ahead with further reforms of the judicial system.
Agencies contributed to this story.