Ministry accuses US of troublemaking on S. China Sea
By ZHOU JIN | CHINA DAILY | Updated: 2020-07-16 08:10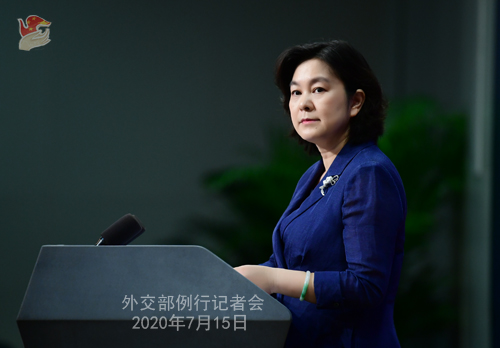 China said on Wednesday it was not afraid of any sanctions the United States might impose over the South China Sea issue, and accused Washington of stirring up trouble in the region and driving a wedge between regional countries.
Foreign Ministry spokeswoman Hua Chunying made the remark at a daily news briefing after Reuters reported that David Stilwell, US assistant secretary of state for East Asian and Pacific affairs, warned on Tuesday that Washington could respond with sanctions against Chinese officials and enterprises involved in the South China Sea issue.
Stilwell spoke just one day after US Secretary of State Mike Pompeo said that "Beijing's claims to offshore resources across most of the South China Sea are completely unlawful".
Urging Washington to reconsider its policies, Hua said, "As the world's most developed and powerful country, the only superpower, the US arbitrarily talks about sanctions, which is very pathetic."
Hua said that Stilwell's remarks again showed that the US wishes nothing but chaos in the South China Sea and makes the utmost efforts to sow discord between China and other regional countries.
The US has dispatched advanced military aircraft and warships to flex its muscles in the South China Sea, while it also issued a statement to undermine the efforts of regional countries to jointly maintain peace and stability.
Such practices will only make the world more aware of US hypocrisy and hegemony, she said.
According to the US military, a US Navy destroyer carried out a freedom of navigation operation on Tuesday near the Nansha Islands in the South China Sea.
China will continue to firmly safeguard its sovereignty, security and legitimate rights on the South China Sea issue and maintain friendly cooperation with regional countries, Hua said.
She said she hopes that the US will not go further down the wrong path, urging Washington to play a constructive role in maintaining regional peace and stability.