New tech transforming shopping experiences
By Fan Feifei | China Daily | Updated: 2020-07-22 09:14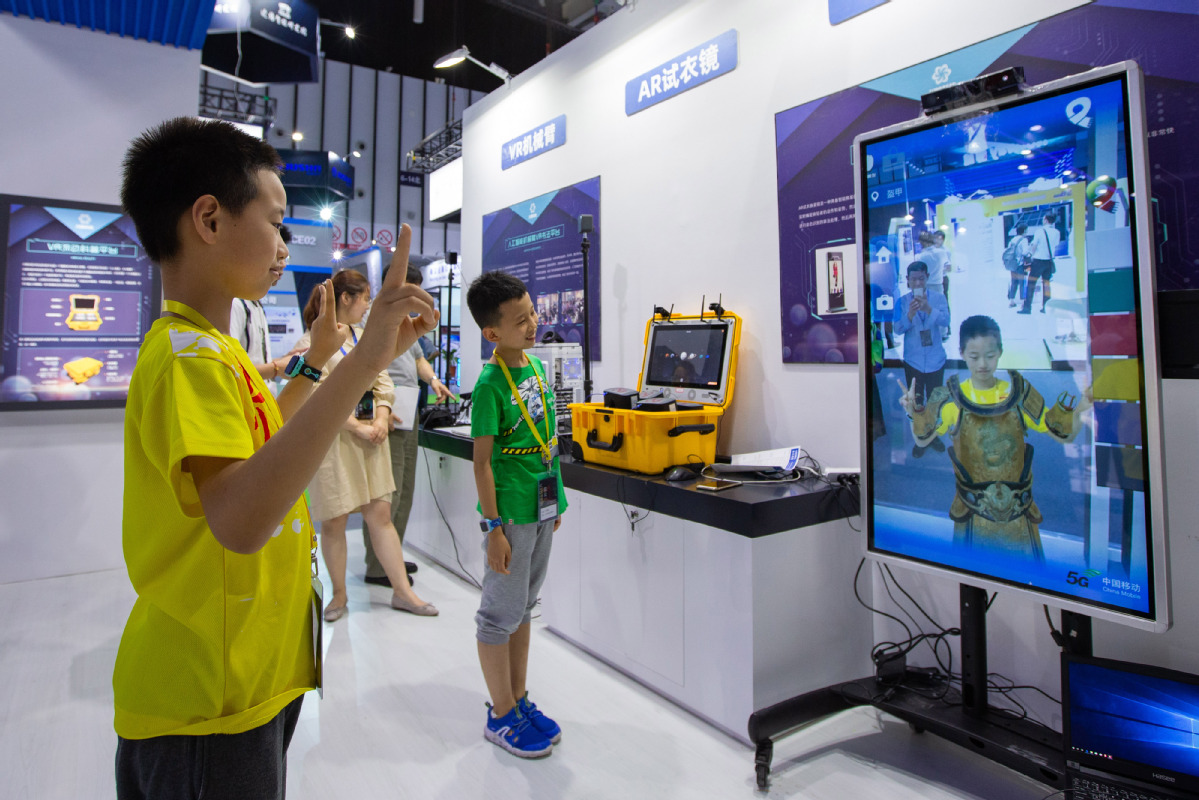 Virtual and augmented reality technologies are playing a significantly larger role in the retail sector with their enhanced ability to attract the attention of consumers, and they are potentially shaking up the shopping experience by enabling customers to visualize products in different settings.
Chinese e-commerce giant JD is currently working with Sony Semiconductor Solutions Corp to develop a function that uses AR technology to accurately measure foot sizes.
The function will leverage Sony's ToF (time-of-flight) distance measurement technology so that customers can simply use their mobile phones that need to be equipped with a ToF camera to measure their foot size by scanning the front and side angles of their feet.
Earlier this year, JD launched a new AR feature on its app for online customers to virtually try on shoes for size. AR Shoes Try-on is now available for over 1,000 sneaker options on JD.
Ye Mingqiang, head of AR/VR at JD, said: "We hope the use of innovations in technology will give all consumers equal access to efficient and convenient purchases and services. JD will continue to promote innovations in the area of AR and benefit both our customers and industry partners."
In addition, testing makeup has been a sore point for many online consumers given that it's difficult to judge the outcome of products without trying them out first on one's own face.
JD has also rolled out VR/AR makeup features to help customers test multiple cosmetics on their own faces with real makeup effects, such as lip color finishes, before buying.
Using the company's mobile app, consumers can virtually "try on "products including lipstick, blush, colored contact lenses and eyebrow pencils.
"Through VR/AR, we're able to give customers the interactive experience they get in stores, while offering them the convenience of having their favorite products just clicks away from arriving at their doorstep," said Carol Fung, president of JD's fast-moving consumer goods omnichannel business unit.
"As more customers flock to JD for their beauty needs, we're excited to work with our brand partners to use new technology to make the customer experience more personalized and interactive," Fung said.
JD said it will further develop its AR offerings in more scenarios such as AR skin evaluation and AR livestreaming. AR technology can also save consumers the trouble of traveling to brick-and-mortar stores and expand their shopping options.
Alibaba's Tmall has unveiled AR-powered virtual makeup tools, with beauty brands such as Tom Ford Beauty, MAC and Giorgio Armani upgrading their stores with this new technology.
In 2019, AR beauty company Perfect Corp inked a strategic partnership with Alibaba to bring advanced AR beauty solutions to Tmall and Taobao. Consumers can experience seamless AR try-before-you-buy shopping on Tmall.
For instance, shoppers can choose between seven different lipstick textures, as well as try on eye shadow, eyeliner, blush, concealer and more to find their favorite solutions.
Tmall beauty merchants can also engage customers through AR-powered livestreaming that uses virtual look tryouts and integrates e-commerce capabilities, allowing viewers to instantly purchase the products featured during the broadcast.
"In the next three years, innovative technology will be the key to driving increased sales. Especially in the beauty industry, technology will bring the biggest change for young generations to purchase products," said Mike Hu, general manager of Tmall Fashion and FMCG.
Hu said that the company needs the innovative technology to upgrade the consumer experience.
Hanna Karki, principal research analyst at consultancy Gartner, said: "The impact of AR or VR in retail can be transformative …Retailers can use AR as an extension of the brand experience to engage customers in immersive environments and drive revenue."
Research from Nielsen showed that over the next five years, VR/AR technology will augment the shopping journey in increasingly meaningful ways-including the way consumers discover, choose, share, buy and engage with brands.
The research also said VR/AR technology has the highest potential to be the next big disrupter and differentiator, and will tear down the delineation between online and offline offerings, enabling consumers to easily see and access extended product offerings in-store.