Rural getaway
By Wang Ru | Xinhua | Updated: 2020-07-28 07:52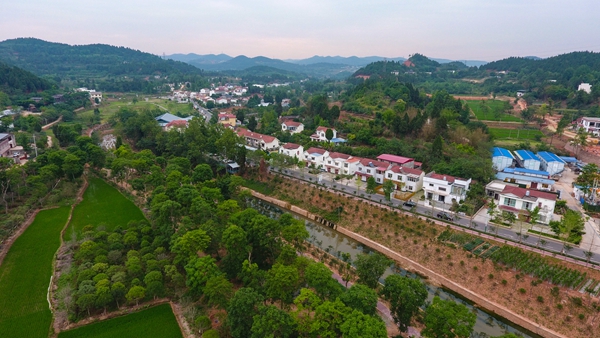 A village is drawing locals to new cultural startups, Wang Ru reports in Deyang, Sichuan province.
Businesswoman Hu Rong wanted a countryside getaway for weekends. In 2012, she looked at many places in Sichuan province and was impressed by the view of Gaohuai village, which is on the outskirts of Deyang city. She soon decided to rent a house there.
Then she decorated the house, planted flowers and vegetables in her garden and invited friends over during weekends. Gradually, the house attracted more people from the city, and Hu built it into a shared house that enabled many families to take turns and use it on weekends.
Hu decided to open a cafe there in 2014 to receive people who lived in the city and wanted to take a break in the countryside.
"The cafe is called Buyuan, which means 'not far' in Chinese. Literally, the cafe is not far from Deyang city, where people who drive a car can reach it in minutes. It also means we are not far from the life we imagine we can live as long as we are determined to realize our dreams," says Hu.
Back then she didn't think the cafe would lead to many changes in the village. It promoted the growth of cultural and creative life several years later.
Since Buyuan was set up, another 22 cafes were opened in the village, giving it a new nickname-"coffee village".
"Our village has a location advantage since it is close to Deyang city. Many people arrive in the village for outdoor sports like cycling. Then they like to have some drinks, and our cafes just meet that demand," says He Jian, a local official.
The village engaged Beijing-based service provider SYN Architects that is working on rural revitalization and plans to turn Gaohuai into a cultural and creative spot, where visitors can enjoy a "colorful and peaceful rural life".