Gold prices soar to record on safe-haven buying
By ZHENG XIN | China Daily | Updated: 2020-07-29 07:20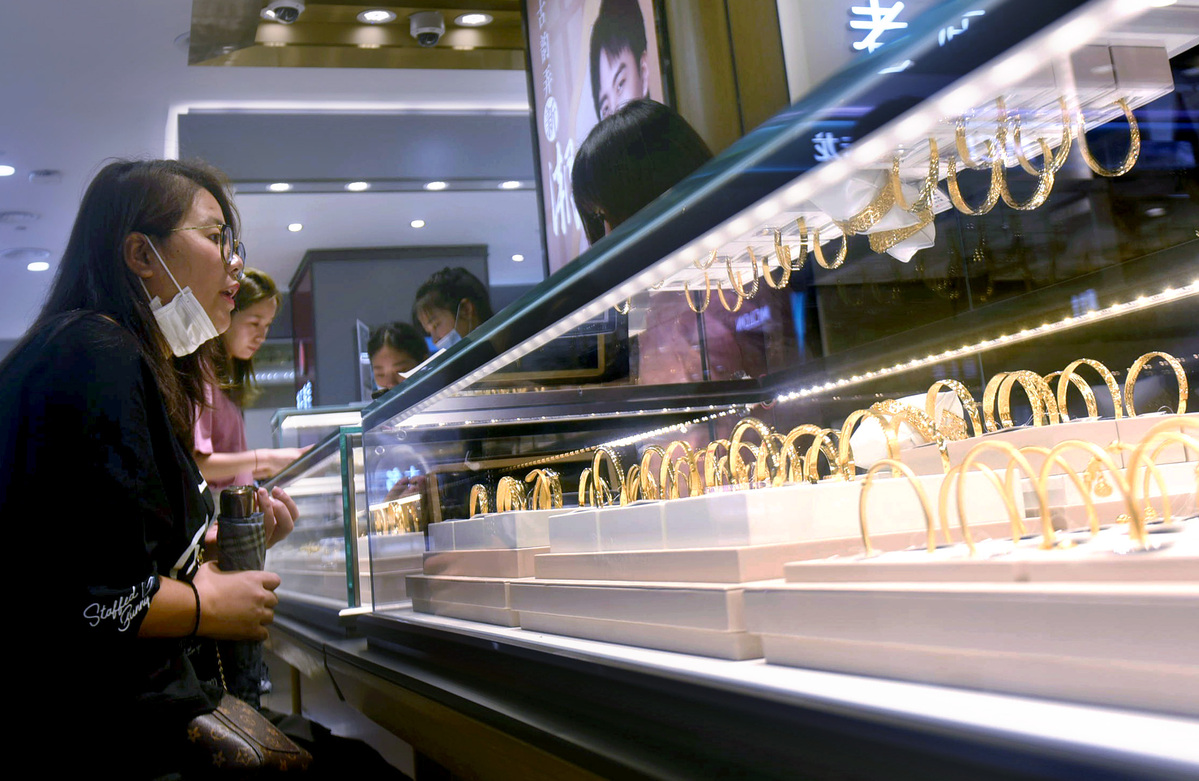 Gold prices are on a roll as safe-haven buying continued to spur the yellow metal to greater heights amid growing concerns about the global economic outlook, geopolitical risks and the resurgence of the novel coronavirus epidemic.
Gold hit $1,944.68 per ounce earlier on Monday, breaking its previous record high of $1,921.15 in September of 2011, and breaking the previous record of $1,921.15 per ounce set in September 2011. According to data from Shanghai-based market tracker Wind Info, prices have risen by about 25 percent so far this year.
With rising inflation expectations, unprecedented fiscal stimuli and increasing government debt, many investment banking and financial services have increased their gold price forecasts for the fourth quarter of this year as well as 2021.
Analysts at UBS expect gold prices to touch $2,000 per ounce before the end of the year, driven higher by low US interest rates, a weaker dollar, coronavirus concerns and tension between the United States and China. It also forecast gold price for 2021 end-June at $1,900. In the shorter time horizon, it sees a number of uncertainties that will help elevate the prices.
According to Zhu Yi, a senior analyst for the metals and mining sector at Bloomberg Intelligence, gold prices may continue to increase in the second half of this year on stronger safe-haven demand if the global economic recovery shows disappointments.
"Its upside price trajectory is more likely to accelerate, led by favorable macroeconomic fundamentals," she said.
Spot gold prices are already above $1,900 per ounce, while Bloomberg consensus, the collection of price forecasts made by sell-side analysts, are less optimistic, calling for $1,790 and $1,800 in the third quarter and the fourth quarter, and $1,759 in 2021.
"We expect gold prices to gain support if the pandemic were to extend through 2021," said Zhu.
China's gold consumption fell by 38.25 percent year-on-year in the first half of this year to 323.29 metric tons, largely due to the novel coronavirus epidemic and rising gold prices, the China Gold Association said.
The country's gold output, meanwhile, dropped 7.3 percent on a yearly basis to 217.8 tons in the first six months, despite domestic production having returned to normal in the second quarter, rising 5.81 percent from the first three months.
According to Zhu, gold demand may continue to increase in the second half of this year but the increase may not be enough to compensate for the fall in the first six months.
"The demand for safe-haven status amid risks to global economic growth, geopolitical and pandemic concerns will rise and central banks and investors are likely to continue to trade gold for portfolio diversification and possibly as a hedge if inflationary pressures return on the substantial stimulus measures injected amid COVID-19," she said.
"There will also be a return of demand from jewelry and industrial sectors in China and India in the second half, but jewelry demand is likely to drop this year due to COVID-19 and the recent price hike of gold."
Zhu believes global gold supplies may drop this year as production and shipments have been affected by the pandemic.
China's Shanghai Gold Exchange said on Tuesday that it would take some appropriate risk control measures due to recent big gold price fluctuations.