Helping world with Chinese AI
By Ma Si | China Daily | Updated: 2020-08-03 09:31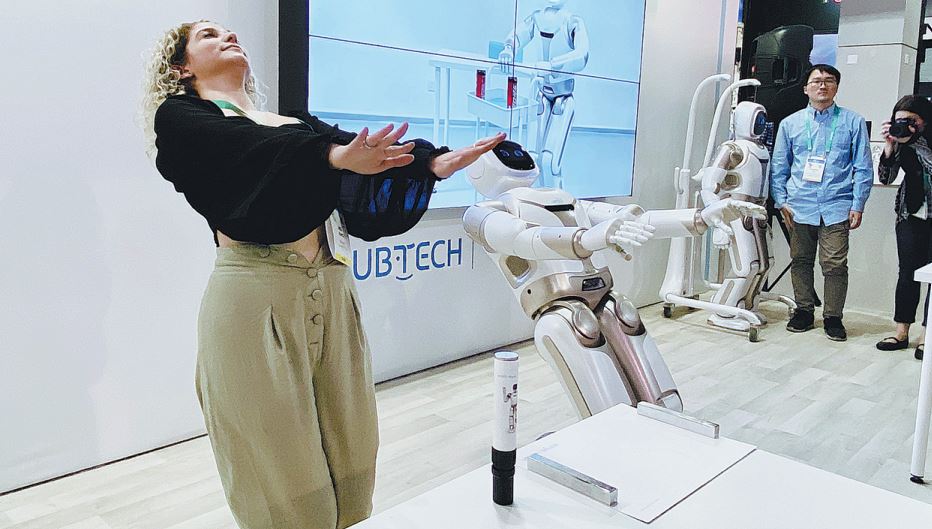 UBTech's products secure overseas schools, airports and other public places
A Chinese-made COVID-19-era robot at the gate of a Seoul primary school checks students' body temperature and reminds them to wear masks properly on noticing some pupils' noses are not covered by their masks. Next, inside the classroom, the robot instructs students through their physical exercise and even 'plays' with them using its interactive voice feature.
That's Cruzr for you. Developed by UBTech Robotics, Cruzr the robot helps Wooam Elementary School to better protect its students' health.
Yoo Jung-ho, head of Wooam's science department, said at first, students were not comfortable with the robot greeting them at the school gate. But, in a matter of weeks, they have embraced it as part of the school community.
In June, Seoul's Seocho district government deployed Cruzr robots in the district's 51 public schools, helping mitigate the burden on teachers, according to a report from the Washington Post.
As the COVID-19 pandemic rages on, UBTech's robots are finding wider applications, functioning even as assistants with some modifications as they are free from infection risks. The robots can screen temperatures of up to 150 people a minute; so, they are being deployed in places like hospitals, shopping malls, airports, and schools in South Korea, Japan, Belgium, Nigeria and other countries. Local people are able to resume work while ensuring health amid the outbreak, thanks to UBTech's robots.
Michael Tam, chief brand officer at UBTech Robotics, said the virus has led people to consider more scenarios for using robots and keeping people healthier and safer.
"Hospitals can use intelligent robots to keep doctors and nurses away from some very dangerous situations," said Tam. "Our solutions also help relieve the workload of frontline medical staff while reducing consumption of personal protective equipment," Tam said at a recent forum.
UBTech's robots have been first modified and deployed in China. Its robot fleet has served in various settings to assist in the prevention and control of the spread of the virus, including at hospitals such as the Central Hospital of Wuhan, and the Third People's Hospital of Shenzhen, two middle schools in Kunming, Yunnan province, office buildings and transportation hubs in other cities.
Globally, UBTech has also worked with its partners in Belgium, Australia, South Korea, and Japan to try to fight the coronavirus on a larger scale. Five Cruzr robots were deployed in Rwanda to help prevent the spread of the infection in the East African country. The humanoid-like robots can assist in temperature screening, deliver food and drugs to patients, as well as act as video-conferencing links between patients and doctors.
Zhou Jian, CEO of UBTech, said the COVID-19 pandemic has adversely impacted many companies' overseas businesses and go-global strategies. In such a difficult environment, UBTech has managed to make some progress in foreign countries, thanks to the global partner ecosystem it has built.
According to him, its local partners in developed markets such as Europe and Japan have played a big part in promoting the local application of its robots amid the outbreak.
Bi Yalei, secretary-general of the Shenzhen Robotics Association, said as the number of confirmed infections continues to rise overseas, demand for robots has increased, leading to the recovery of Shenzhen-based robotics makers' financial health.
"Robots that can check body temperature, deliver drugs, and help disinfect offices, wards and other areas are very popular," Bi said.
But experts sounded a note of caution. A sudden surge in demand amid the epidemic cannot guarantee long-term growth. Efforts are needed to exploit emerging opportunities in a way to ensure sustainable development, they said.
UBTech aims to move in that direction. The Shenzhen-based company, backed by Chinese internet heavyweight Tencent Holdings Ltd, has been working hard in recent years to exploit new growth opportunities in Europe, Southeast Asia, the Pacific region, Africa, and Latin America.
In November, UBTech announced a deal worth $362.4 million to step up AI teaching labs for students in the United Arab Emirates, marking another big push in its efforts to go global.
The deal was inked with Royal Strategic Partners, a unit of Abu Dhabi Capital Group, an investment company that manages $20 billion in assets. UBTech said it will build AI teaching labs for 1,310 primary and secondary schools in the seven emirates of the UAE over the next four years. In the future, it will also work together with the UAE to further promote the localization and development of AI education solutions.
Before the deal, UBTech signed agreements for AI education with companies, organizations and government agencies in Russia, Indonesia and Uzbekistan. It also inked a strategic cooperation agreement with the UNESCO Higher Education Innovation Center last year to promote AI education.