Thrust, parry and progress
By HUANG QIFAN | China Daily | Updated: 2020-08-06 08:28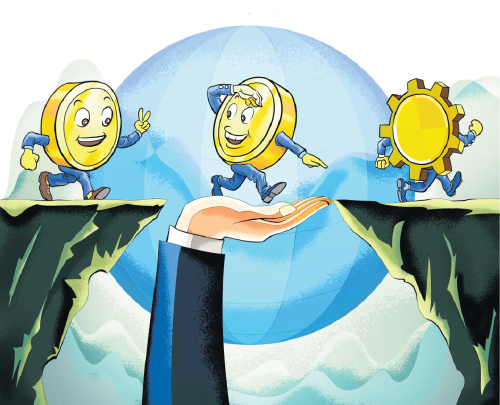 Higher-level opening-up and reform can counter anti-globalization, divestment and decoupling strategy of the US
In the face of changes brought by protectionism and the novel coronavirus outbreak, China needs to focus on a new economic pattern, one dominated by domestic economic circulation and facilitated by circulation between China and the rest of the world. This dual economic circulation between domestic and international markets will be promoted during the 14th Five-Year Plan (2021-25) period.
This is not only expedient to cope with the industrial and supply chain disruption caused by the global public health crisis but also the means for China to seek high-quality economic growth at this critical stage of its development.
Amid the rise of global trade protectionism, unilateralism and the impacts of the pandemic on the global economy, China needs to advance reforms and higher-level opening-up and lower tariffs and expand imports to gain a bigger say on the global economic stage. Today, large exporting countries are not necessarily economic powers for the exports may be mainly labor-intensive products and processed ones with imported components. However, large importing countries are definitely economic heavyweights for the foreign exchange for imports is generated by technology and service trade surpluses. The currencies of such countries are included in the International Monetary Fund's Special Drawing Rights basket of reserve currencies that can be used for direct transnational settlements.
In the next three to five years, China should lower its overall tariff rates, which would help reduce the import costs borne by consumers, facilitate industrial transformation and upgrading, and drive the growth in imports.
China has performed the best in bringing the pandemic under control, making it a place with the lowest investment risks. Through furthering opening-up, it will see more international industrial investment and less transfer of foreign industrial chains in China to other countries, which will help supplement, expand and improve the domestic industrial chains. Efforts are now needed to expand the fields open to foreign investment and ease market access for the service industry. The 2020 negative list for foreign investment was recently introduced. The items that are off-limits on the nationwide negative list for foreign investment have been cut from 40 to 33 and those on the list governing foreign investment in pilot free trade zones have been reduced from 37 to 30.Notably, restrictions on foreign shares in securities companies, securities investment fund management companies, futures companies and life insurance companies have been scrapped. Restrictions on foreign investment share ratios in commercial vehicle manufacturing will also be lifted. These measures will enable China to better attract foreign capital and supplement its industrial chains.
China needs to expand the opening-up of its service industries including logistics, research and development and design, and the digital economy to attract more international companies to enter the Chinese market and join regional industry chain clusters to develop clusters of strategic emerging industrial chains. Amid weak external demand, China can develop industrial circulation by driving domestic demand. After the global market recovers, it can further expand its industrial clusters and improve the quality of development to further the circulation of the global industrial chain.
China needs to accelerate the development of an internationalized, law-based and fair business environment. In recent years, it has made significant progress in improving its domestic business environment in line with the standards of the World Bank, which can be attributed to the country's steady efforts to streamline administration, delegate power and improve government services. Under the new situation, the government needs to further drive reforms and improve the domestic business environment, by translating specific requirements into laws and regulations with clear accountability.
The country also needs to develop new pacesetters for opening-up by building free trade zones and free trade ports with Chinese characteristics. China has developed an opening-up landscape featuring 18 free trade zones and one free trade port. It needs to improve its industrial capabilities in line with international standards, build advanced manufacturing clusters and strategic emerging industrial bases with international influences, develop a world-class business environment and greatly ease market access for foreign investment in the fields of finance, insurance, logistics, R&D and design, education, health and the digital economy.
The country should seek to accelerate free trade agreement negotiations and participate in the negotiations for the formulation of international economic and trade rules. The revised US-Canada-Mexico Agreement came into effect in July, in which a "poison pill" clause is targeted at weakening China's position in global trade and industrial supply chains. The US is likely to push for similar free trade agreements with the European Union, the United Kingdom and Japan. In this regard, China needs to seize the opportunity to accelerate the China-Japan-Republic of Korea, the Regional Comprehensive Economic Partnership, China-EU bilateral investment treaty and China-UK BIT negotiations, and start negotiations to join the Comprehensive Progressive Trans-Pacific Partnership. It needs to launch countermeasures against the US containment efforts and attract technologies, industries, capital and talent by participating in the economic and trade rule negotiations.
The pandemic has led to a global economic recession and all countries need to continue to support globalization, give full play to the role of the market in optimizing resource allocation, and improve the division of labor between enterprises, regions and countries around the world. The beggar-thy-neighbor approaches and practices of decoupling, shifting the blame and promoting unilateralism and anti-globalization are against the trend of times and are thus doomed to fail. China needs to counter anti-globalization, divestment and decoupling through driving high-level opening up, improving the business environment and enhancing the appeal of its large market.
The author is former mayor of Chongqing and academic advisor of China Finance 40 Forum (CF40). The author contributed this article to China Watch, a think tank powered by China Daily. The views do not necessarily reflect those of China Daily.