Putting people's safety first
By PAN WEIFANG | China Daily | Updated: 2020-08-07 08:17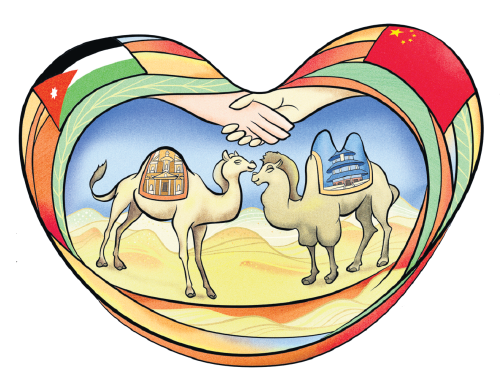 China and Jordan are jointly working for a better future
The novel coronavirus outbreak is the biggest public health crisis that mankind has faced since World War II. Upholding the vision of building a community with a shared future for humankind, China and Arab countries have stood firmly together and demonstrated solidarity and partnership through mutual support.
China has extended a helping hand to Arab countries to support their fight against the virus. So far, China has provided more than 8 million masks, more than 1 million testing kits and nearly 300,000 personal protective suits to Arab countries. It has hosted videoconferences of health experts for 17 countries, the Arab League and the Gulf Cooperation Council, and sent medical teams to eight Arab countries in urgent need. China's anti-virus measures and assistance offered to other countries have won recognition from Arab nations, including Jordan.
China and Jordan always put people's safety and health first. Facing the pandemic, Jordan took decisive measures to cut off the transmission routes of the virus by closing entry and exit ports, imposing a curfew, suspending work and school classes, and banning all public activities and gatherings. These approaches helped the country curb the flow of people, setting an example for other countries in the region.
China and Jordan stood firmly together in the hardest time and fought against the pandemic shoulder to shoulder, showing the two sides' willingness to build a global community of health for all. Under the leadership of King Abdullah II, the Jordan government and people extended sympathy and support for Chinese people in its fight against the virus. King Abdullah II sent a letter of sympathy to President Xi Jinping when Wuhan, the Chinese city hit the hardest by the virus, was in its most difficult moment. People from all walks of life in Jordan also extended their support to China.
In return, China also gave its support to Jordan in its fight against the pandemic. The Chinese government and enterprises offered large amounts of anti-pandemic materials, funds, and technical support to Jordan. The Foreign Ministry, the Ministry of Public Security and the government of Urumqi, capital of the Xinjiang Uygur autonomous region, donated large amounts of thermometers and masks to Jordan. Jack Ma, founder of Alibaba, donated 100,000 testing kits, 300,000 ventilators and 50 infrared thermometers, 300,000 medical masks and 10,000 protective suits to Jordan. Jordan's Attarat Power Co, of which Guangdong Energy Group of China is an investor, also donated funds to the country's Ministry of Health. As the largest stakeholder of Arab Potash Co, China's State Development and Investment Corp donated a large amount of cash to Jordan, along with 60,000 N95 respirators, 5,000 protective suits and 5,000 goggles.
China offered its anti-pandemic experience to Jordan by sharing with it the diagnosis and treatment protocol and prevention and control protocol for COVID-19. China has also invited Jordanian medical experts to attend a videoconference with Chinese colleagues to exchange and share information and experience in pandemic prevention and control.
Besides, in response to Jordan's call to help Palestinian refugees, China has provided $1 million as an annual donation to the United Nations Relief and Works Agency for Palestine Refugees in the Near East (UNRWA) and offered anti-pandemic materials to medical organizations affiliated to the UNRWA. It has also offered assistance via the UNRWA to Palestinian refugees in Lebanon, Syria and Palestine.
Since establishing bilateral diplomatic relations 43 years ago, China and Jordan have achieved fruitful results. After the two countries established their strategic partnership and Jordan joined the Belt and Road Initiative, the two countries' ties have become closer. China is now Jordan's third-largest trade partner and second-largest source of imports. In 2019, the two-way trade volume topped $4 billion, a year-on-year increase of 29.17 percent. China imported $434 million worth of goods from Jordan, almost double the figure of the previous year. The Attarat oil shale power plant, which was invested, financed, and constructed by China, has become a flagship project ever done before in Jordan. It is expected to create thousands of jobs for local people and reduce Jordan's reliance on imported energy.
The ninth ministerial meeting of the China-Arab States Cooperation Forum was held on July 6, and foreign ministers and ministerial officials from all Arab League member states participated. Co-chaired by Jordanian Foreign Minister Ayman Safadi and Chinese State Councilor and Foreign Minister Wang Yi, the meeting released a joint declaration on fighting against the virus with solidarity, the Amman Declaration, and an action plan for the China-Arab States Cooperation Forum 2020-22, which open up a new prospect for the two sides to accelerate Belt and Road cooperation and realize sustainable and common development under the framework of the China-Arab partnership.
China and Jordan boast great potential in cooperation. While combating the virus, the two countries have pushed for strategic partnership in fields such as infrastructure, industrial capacity, telecommunications and new energy. We believe the two sides will achieve new fruits in all fields through our cooperation and hard work.
The author is the Chinese ambassador to Jordan. The author contributed this article to China Watch, a think tank powered by China Daily. The views do not necessarily reflect those of China Daily.