Medical AI applications gaining ground
By HE WEI in Shanghai | CHINA DAILY | Updated: 2020-08-07 10:05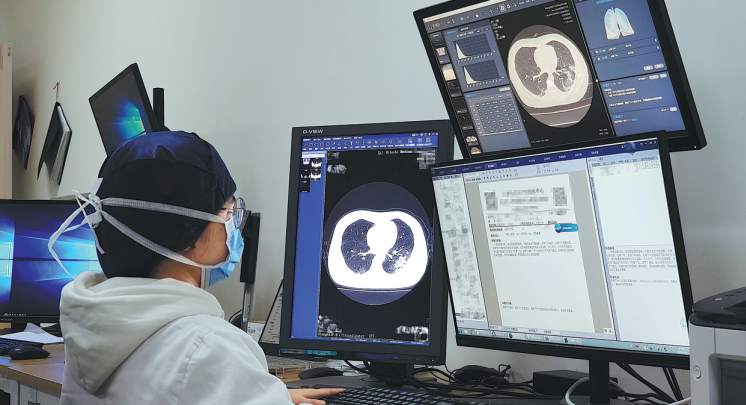 Hospitals bank on technology to ease staffing concerns
Training to be a physician normally takes years of grueling work in medical school and hospitals. Out of the 800,000 medical graduates each year in China, only 22,000 become specialists, according to the National Children's Medical Center.
Things look even more jarring for those studying pediatrics, with just 300 of 22,000 candidates choosing to professionally attend to younger patients. This group has on average 2.4 times more of a workload compared with conventional physicians, and handles 2.6 times more inpatients.
Industry experts are brainstorming to find alternative solutions to make the sector more sustainable, such as creating artificial intelligence "doctors" that could be a cinch to "teach".
Zhao Liebin, deputy chairman of the Shanghai Children's Medical Center, is pioneering the use of artificial intelligence to make children's wards smarter and smoother by sharpening diagnostic skills and halving workloads.
At the heart of Zhao's transformative plan is to develop an intelligent identification system based on digital stethoscopes to classify cardiopulmonary sounds in children.
"Congenital heart disease remains a common birth defect in China," said Zhao. "But its timely detection has been difficult for many county-level doctors, who lack proficient training in this area."
Some 30,000 children suffering from CHD last year generated an expansive amount of acoustic data. This propelled Zhao and his team to adopt machine-learning algorithms to identify vital sign alerts and classify them as either threatening or not.
"Pediatric medicine requires paying the utmost attention to even the tiniest details, details that can be missed by even the most skilled physicians when exhaustion comes into play," said Zhou Xiang, co-chair of Shanghai United Image Medicine, a technology partner at the center.
Zhou said well-trained AI "doctors" now have the ability to diagnose diseases on images at a level comparable to skilled physicians. In the area of radiology, for instance, AI can handle tasks in the automated detection of diseases, segmentation of lesions and dosage determination.
To make things more seamless, the center has also devised a hand-held smart stethoscope that helps doctors in remote regions detect sound abnormalities among patients with heart problems.
"They are designed specifically according to varying body sizes, with a smaller version dedicated to newborns for better diagnostic precision," said Zhao, adding that the second generation of the device has been adopted in eight provinces including Yunnan and Hainan, where medical resources are less developed.
Chinese hospital spending on AI-related IT expanded 88 percent in 2019 from a year earlier to 1.7 billion yuan ($240 million), according to a report by consultancy IDC-Worldwide Artificial Intelligence Spending Guide.
Main AI applications at hospitals can be categorized as follows: doctor-patient interactions, diagnostic imaging and treatment, clinical decision support systems and AI-based human-computer interfaces.
Apart from empowering diagnosis modalities, Zhao is also looking to make the doctor's visit less of a headache for patients.
Some improvements might include shortened waiting periods which would avoid the boredom of long waits in settings which typically do not allow for adequate social distancing.
YITU Healthcare, a Shanghai-based AI firm, has devised a smart medical guidance system featuring a suite of auxiliary diagnosis functionalities that serves to save trouble for both patients and doctors.
"Through a dedicated app, we allow parents of young patients to reach out to doctors, even prior to their arrival at the hospital," said Fang Cong, vice-president of YITU Healthcare."Doctors can raise common questions virtually as they do in clinical consulting rooms, such as whether the child has a fever or diarrhea, so that they know what tests need to be done or what prescriptions are needed once the patient arrives."
The efficient one-stop solution essentially encompasses a suite of AI technologies, Fang added. For instance, communicating with AI robots via phone requires voice recognition technology to translate sounds into accurate words.