Health products give J&J big lift in domestic market
By SHI JING in Shanghai | China Daily Global | Updated: 2020-08-31 07:53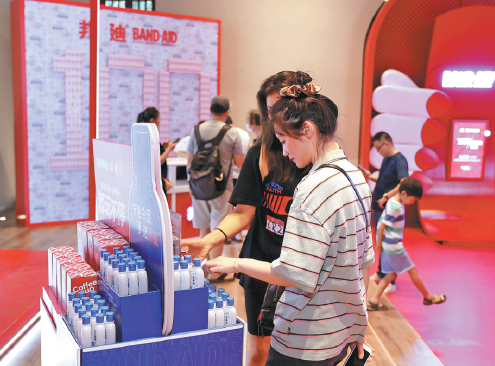 Do hands and Band-Aid go together? When the COVID-19 epidemic was raging earlier this year, Johnson and Johnson, the owner of the 100-year-old adhesive bandage brand Band-Aid, decided to serve Chinese consumers in a different way. In late February, J&J introduced a hand sanitizer product under the same Band-Aid brand in China.
Made of isopropyl alcohol, J&J's new hand sanitizer product is made at the company's Shanghai factory. Prior to the epidemic, J&J used to export Band-Aid sanitizer made in Shanghai.
J&J's introduction of hand sanitizer in China was in response to rising demand for disinfection products in the local market. With government's strong support, J&J tapped both online and offline sales channels by April-end-the shortest time that J&J ever took to receive regulatory approval for a new product in China.
At present, J&J's hand sanitizer is available on major e-commerce platforms such as Tmall and JD as well as nearly 10,000 shops and supermarkets.
According to global market consultancy Bain & Co, demand for personal hygiene and sanitation products like hand sanitizers has surged during the epidemic. While people are no longer confined to their homes at present, the demand momentum for such products is expected to continue, thanks to Chinese people's rising awareness of personal health.
As estimated by Shenzhen-based Qianzhan Industry Research Institute, the market value of China's disinfection industry will top over 11.76 billion yuan ($1.7 billion) at the end of this year, up 13.7 percent year-on-year.
But, according to Deng Xu, managing director of the consumer health sector of J&J China, the newly launched hand sanitizer is just the first step of the company to test the water in the country's disinfection product market.
Introducing disinfection products and brands that are already available in overseas markets is one strategy. Over time, the company will introduce wound disinfection and cleaning products, as well as bandages with healing functions that can help protect blisters from getting infected, said Deng.
"But it's also likely for us to come up with new products tailor-made for Chinese consumers based on their demand and our market insight."
The tech-savvy Chinese consumers have boosted sales of J&J's online business. Since 2015, the online turnover of consumer health products has grown by seven times, making China J&J's most digitalized consumer market worldwide.
J&J's online platforms accounted for more than half of the total sales revenue of consumer health products during the first half of this year, which is largely a result of the epidemic. The contribution is estimated to contract slightly to 46 percent when the year closes.
But to Deng, it is the offline-to-online or O2O model that will truly help J&J to reach more Chinese consumers. So, the company has teamed up with healthcare and beauty chain store Watsons and the online pharmacy of JD to provide more efficient services to consumers.
"O2O has been our key development strategy in China, which can meet consumer demand in all scenarios," he said.
Market consulting firm McKinsey suggested in a report in late February that companies should attach greater importance to omni-channel mapping as Chinese consumers' reliance on online platforms will remain unchanged even after the epidemic.
In this sense, companies should strengthen cooperation with leading Chinese O2O service providers such as Meituan and Eleme, said McKinsey.
According to Deng, China has been one of the nine key markets for J&J's consumer health products business worldwide. China takes the lead worldwide in terms of the digital environment, people's consumption habits on the digital platforms, the huge amount of data and the capability in data analysis. Progress in China happens at an unprecedentedly rapid speed, said Deng.
"Apart from reform in transaction ways, we have seen in China an overall digitalization and personalization of rules, people's recognition of brands, and methods of communicating with consumers. The takeaway from China will make the country a beacon for Johnson &Johnson's digitalization in the consumer health products sector, providing the best digital practices and talents in the field," he said.