29 killed in restaurant collapse at banquet
By SUN RUISHENG in Linfen, Shanxi | CHINA DAILY | Updated: 2020-08-31 08:18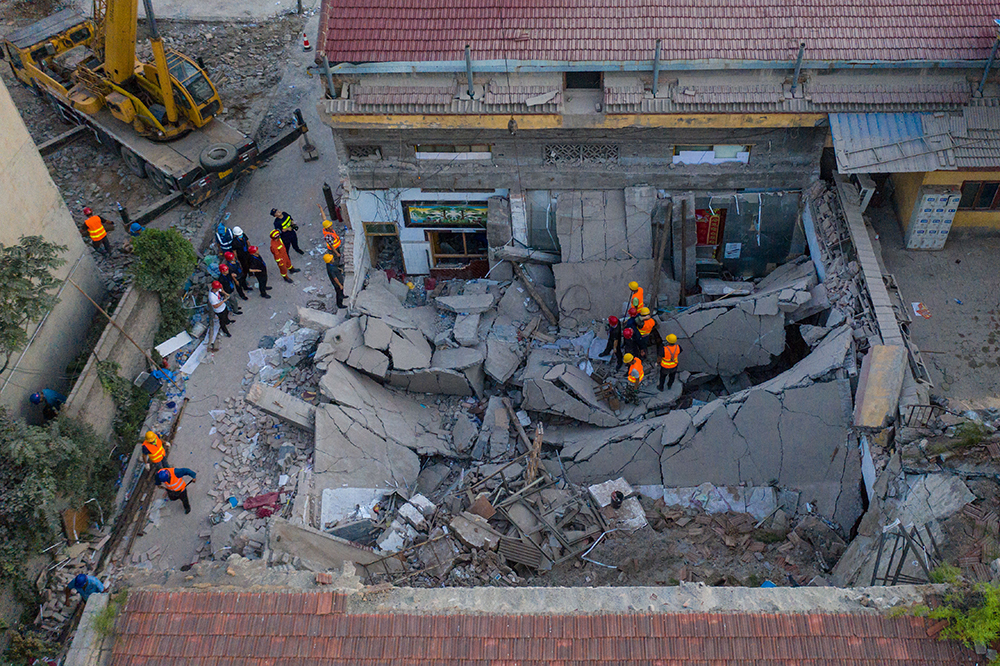 Twenty-nine people have been confirmed dead after a village restaurant collapsed on Saturday in North China's Shanxi province, local authorities said on Sunday.
The accident occurred as family members and fellow villagers attended a birthday banquet for an 80-year-old man surnamed Li at Juxian Restaurant in the village of Chenzhuang, Xiangfen county.
A rescue team of 840 members was quickly organized from personnel from the public security, emergency management and health departments, and 57 people were pulled out of the debris by the time the rescue work was completed early Sunday morning.
Of the 57 people, 29 died, seven were severely injured and 21 had minor injuries, according to the rescue team. The cause of the accident is under investigation.
Li, the elderly man, happened to be outside the building when it collapsed. He told The Beijing News that he had refused to hold a birthday banquet but had been persuaded to do so. The banquet should have been on Sunday, but as children had to go to school that day, it was held a day in advance, he said.
Li said he was outside the restaurant with some family members and villagers when the building's roof started to topple down. His wife was trapped inside and was killed.
A villager surnamed Kong told China Daily that the restaurant has been there for more than 10 years. "Its business was always good, and an expansion was done several years ago by adding a story made of colored steel on the top of the original restaurant," he said.
In response to the accident, Shanxi authorities have launched inspections of all private houses and public buildings in the province.
The Work Safety Committee of the State Council has listed the collapse as an incident that must be dealt with under supervision. It has urged the provincial government to investigate and report on the accident in a timely manner, according to a notice on the committee's website.
The Shanxi provincial government should conduct a thorough inspection of all workplaces to identify risks, prevent severe accidents and ensure people's safety, the committee said in the notice released Saturday.
"The Shanxi provincial government should investigate the accident, come up with plans to handle the whole situation, and produce and make public a report," it added.