Soy sauce maker Haitian's market value soars to $84b
By Wang Zhuoqiong | China Daily | Updated: 2020-09-02 09:14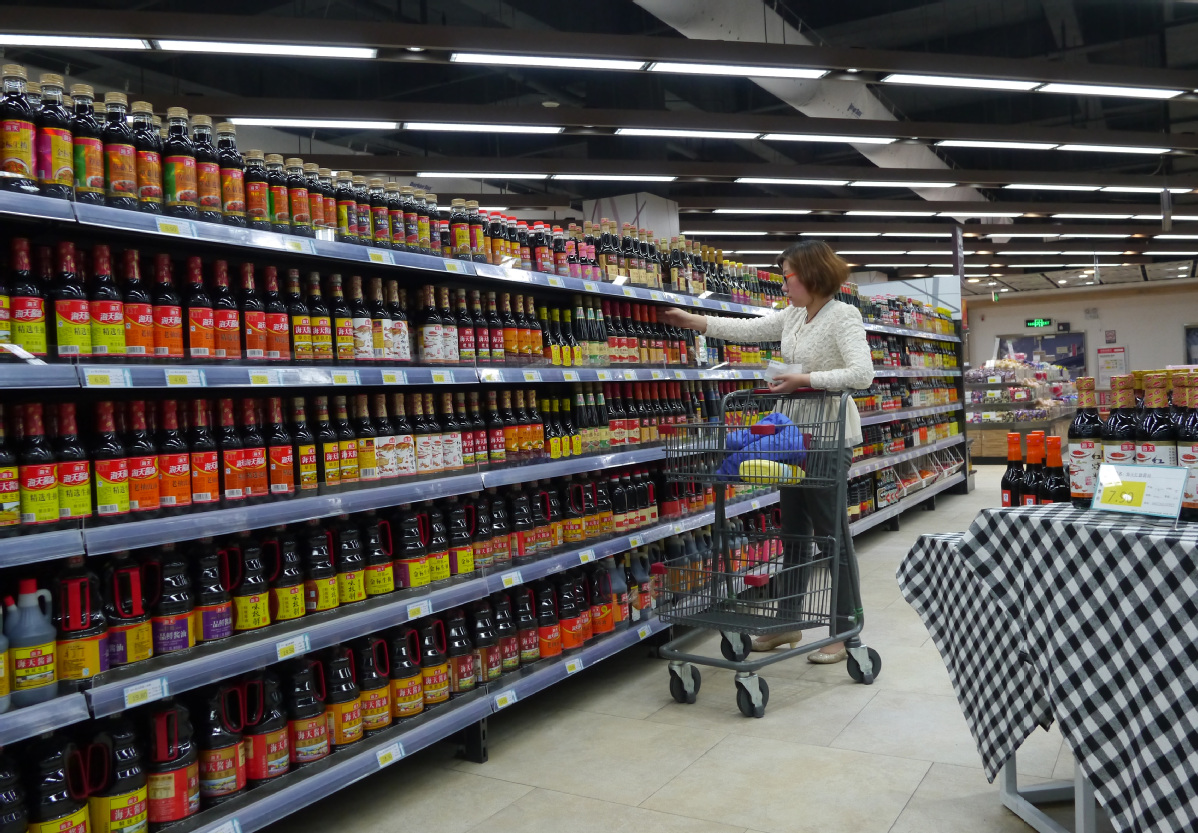 Foshan Haitian Flavoring and Food Co Ltd, the largest manufacturer of soy sauce in the world, saw its market value surge to over 600 billion yuan ($84 billion) on Tuesday in Shanghai as robust demand for home-cooked products and a strong sales network buoyed sales during the first six months of the year.
The company's shares rose by 2.99 percent to 188.68 yuan on the Shanghai bourse and put the company in the Top 10 listed firms on the bourse in terms of market value. During the last few months, the company's market value has risen by over 200 billion yuan, sparking bubble concerns.
The company, which produces a wide range of condiments including soy sauce, oyster sauce, vinegar, chicken essence, monosodium glutamate and cooking wine, said its revenue rose by 14.12 percent on a yearly basis during the first half to 11.6 billion yuan. Net profit rose by 18.27 percent to 3.2 billion yuan during the same period.
According to Wind, a financial information provider, the company's revenue and profits have risen by more than 10 percent on a quarterly basis since its listing in 2014.
Pang Kang, chairman of Haitian, who holds 32.5 percent of the company shares, added nearly $4 billion to his personal wealth in the four months since the COVID-19 outbreak, according to 'Wealth Impact 4mths after COVID-19 Outbreak', a report published by Hurun Research on the wealth changes of the world's most successful entrepreneurs in the four months to May 31.
Haitian stepped up its e-commerce efforts in the second quarter this year to combat the epidemic effect on the catering sector, which accounted for more than half of its sales, to stimulate at-home cooking sales. As a result, its online sales rose by 3.43 percent on a yearly basis, while efforts to stimulate and support its distributors resulted in a 13.7-percent growth of its offline channels.
Industry experts attribute Haitian's wide footprint across the country and its capacity to tap even the county-level market for its successful growth. By the end of the first six months, Haitian had 6,433 first-tier distributors, 627 more than in 2019.
Jason Yu, general manager of Kantar Worldpanel China, a market research firm, said seasonings are a daily necessity for a wide range of consumers with diversified consumption requirements.
The home consumption segment has outperformed its growth potential, he said. Kantar data shows that during the first two months since the outbreak of the epidemic, the seasoning sector saw growth rates of over 10 percent, while it was 17 percent in April and May.
"More than 75 percent of the Chinese families bought Haitian products last year," said Yu, citing Kantar's 2020 Asia Brand Footprint report, which tracked the purchase patterns of consumers of these products. The number of consumers that purchased Haitian products rose 8 percent in 2019, compared with the levels seen in 2018.
Zhu Danpeng, an independent food and beverage analyst, said as one of largest and most profitable seasoning companies in the country, Haitian has been seeing a steady uptick in its market value, with the diverse product portfolio offering cushion against growth bottlenecks.
Haitian's flagship product soy sauces, which accounts for 66 percent of its total revenue, however, has seen growth taper off from 16.59 percent in 2017 to 10.71 percent in the first half.