A clear vision
By Wang Ru and Li Yingqing | China Daily | Updated: 2020-09-07 07:30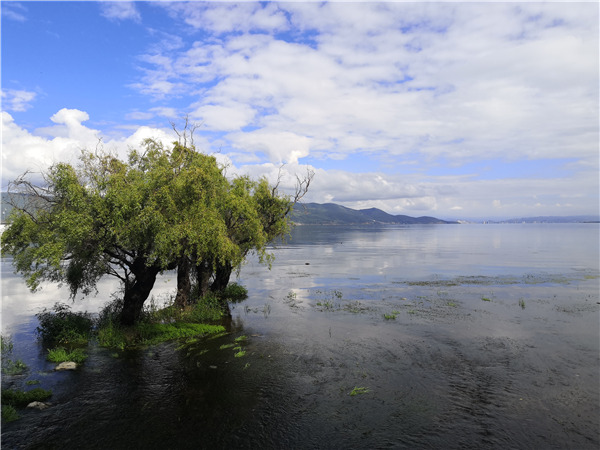 After years of hard work, changes and personal sacrifice by the local residents, Erhai Lake is seeing a cleaner, healthier future.
Gusheng village resident He Licheng still remembers when he was young, Erhai Lake in Dali Bai autonomous prefecture, Yunnan province, was so clean that he usually drank water directly from the lake.
"There were not many people living by the lake, and nobody threw rubbish or discharged sewage into it, so the water remained grade I, the top in the country's five-tier water quality system."
In the 1980s, however, the water quality of the lake deteriorated and "we no longer drank the water", he says. In 1996, he even witnessed a massive outbreak of blue-green algae which "made the water smell terrible, and I felt heart-broken".
Recalling the past, the now 52-year-old who grew up by the lake says, "I experienced several start-overs in my career, and they are all related to the protection of Erhai Lake."
As the seventh-largest freshwater lake in China, Erhai Lake has a watershed area of 2,562 square kilometers, and more than 860,000 people are living in the area now, according to Yang Chu, a deputy mayor of Dali city.
Born into a fisherman's family, He started to go fishing with his parents in 1983 when he was 15, living on the money he made from selling fish. In 1989, He rented a 1.13-hectare tidal flat near the lake, and built it into a fishpond to raise fish with his savings.
He was earning around 3,000 yuan ($438.3) a year at that time. He worked very hard, and, by 1993, was able to upgrade from a small wooden boat to a big powerboat in 1993 with the 20,000 yuan he saved.
However, just three years later, when the blue-green algae appeared in 1996, the local government issued a ban on using such vessels in a bid to control fishing and prevent pollution in the lake. He was unable to sell his powerboat for more than the price of scrap metal, and upon receiving compensation of 2,000 yuan from the government, he turned his back on making a living through fishing.
Four years later, in a bid to protect the lake's surrounding wetland, He was required to remove the pond he had run for 11 years, and was compensated 28,000 yuan.