ZXBio picks antibodies to further boost nation's biopharma industry
By He Wei in Shanghai | China Daily | Updated: 2020-09-07 10:13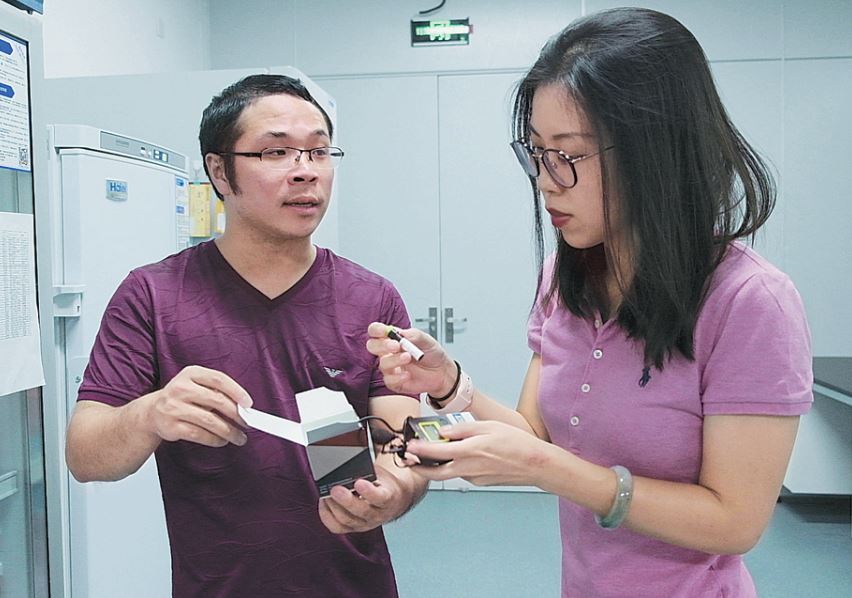 Zhang Yang, founder and CEO of ZXBio Co Ltd, has bold visions for his antibody production business in China.
With a doctorate in immunology from the University of California, San Francisco, Zhang is eyeing to drastically grow ZXBio's revenue. Founded in 2017, the company has seen its revenue grow from 1 million yuan ($146,500) in 2019 to 50 million yuan over the course of three years.
Zhang, 30, has many reasons to be optimistic: China's biopharma market was worth $130 billion in 2018, second only to that of the United States, according to data from McKinsey & Co, a global management consulting firm.
What's more exciting is that the highly fragmented market, which covers everything from medicines to drug products manufactured with living organisms, is filled with a legion of smaller firms hoping to take on global pharma giants.
What is a bit unexpected in Zhang's case is the decision to set up the company in the Mogan Mountain area of the Hi-Tech National Industry Development Zone, in Huzhou, Zhejiang province. This contrasts with the more common choice of Shanghai, where global pharma giants locate their China, Asia-Pacific, or even global headquarters of certain business units.
Zhang said the decision to set foot in Huzhou is due to lower operating costs and a string of government incentives to attract high-tech business in the thriving city of East China.
"The local government essentially serves as an angel investor," he said."It offered us 2 million yuan as kickoff fund, waived three years' rent for the 1,000-square-meter manufacturing space, and streamlined administrative procedures like registration of certification."
With an initial investment of 13 million yuan, ZXBio has developed more than 50 flow cytometry antibody diagnostic products, which unique surface substances-antigens-to assist physicians more precisely diagnose patients with complicated diseases, such as autoimmune disease, cancer, and coronavirus infection. It also registered 92 trademarks and 23 technological patents in China.
Zhang said the grand Healthy China 2030 initiative is encouraging overall spending and investment in healthcare and devised a variety of programs to either provide subsidies or tax reductions to enterprises.
ZXBio is looking to digitize its manufacturing facility, using data an in-house developed feedback control system to optimize efficiency. It allows the customization of antibody manufacturing based on market needs. As a new entrant of the antibody diagnostic industry, Zhang plans to further tap the growing demand for diverse antibody diagnostic reagents with a novel manufacturing facility.
This is in accordance with a McKinsey study last year that uncovered the huge potential of China in leading the digitalization of the industry because of its policy tail winds, acute need for new solutions, and strong digital ecosystem.
"However, the biopharma industry has yet to be transformed, and much trial and error will be needed before a new viable business model emerges," said Franck Le Deu, a McKinsey partner and lead author of the report.
Zhang also regarded partnerships crucial to his company's expansion. "Instead of developing new molecules and pushing the molecules through the clinical trials, we serve as a manufacturing and service partner of promising drug-owners, to help them scale their drug production and guide their discoveries through the clinical development process," he said.
A third pillar of ZXBio is to establish a patent evaluation platform to assess the value of different technologies in the market. This allows ZXBio to engage in deals for patent acquisition, which creates the opportunity for technological synergy and generates additional cash flows from acquired patent's royalties.
Governments at all levels in China are drawing talented professionals like Zhang with various perks, hoping their businesses could invigorate and upgrade the local economy.
Last year, ZXBio was elected as Qianjiang Talent Plan in Zhejiang province and received a number of accolades in entrepreneurship and innovation in China.
"Our mission is to develop monoclonal antibody-based research reagents, diagnostic reagents, and therapeutics for the global medical community," Zhang said. "This could lead to job creation, efficient delivery of novel antibody-based drugs to patients with a variety of illnesses."