PM front-runner values Beijing relations
By Wang Xu in Tokyo | China Daily | Updated: 2020-09-14 10:46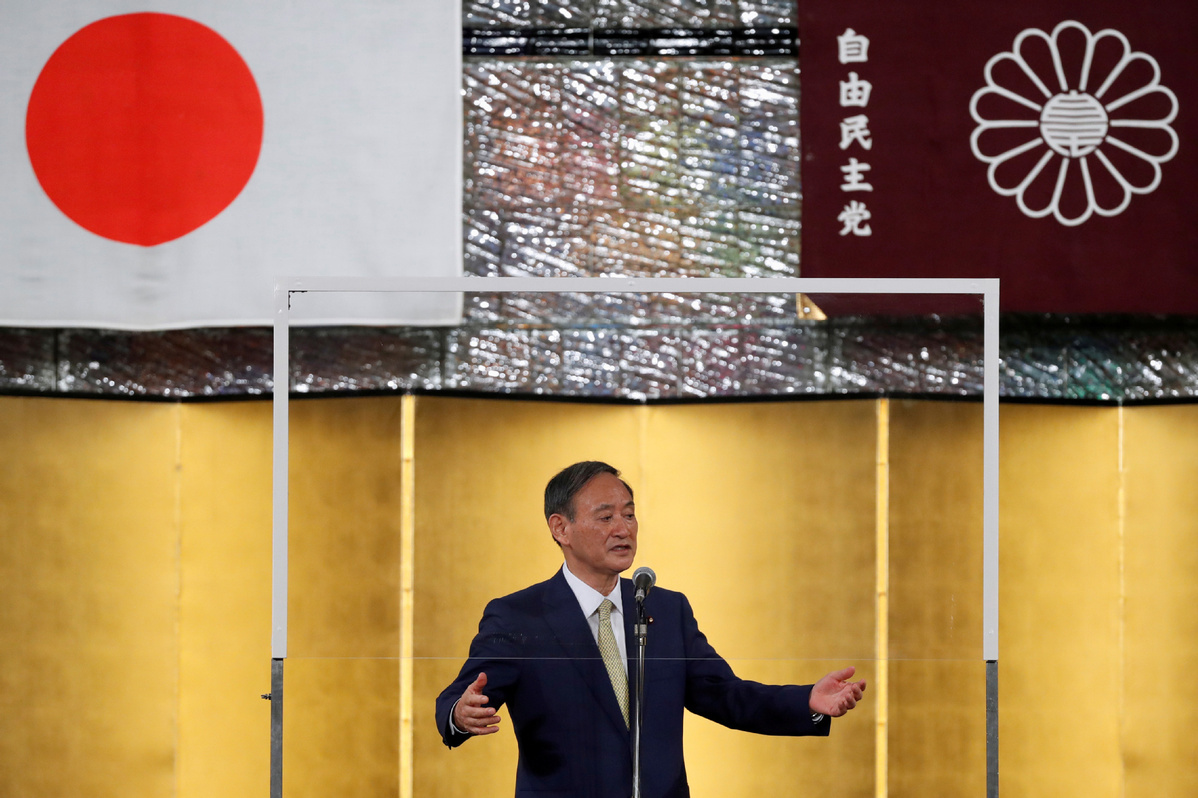 The front-runner to become Japan's next prime minister has emphasized the importance of the country's relationship with China and vowed to improve it as Tokyo named a new ambassador to Beijing.
"Getting along well with China, South Korea and other Asian countries is vital to Japan's development," said Japan's Chief Cabinet Secretary Yoshihide Suga, widely seen as the top contender to succeed Prime Minister Shinzo Abe, who last month announced his intention to step down as prime minister due to health problems.
Suga made the remark during a debate on Saturday with his two rivals for the leadership of the ruling Liberal Democratic Party, the former LDP Secretary-General Shigeru Ishiba, and the LDP Policy Chief Fumio Kishida.
Suga said he would patiently work to improve ties with China while keeping the Japan-US alliance "a basis of relations with Asian countries".
The debate on Saturday came ahead of an election on Monday to decide the next president of the LDP. Since the LDP-led coalition controls both houses of parliament, the Diet, the next leader of the party will succeed Abe and is set to be chosen as prime minister in an extraordinary Diet session on Wednesday.
Keeping dialogue open
Kishida and Ishiba also gave their own takes on relations with China.
"We must never let channels for dialogue close," Kishida said, adding that Japan must be smart in controlling the dialogue.
Ishiba, also a former defense minister, said Japan's role should be one of helping realize a world in which the US and China can work together.
Suga said he lacks the kind of diplomatic skills that the outgoing prime minister has and said he would need Abe's help if he assumed the top job.
"Prime Minister Abe's leadership diplomacy was truly amazing. I don't think I can match that. I think there is a diplomatic stance that would fit me, and I will stick to my own style, while also seeking assistance from the Foreign Ministry. And of course I will consult (Abe)."
On Friday the government named Hideo Tarumi, an expert on China in the foreign ministry, as new ambassador to China.
Tarumi, 59, will replace Yutaka Yokoi, who has been in the post since May 2016. They both belong to the ministry's group of diplomats who underwent Chinese-language training with a focus on advancing relations with the emerging power. The appointment is effective from Wednesday.
Tarumi, a graduate of Kyoto University, joined the ministry in 1985 and once led its China and Mongolia division. He has served as a minister at the Japanese embassy in Beijing and was head of the foreign minister's secretariat for a year until July.
Agencies contributed to this story.