At European culture exhibit, all routes lead to home
By Li Wenrui | chinadaily.com.cn | Updated: 2020-09-15 07:20
Culture is the widening of the spirit and the mind. Starting Sept 5, a multi-station exhibition featuring the cultural heritage of Europe is open to the public in Beijing. Laying out 38 cultural routes crossing the continent and beyond, it is a panorama of history, economy, art, and way of life.
Co-organized by the EU Delegation to China and EU National Institutes for Culture, the exhibition presents artwork, pictures, documents and audiovisual content.
After the opening ceremony, China Daily talked with the European Union's ambassador to China and the directors of the Goethe-Institut China and Danish Cultural Center to learn about the value of cultural diversity and how it strengthens people's ancestral roots.
"Lots of 'beautiful sites' (scenic spots and historical sites) are not the original sites. But they have always been rebuilt. That shows how much the Chinese people are attached to cultural heritage," said Nicolas Chapuis, ambassador of the European Union to China, when recalling his trip to the ancient battlefield of Red Cliff in Wuhan before the COVID-19 pandemic.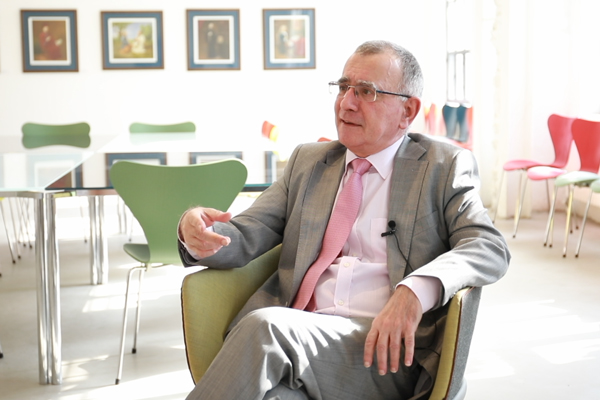 As a Sinologist, Chapuis has introduced many Chinese literati to France, including Qian Zhongshu, Yang Jiang and Ba Jin. He is also the first to translate a full poetry collection by Du Fu.
In his opening speech for the exhibition, Chapuis discussed the connection between education and travel, a notion shared in both European and Chinese cultures.
"Confucius left his hometown, the country of Lu, and traveled from state to state to propagate his ideas," he said. "There is no personal growth without traveling. And in a globalized world, it is even more important."
"All the Chinese travel today. They are on the path of discovering. When they are abroad, they discover they are not only from Xi'an, Beijing or Tianjin – they are from China."
Explore more exciting topics from Easy Talk, a cultural interview series by China Daily.
Guests: Nicolas Chapuis; Dr. Clemens Treter; Eric Messerschmidt
Reporter: Li Wenrui
Camera: Yang Xiaoyu
Editing: Li Wenrui
Copy Editor: Ian Goodrum
Subtitles: Sun Jiao
Producer: Li Wenrui
Executive Producer: Feng Minghui
Acknowledgements: Delegation of EU to China; Goethe-Institut China; Danish Cultural Center
Contact the producer at liwenrui@chinadaily.com.cn