Expert rebuts forced 'birth control' claims
By ZHANG YANGFEI | CHINA DAILY | Updated: 2020-09-15 08:24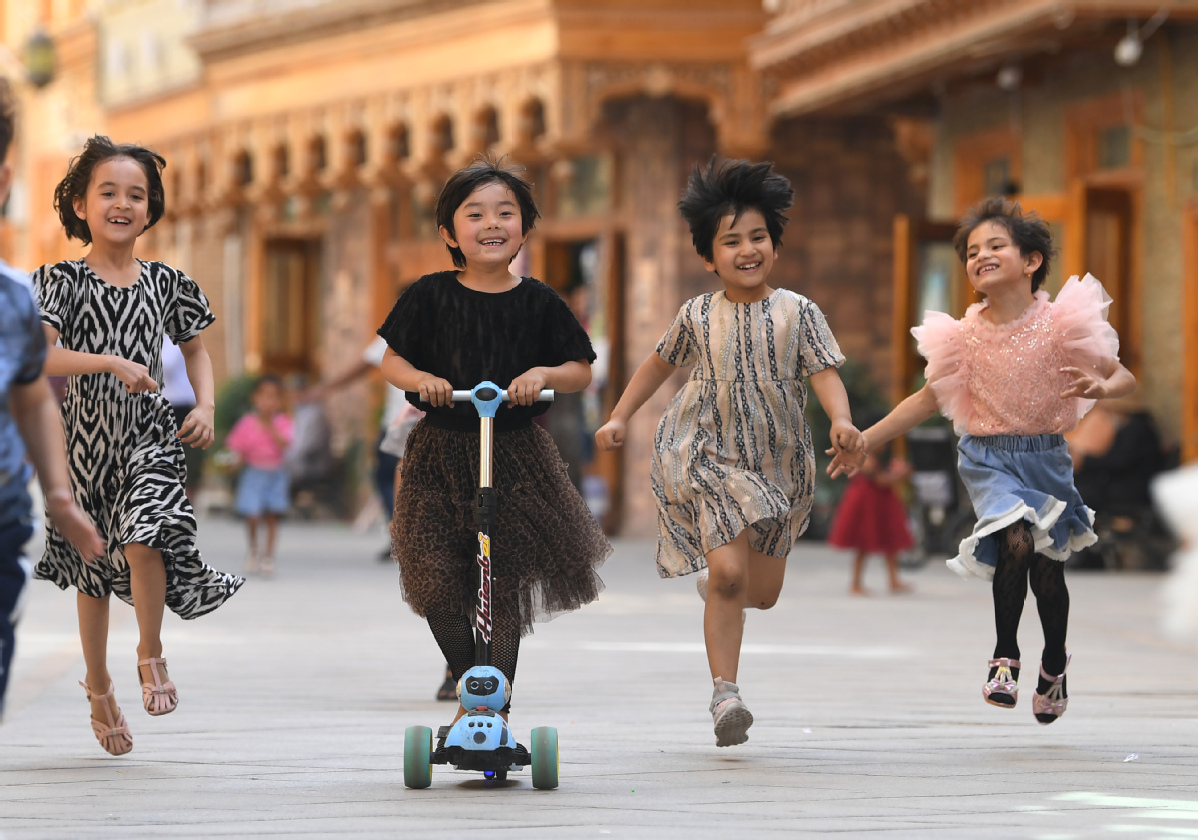 Academic says so-called mandatory sterilization in Xinjiang 'purely nonsense'
The accusation that the Chinese government "forces birth control and sterilization" on members of the Uygur ethnic group in the Xinjiang Uygur autonomous region is groundless fake news concocted by the US government and some Western foundations and scholars with an anti-communist background, according to an expert.
Lin Fangfei, an associate professor at the School of Politics and Public Administration of Xinjiang University, released a report on Monday on the birthrate among ethnic minorities in Xinjiang.
The report was also in response to a statement on the issue by US Secretary of State Mike Pompeo, as well as a report by the Associated Press.
The two documents claimed that the Chinese government has adopted coercive sterilization measures to reduce the birthrate of the Uygur people and other ethnic minorities in Xinjiang.
Lin said the statement and the report mainly cited a research report by German scholar Adrian Zenz, which claims that its data is based on official statistics, but is in fact full of falsified information and tampered data, and the claim of "coercive sterilization" is just an old trick played by some US foundations and scholars with an anti-China background.
She added that Zenz works for the Victims of Communism Memorial Foundation, an extreme right-wing organization sponsored by the US government.
Lin said the first "lie" made by Zenz is that the natural population growth rate in Xinjiang has seen a dramatic decline since 2015 and that in 2018, the natural population growth rate was 2.58 per thousand in Hotan and Kashgar prefectures. But the Xinjiang Statistical Yearbook 2019 shows that the natural population growth rates in 2018 were 2.96 per thousand in Hotan and 6.93 per thousand in Kashgar.
Xinjiang's natural population growth rate has indeed declined since 2015, but the overall growth rate in 2018, 6.13 per thousand, was higher than that of the entire country which was 3.81 per thousand.
Lin pointed out the reason for the decline is far from the assertion that a mandatory "birth control "policy was imposed on ethnic minority groups, as claimed by Pompeo and Zenz.
No discrimination
In fact, Xinjiang's regulations on population and family planning clearly stipulate that each urban couple can have two children and each rural couple can have three. This is a concrete manifestation of a population policy without ethnic discrimination.
"The so-called implementation of mandatory birth control policies for ethnic minority residents is purely nonsense," Lin said.
Zenz's report also accuses the Chinese government of sending women who exceed the birth quota to vocational training camps. "After looking through all the official documents Zenz listed and quoted, I did not find any evidence," Lin said.
On the contrary, the White Paper on Vocational Education and Training in Xinjiang published by the State Council Information Office clearly states that the training work aims to prevent the "spreading of terrorism and religious extremism".
"Zenz's report deliberately fabricated the nonexistent connection between vocational training and violation of family planning in an attempt to stigmatize China's family planning policy and deny China's achievements in combating terrorism," Lin added.
She also debunked Zenz's statement that 80 percent of all placements in China of intrauterine devices, a birth control device, in 2018 were performed in Xinjiang.
The China Health Statistics Yearbook 2019 shows that the number of IUD placements in Xinjiang in 2018 was 328,475, accounting for only 8.7 percent of the national total.
Lin said the truth is that the changes in Xinjiang's natural population growth rate are normal fluctuations closely related to the country's achievements in promoting the protection of women's rights.
Research based on the national census in 2010 found that the high Uygur fertility rate was due to social and economic underdevelopment, a low education level and restrictions due to religious beliefs.
Since 2010, the population growth rate has shown a decline, largely resulting from rapid economic development and a series of policies to promote gender equality and rights to education and employment.
According to Lin, Uygur women in Xinjiang have fully enjoyed their right to education in the past decade. The enrollment rate of school-age children in all primary schools in Xinjiang reached 99.91 percent in 2018 and an increasing number of Uygur women have obtained higher education degrees.
Uygur women also gained more job opportunities as more areas have invested and set up industrial parks to boost local employment.