Stir over UK's rights convention 'exit'
By Earle Gale in London | China Daily Global | Updated: 2020-09-15 09:56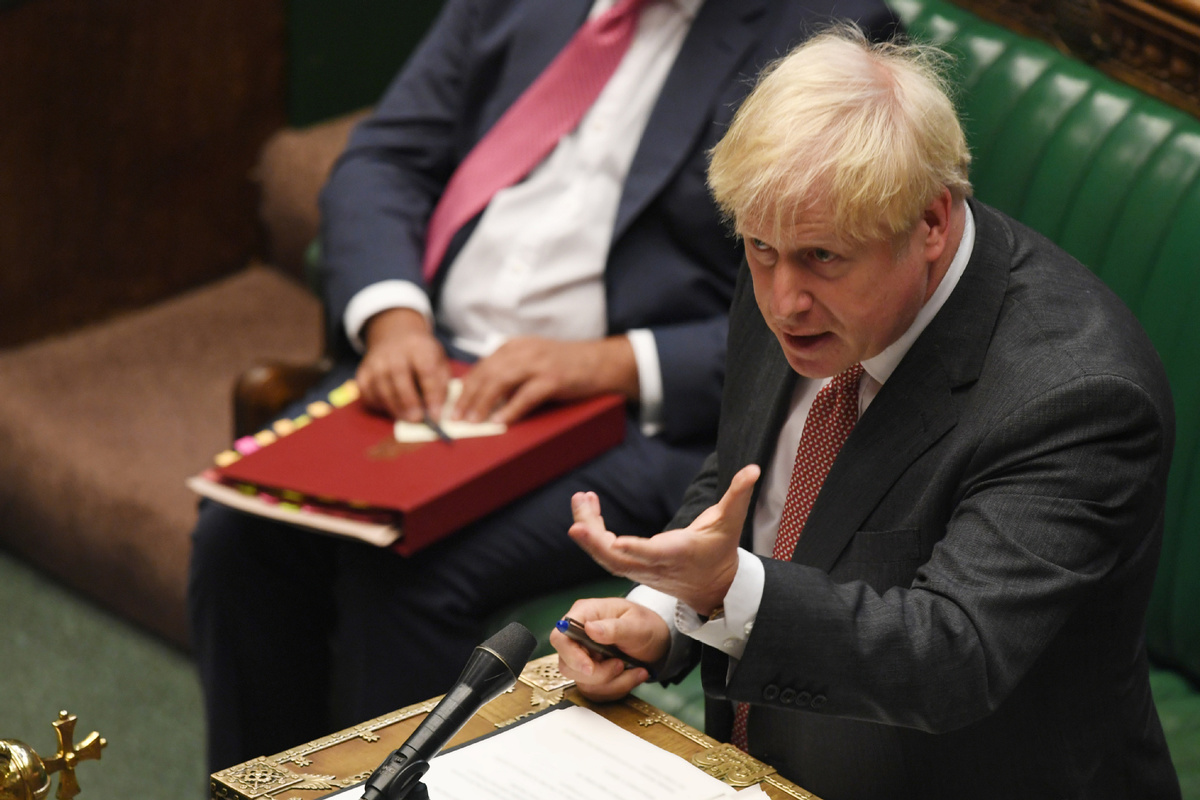 The European Union is understood to be furious with the United Kingdom following reports that the British government is planning to withdraw from the European Convention on Human Rights.
The unconfirmed claim by the Sunday Telegraph newspaper said London wants to ditch the legally binding convention that guarantees personal freedoms via the European Court of Human Rights. It said Prime Minister Boris Johnson wants more freedom to deport illegal immigrants and to ignore the court's rulings against British soldiers serving overseas.
Currently, 47 members of the Council of Europe, including France, Turkey and Russia, are signatories to the convention. Belarus is the only European country that is not.
The Guardian newspaper said the UK's apparent intention to withdraw threatens to overshadow negotiations between London and Brussels about a possible future UK-EU free-trade deal because the bloc is a keen supporter of the convention.
David Lammy, the shadow justice secretary for the UK's opposition Labour Party, told The Guardian: "Labour is proud of our country's role in developing human rights at home and abroad... Any attempt to abandon human rights would make life in Britain less secure and hold our country back on the world stage."
Binding commitment
Sky News reported Wera Hobhouse, the Liberal Democrats' justice spokeswoman, saying: "This Conservative government's attacks on the rule of law must stop ...Threatening to weaken people's ability to challenge the government just because the courts sometimes rule against you is the act of dictators and despots, not democrats."
But a government spokesperson insisted guaranteeing human rights "does not require an additional binding international legal commitment".
The convention has been deeply unpopular with right-wing elements of the UK's ruling Conservative Party for many years and the party's latest election manifesto vowed to "update" Britain's relationship with it.
But the UK justice secretary, Robert Buckland, insisted on Times Radio that the notion that the UK was planning a full withdrawal was "for the birds".
"Yes, there have been moments when we have had disagreements and clashes about aspects of its interpretation, but you know there is a wide margin of appreciation that allows member states, Britain, France, other countries, to make their own laws which give us a huge amount of freedom."
The convention was drawn up in the aftermath of World War II to guarantee European citizens the right to live without torture, discrimination, or unfair legal processes.