Kenyans gain access to traditional Chinese medicine for viral pneumonia
By Otiato Opali in Nairobi, Kenya | chinadaily.com.cn | Updated: 2020-09-15 20:10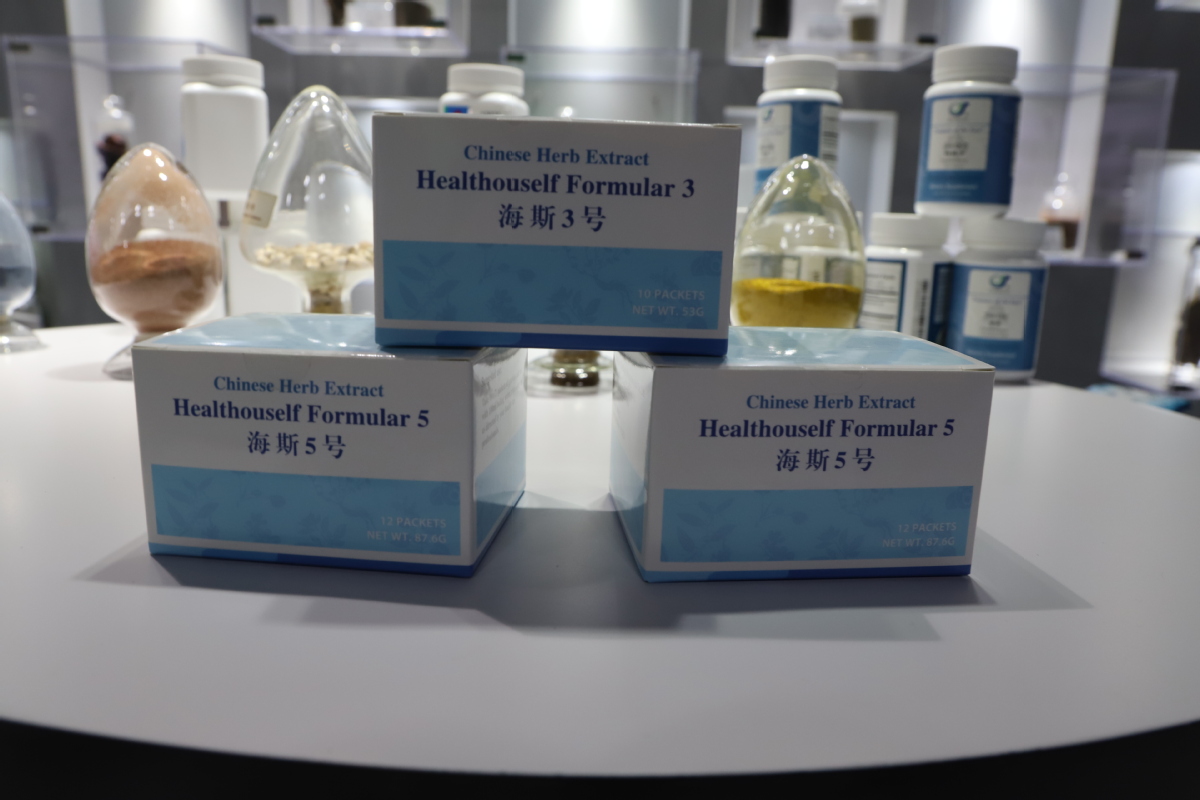 Kenyans now have the option to try Chinese herbal medicines formulated to boost immunity and optimized for viral pneumonia treatment and management.
The news comes after China's Jiangyin Tianjiang Pharmaceutical Company obtained certification from Kenya's Pharmacy and Poisons Board to import two herbal medicines used to prevent infection, strengthen immunity and treat severe acute respiratory infections.
Edgar Ngugi, the general manager at XRP Medical Kenya Limited, a local agent distributing the medicine, said the two herbal medicines, Healthouself Formula 3 and Healthouself Formula 5, have been key in the prevention, treatment and control of various viral pneumonia infections worldwide, and have no known side effects.
"Healthouself Formula 3 consists of the Jade Screen formula, in addition to other four herbal ingredients and plays a powerful role in strengthening the immunity. On the other hand, Healthouself Formula 5 contains anti-viral, anti-bacterial and anti-inflammatory benefits. It is also useful in the treatment of severe acute respiratory infections, especially those that are zoonotic," Ngugi said.
The development comes after the World Health Organization and the Africa Centre for Disease Control and Prevention launched an expert advisory committee in August to provide independent scientific advice and support to countries on the safety, efficacy and quality of traditional medicine therapies during the coronavirus pandemic.
The Pharmacy and Poisons Board says its work is to ensure only good quality, safe and efficacious herbal and complementary products are available in Kenya and to contribute towards their accessibility, cost effectiveness and appropriate use. That is why it welcomes alternative medicine as long as it goes through the right certification process.
According to Antony Toroitich, Head of Trade Affairs of the Pharmacy and Poisons Board, the board welcomes alternative medicine as a way of making medication accessible and affordable to all Kenyans.
"Recently, the Pharmacy and Poisons Board of Kenya made a bold decision to allow parallel trade and importation of pharmaceuticals. This is to help those in need of the drugs who cannot afford the cost of brand treatment because the drugs are either unavailable or very expensive," Toroitich said.
Toroitich also assured Kenyans the board will not allow the proliferation of subpar medicine into the Kenyan market.
"To safeguard Kenyan consumers from substandard medicine, the Board conducts regular post-market surveillance with the use of a mini-lab, where random and physical sampling is done," he said.
According to Ngugi, the Chinese herbal medicines now available in Kenya have passed rigorous clinical trials and certification in China, and also went through normal certification at the Pharmacy and Poisons Board.
"We provided them with the whole dossier that contained the information they needed, like the ingredients, where they are being grown, which part of the plant they are extracted from and the chemical formulation," he said.
Ngugi said this was the first Chinese herbal medicine to be registered in Kenya since the previous ones have been supplements. However, he sees this as an opportunity for Kenya and China to cooperate more in the field of herbal medicine.
"I believe there is room for collaboration, because both Kenya and China have a long and remarkable history in practicing herbal medicine. This is an opportunity for our universities, research institutions and the government to explore ways we can benefit from each other's knowledge in this field," Ngugi said.
The two Chinese herbal medicines are currently available in Kenya, but its producers and distributors are hoping to make them available in East Africa and eventually across the continent.