Chloe Zhao honored with director's award at Toronto International Film Festival
By RENA LI in Toronto | China Daily | Updated: 2020-09-18 00:15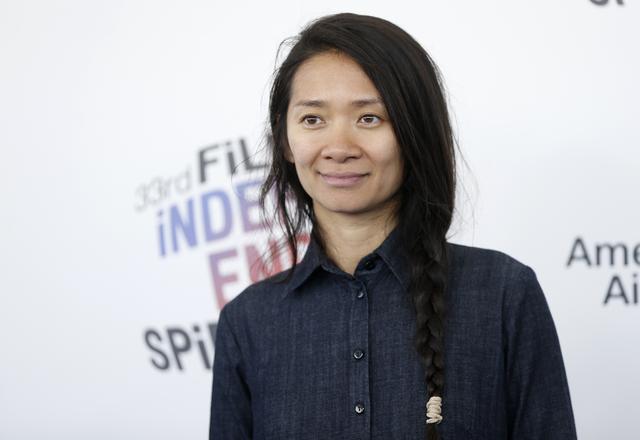 Chloe Zhao, a Chinese American filmmaker who won the Golden Lion award at this year's Venice Film Festival for the forthcoming Nomadland and the Art Cinema Award at the Cannes Film Festival in 2017 for The Rider, was honored at this year's Toronto International Film Festival (TIFF) Tribute Awards with the TIFF Ebert Director Award, placing her on the list of elite female filmmakers in the world.
"I feel incredibly lucky that the people I work with are there when I'm succeeding, and they're there even more when I fail ... thank you for supporting me through it all," Zhao said during the awards ceremony Tuesday.
Although the film festival was held in hybrid form — in person and online — due to the COVID-19 pandemic, the TIFF Awards still attracted a larger worldwide audience on television and online through social media.
Joana Vicente, executive director and co-head of TIFF, said Zhao's film Nomadland reminds people, particularly now, that cinema has the power to connect everyone.
"Zhao's work consistently exemplifies her signature flair for authentic, humane and emotionally intimate storytelling," Vicente said.
The feature film Nomadland is about Fern (Frances McDormand), a "houseless" woman living in her van who travels the American West after the economic collapse of her Nevada hometown. Along her journey, she learns about herself and her relationship to her country.
By seeking out characters living on the margins of society and on the periphery of movie heroism, Zhao, 38, became only the fifth female filmmaker to claim the coveted Golden Lion trophy in the Venice Film Festival's history.
Zhao was born in Beijing and was raised there and in Brighton, England. After moving to the US, she studied political science at Mount Holyoke College in Massachusetts and received a master's degree in film production at New York University.
Her debut feature, Songs My Brothers Taught Me— which she wrote, directed and co-produced — premiered at the 2015 Sundance Film Festival and screened at Cannes, receiving a nomination for the Caméra d'Or Award for best first feature.
Her second feature, The Rider, an impressionistic drama about a South Dakota cowboy, has been approved to screen in China via a limited theatrical release through the country's National Alliance of Arthouse Cinemas.
Film critic Godfrey Cheshire said Zhao's sensibilities went beyond the cinematic.
"The commanding abilities Zhao shows ... easily mark her as one of the world's most important young directors," said Cheshire. "Add to that fact that this enrapturing vision of an indigenous American and hyper-masculine culture comes from a young female filmmaker who hails from Beijing and the achievements ... are fairly staggering."
Nomadland, Zhao's third film, was called by Variety a "rich and resonant celebration of the American West" that "straddles the border between fact and fiction". The movie is adapted from the 2017 nonfiction book Nomadland: Surviving America in the Twenty-First Centuryby Jessica Bruder.
The film, which has already garnered awards-season buzz ahead of its theatrical release, is expected to bring Zhao the first nomination for best director at the Oscars by a woman of color.
As the first Asian to tackle a superhero film for Marvel Studios, Zhao said her upcoming movie Eternals, due out next year, was influenced by her experiences of growing up in China.
"I have such deep, strong, manga roots. I brought some of that into Eternals. And I look forward to pushing more of that marriage of East and West," she told The Hollywood Reporter.