China-Ghana relations will prosper further
By Chen Yingqun | China Daily | Updated: 2020-09-18 09:29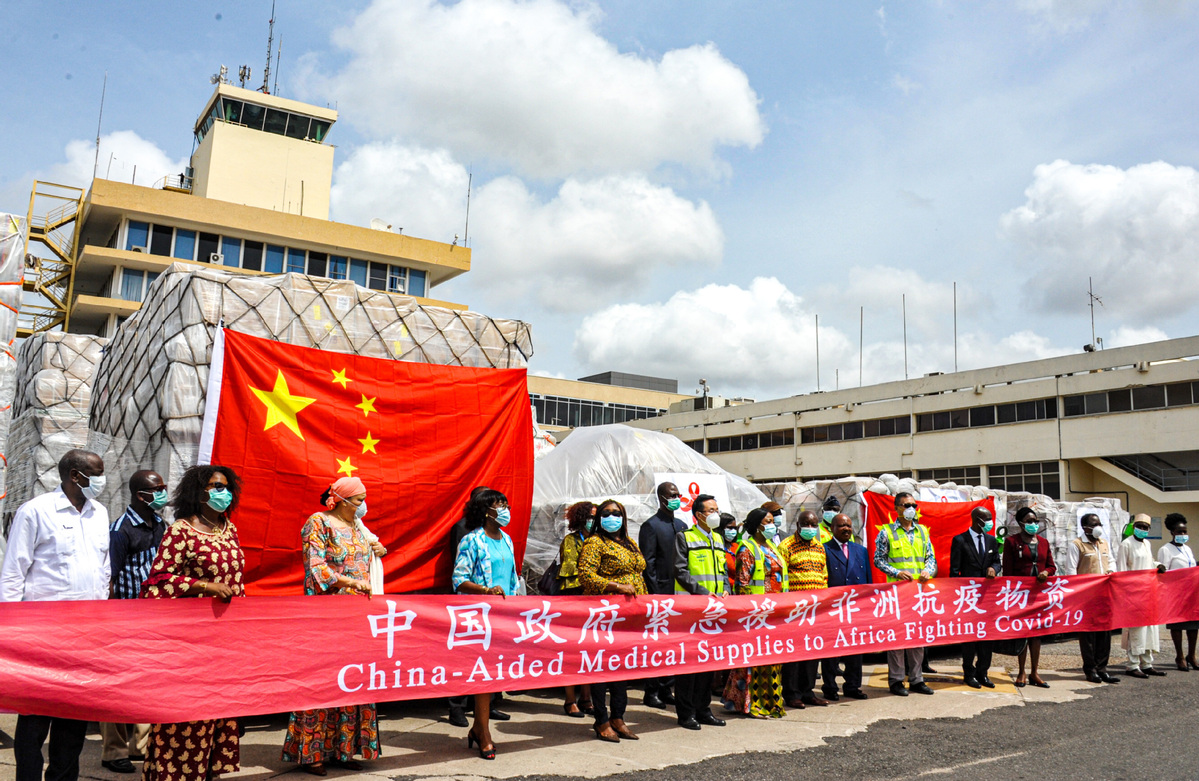 China and Ghana have firmly supported each other and deepened cooperation in a wide range of sectors over the past 60 years, a virtual symposium was told this week.
Speakers at the event on Wednesday said bilateral relations in the post-pandemic era are on track to enjoy a boom.
Lin Songtian, president of the Chinese People's Association for Friendship with Foreign Countries, said that over the past six decades China and Ghana have always understood and assisted each other, regardless of international developments over that period. They have firmly safeguarded their common interests as well as those of other developing countries, and these efforts have brought tangible benefits to the two peoples.
Lin said that China appreciates Ghana's firm support on issues related to China's core interests, and its resolute opposition to hegemonism and power politics.
He made the points at the online symposium, which was convened to commemorate the 60th anniversary of the establishment of diplomatic relations between China and Ghana. The forum was co-organized by the association and Ghana's embassy in China.
Lin said the economic and trade cooperation between the two countries has seen rapid development.
"The Chinese government actively encourages enterprises to invest and develop in Ghana and supports Ghana's development of infrastructure construction, manufacturing and aviation industries, to boost its independent and sustainable development," he said.
Ghana's Vice-President Mahamudu Bawumia said China is the largest investor in his country, by the number of registered projects.
"It is also Ghana's biggest trading partner, with the total value of trade reaching a record of $7.46 billion in 2019, surpassing our traditional trade partners," he said.
Diplomatic opportunities
Bawumia said the China-proposed Belt and Road Initiative presents new diplomatic and economic opportunities for the West African country, and it could transform Ghana's financial, manufacturing and technology sectors by connecting the country with new markets across the globe.
Ghana is learning from China, he said. "For instance, China's emphasis on intensive infrastructure development, especially in the transport sector, is being adopted to play a major role in supporting our government's transformational initiatives."
Bawumia said that with the world having been hit by the COVID-19 pandemic, a new normal is gradually being created. There will be a significant shift in the way that business, and political engagements, is conducted across the globe. Ghana-China relations can ride on the back of the new normal to create viable political, economic, social, and cultural partnerships that will define the two countries' future in the post-COVID-19 era, he said.
Shirley Ayorkor Botchwey, Ghana's minister for foreign affairs and regional integration, said that China and Ghana have collaborated in the global fight against the pandemic, highlighting the mutual support and solidarity underpinning that effort.