Nation's e-commerce villages herald rural transformation
By David Blair | China Daily | Updated: 2020-09-21 09:23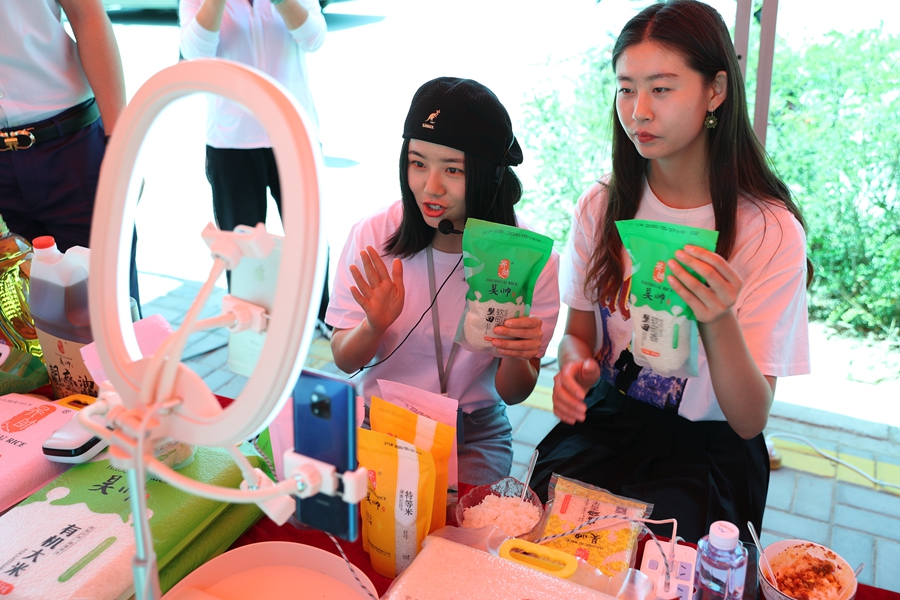 Entrepreneurs in Suning county, Hebei province, have seized opportunities created by e-commerce, a good business environment, and infrastructure that is already excellent but will improve even more due to the Beijing-Tianjin-Hebei development plan and the creation of the Xiongan New Area.
Until recently, Suning was a fairly remote county in Hebei and most of its people were farmers. It still has a successful agricultural sector-growing vegetables, corn, pears, and seedlings. But many of its people are taking advantage of the recently created capability to sell directly to customers on Alibaba's Taobao online sales platform and other similar platforms to build new businesses. Expanding on long-established skills, the county now has manufacturing clusters in the production of fishing rods, clothing, seedlings and musical instruments.
Businesspeople in Suning estimated that average incomes in the county have at least doubled in the eight years since e-commerce has become common there. The county government attaches such importance to Taobao villages that it plans to hold the 2020 Eighth Taobao Village Forum from Friday to Sunday.
In many "Taobao villages" in the county, up to 90 percent of the people work in online sales-either as business owners or as employees of those businesses. Many people are livestreamers, directly pitching their products to customers throughout China and, in some cases, foreign countries.
None of this would be possible without government support. Without very good 4G and other internet connectivity, e-commerce would be impossible. Without road and rail links, rural companies would not be able to ship their products to customers in a timely manner.
Suning, for example, has very good road links and two freight rail lines cross the county. Soon, a high-speed rail station will be built. Suning is 50 kilometers from the Xiongan New Area, so it will soon become very tightly linked with the entire Beijing-Tianjin-Hebei region.
A key to making e-commerce work is support offered by local governments, ranging from clear and rapid business regulatory approvals to education and training in information technology to needed infrastructure. Businesspeople in Suning said that the local government has been consistently friendly and helpful.
Li Yong, the founder and owner of Water Hunter Fishing Gear Co in Haner village, said that people in the area are much richer than they were a few years ago. He said that before Taobao and other online sales, there were only three or four cars in the village. Now, many people have the achievable dream of buying a Mercedes-Benz or a BMW, something that would have been unthinkable a few years ago. Li has built a company that employs over 100 people making, distributing and selling fishing rods online.
Similarly, Chen Lei in Xiqianbo village has built a good life for his entire family making fishing rods and selling them online. His daughter-in-law, Guo Sui, has become a well-known livestreamer with fans around the country signing on to see her selling fishing rods. Since Chen was elected village Party secretary, he has dedicated himself to helping other people in Xiqianbo to develop the skills needed to sell products online.
Suning also has industrial clusters-networks of suppliers and producers in the same industry-making clothing, musical instruments, and seedlings. Many of the companies in these industries existed before the invention of e-commerce, but their ability to interact directly with customers has greatly boosted their sales and profits.
For example, Jinxidie Clothing is upgrading its production line using smart technology and uses e-commerce to constantly adjust to the demands of its customers. Yuehai Musical Instrument Co uses online platforms not only to sell traditional Chinese instruments, but also to provide education and entertainment.
According to Alibaba, the number of Taobao villages in China exceeded 4,000 in 2019. A Taobao village is defined as having annual online transactions of at least 10 million yuan ($1.48 million), and with at least 10 percent of households involved in e-commerce or where there are at least 100 active e-shops.
AliResearch, Alibaba's research arm, estimated that Taobao villages created 6.8 million jobs in the 12 months ending June 2019 throughout the e-commerce value chain. In 2019, the 63 Taobao villages located in the country's most impoverished areas generated about 2 billion yuan in e-commerce sales. Total sales of Taobao villages exceeded 700 billion yuan in the financial year from July 2018 to June 2019, according to Alibaba.
E-commerce is not just raising rural people out of poverty, it is giving the opportunity to achieve real prosperity. An August 2019 report by the World Bank and AliResearch found that the average household incomes in Taobao villages are almost three times higher than the rural average in China, and close to the urban average.
"Average household per capita income in Taobao villages (some 35,000 yuan per year in 2017) is nearly three times higher than the rural average in China (13,432 yuan per year in 2017), and close to the urban average (36,396 yuan in 2017)," the report states.
Even just 10 years ago, many young people had to leave their rural or small city homes to find opportunities. Now, many can use e-commerce to create their own opportunities near their families. Others have worked in the bigger cities but take the skills and knowledge they learned while away to build businesses in their home areas.
The rural e-commerce village phenomenon is made in and invented in China. China's Taobao village model has been opening a new pathway for rural development in other developing countries, inspiring netprenuers in Africa and Southeast Asia to seek innovative development solutions by leveraging rural e-commerce.
Alibaba is not exactly helping them "establish Taobao villages", because those countries are using their own homegrown platforms to develop rural e-commerce, so they cannot be called Taobao villages and also the rural e-commerce systems in those countries have their own features and are not necessarily a replica of China's Taobao villages.
Actually, they regard China's Taobao villages more as a good example, which could enlighten themselves to grow their own rural e-commerce model fitting into their own development. But in no other place is it so large nor has it been so transformative as in China.
In China, Taobao competes fiercely with direct competitors such as Pinduoduo or JD. This leads to a very vibrant market that brings great benefits to small entrepreneurs. In the United States, in contrast, the Amazon-Facebook-Google oligopoly suppresses meaningful competition and is a hindrance to small businesses.
In the US, e-commerce is dominated by one large company, Amazon, which retains monopolistic power over its suppliers. It keeps the customer information for itself, instead of sharing it with the supplier company. Recently, Amazon was even caught using supplier information to produce a competitor product itself.
Google's YouTube does allow channel owners to interact directly with watchers, but it does not have the kind of interaction seen on Taobao sites, so there is no equivalent of the livestreaming sales seen on the many Chinese e-commerce internet platforms.
Reportedly, Facebook owner Mark Zuckerberg strongly lobbied the US government to ban TikTok because he wanted to eliminate a strong competitor that might have opened up the US market.
I've recently been reading David McCullough's 2016 book The Wright Brothers, a biography of Wilbur and Orville Wright, the inventors of the airplane. McCullough describes the area around Dayton, Ohio-the Wrights' hometown-in the late 19th century. It was a highly entrepreneurial and productive environment in which many Americans were starting small manufacturing businesses and trying out new business ideas. In Dayton alone, there were more than 30 bicycle manufacturers. Sadly, Dayton is not that entrepreneurial today.
Suning county reminds me of the way McCullough describes the American Midwest in its entrepreneurial and inventive heyday. The dynamism of Dayton and many places like it more than 100 years ago set the stage for the American economic success in the 20th century.
The current dynamism of millions of businesspeople in counties around China portends a richer future in which average people have the opportunity to build businesses and improve their lives. This transformation of rural and small-town China, combined with the broader range of market-based reforms being implemented at the national level, sets the stage for China's 21st century transformation and growth.