Pandemic has much to teach us about healthy societies
By Su Fangzhou | chinadaily.com.cn | Updated: 2020-09-21 13:48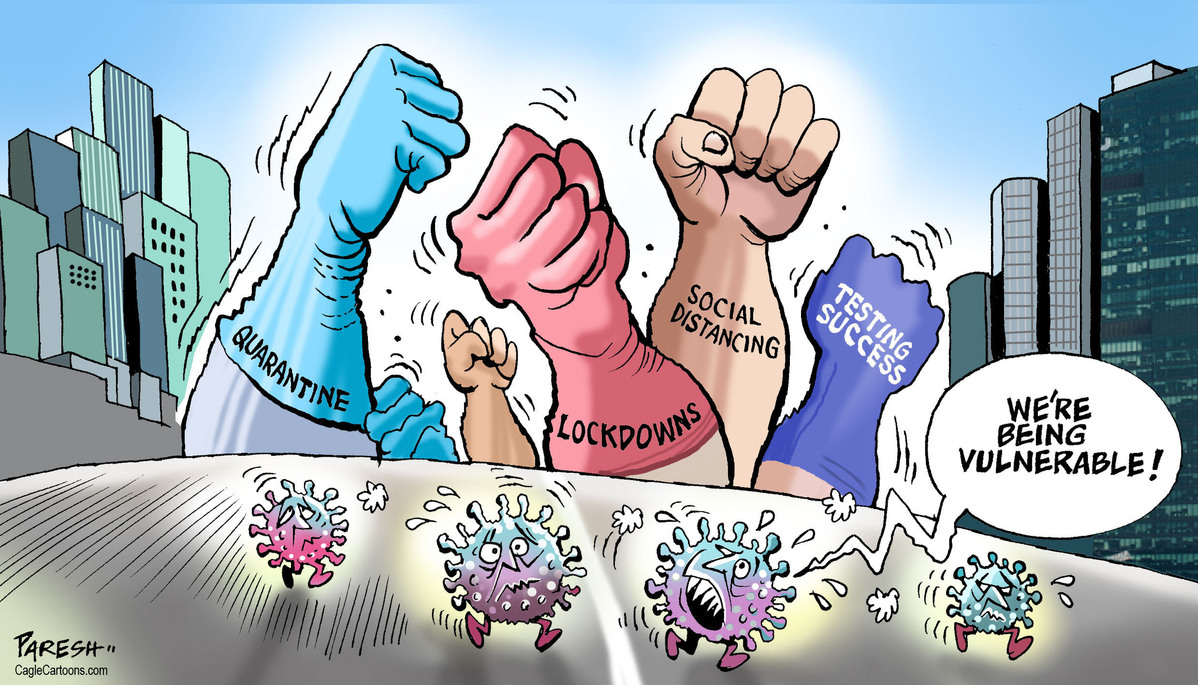 At present we are still in the midst of the COVID-19 crisis. During this time we can see a pattern of history repeating itself, in terms of the attitudes and approaches many people and governments have adopted toward the pandemic: lack of caution, spread of disinformation and non-commitment to the cause of public health.
In ongoing struggles exacerbated by incompetent leadership or governments, let's first turn our attention to one of the essential problems faced: unemployment.
Because of the lockdown measures endorsed by countries across the globe, the global economy has taken a serious hit. With a large number of companies either suspended for business or shut down forever, people are subsequently laid off. A recession seems inevitable. What are the options left to fight against massive job loss and unemployment in the market?
In the short term, appropriate prophylactic measures combined with cautionary and phased reopening is a plausible solution. This provides a silver lining for those unemployed now to at least eke a livelihood through temporary jobs, previous savings and government financial support.
However, we have also seen how COVID-19 has driven up the speed of automation and artificial intelligence in our life and work. As a means to counter the disruption in operation brought about by a situation like the epidemic, it seems in the interest of employers to replace some of their workforces with technology as much as is reasonable. Hence tech companies may seize on this opportunity to advance their products and strategies to make the proliferation of things such as unmanned factories, hotels and supermarkets a not-so-distant future.
By then, a lot of current job categories would be obsolete, like shop assistant, doorman, receptionist and others in the manufacturing, leisure and retail sectors. What do we expect of the labor market in the long run, as the prospect of tech threatens to consign some of those traditional jobs into the dustbin of history?
A new orientation program could be established in our education system that better lays out career prospects for graduates and works closely with the market and government. A failed collaboration between these parties will see the labor market despondent, as well as falling short of requirements for the sustainable and resilient development of society.
There are other issues that must be addressed before we carry on with this ambitious enterprise of reform. First is inequality, a century-old obstacle. Such inequality doesn't just exist between different gender or racial groups, but also between different demographic cohorts and those of different educational backgrounds. People who suffer unequal treatment at work feel their efforts or ingenuity are underappreciated or not rewarded the way they truly deserve. This problem can be a lingering one for a society, eventually giving rise to movements of aggrieved workers, even revolution.
Another issue is more of a disguised inequality — the distribution of wealth. The disparity between rich and poor is increasing constantly. Taxation and minimum wages cannot be the sole solutions, for they have obvious shortcomings which make a government unwelcome by both rich and poor if overused. A more delicate credit system may be introduced, with a more balanced measurement on a person's contribution to the society not just in economic terms, but also in terms of spiritual and emotional values.
It is true we live in a world of diversity, guided by different sets of laws, value systems and beliefs, and it is also true the world does not have unlimited resources. That would suggest competition between countries as well as individuals is the natural state in human development. However, such diversity and competition does not rule out cooperation and coexistence. In face of common enemies such as the pandemic, a unified frontline is the only means to achieve a sweeping victory. Mutual understanding and respect are a virtue in relationships between different parties. So in order to secure a better future for our generations and give them hope instead of despair, we must resist the temptation to generate disinformation and conspiracy theories, and put aside differences in political agenda to work together when it comes to a global crisis.
As we often say, no one is perfect, and so there is no shame to admit any mistake you may have made in the course of action. The first step after making a mistake is to correct it. It would be a real shame, then, to try to hide it or blame it on someone else entirely, making a dire situation even worse. When it comes to a global problem or a challenge, a country needs an open state of mind, free from myopic views and self-interest, and the courage to make sacrifices necessary to carry forward progress for all mankind. And yet this is a trait that one can rarely find in the leaders of many developed nations at the moment.
We only have one planet. Let's fill it with more love instead of hate, and harmony rather than self-inflicted conflicts. As with any noble cause, this will be tough but worthwhile.
The author is a contract administrator on overseas projects of Sinopec Corporate Group.
If you have a specific expertise and would like to contribute to China Daily, please contact us at opinion@chinadaily.com.cn , and comment@chinadaily.com.cn