Justice's death sets up political showdown before vote
By ANDREW COHEN in New York | China Daily Global | Updated: 2020-09-22 01:22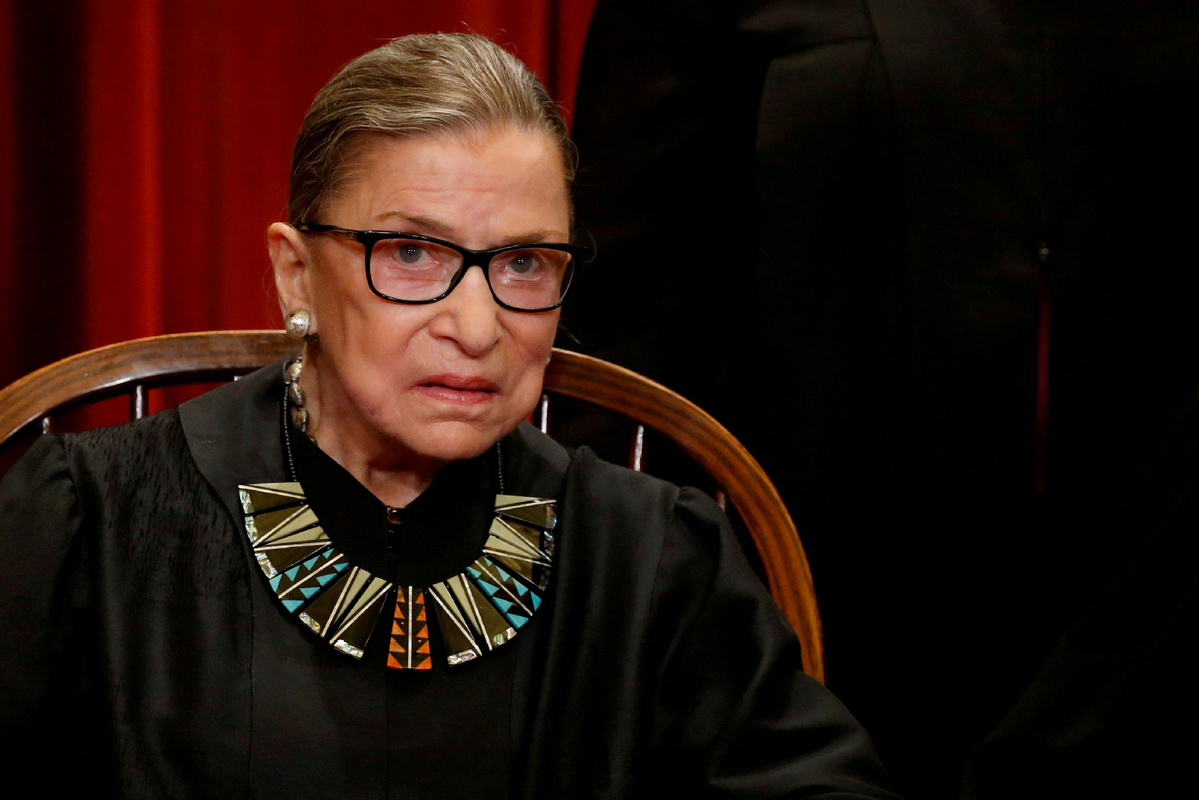 The passing of Supreme Court Justice Ruth Bader Ginsburg, the Clinton-era appointee who died Friday at age 87, has added a new flashpoint into what already has shaped up to be a chaotic countdown to the Nov 3 US presidential election.
The looming tug-of-war over the naming of her successor has the potential to push aside several major issues in the campaign, including the COVID-19 pandemic, a weakened economy, protests over racial injustice and multiple natural disasters.
The sudden vacancy on the nation's high court means the election is now more than a struggle between President Donald Trump and his Democratic opponent Joe Biden for the White House and control of Congress, political strategists say.
With control of all three branches of the US government up for grabs at once, voters and politicians also will now have to weigh the status of abortion, immigration, civil rights and healthcare for millions of Americans, which already were contentious issues before Ginsburg's death.
"This is going to set off a titanic battle," said David Gergen, a political adviser who has served both Republican and Democratic presidents. "This could seriously affect the election."
The passing of Ginsburg, the court's leading liberal, gives Trump a chance to expand its conservative majority to 6-3 with a third appointment. Trump said Saturday that he would move to nominate a successor "without delay".
Shortly before her death from pancreatic cancer, Ginsburg dictated a statement to her granddaughter: "My most fervent wish is that I will not be replaced until a new president is installed."
"As a nation, we should heed her final call to us, not as a personal service to her, but as a service to the country, our country, at a crossroads," Biden said in a speech Sunday in Philadelphia. "There is so much at stake."
Senate Majority Leader Mitch McConnell, Republican of Kentucky, said Friday he intends to act on any nomination Trump makes, while Democrats immediately called for the seat to stay vacant until after Jan 20, when the winner is inaugurated.
McConnell's pledge is complicated by GOP senators facing tough reelection battles. The Republicans' 53-47 Senate majority already has been eroded by two apparent defections. Confirmation of a new justice requires at least 50 votes, assuming the current vice-president breaks any tie vote.
Republican Senator Susan Collins of Maine said Saturday that the Senate should not vote on a Supreme Court nominee before the election and that the winner should fill the vacancy.
Another Republican senator, Lisa Murkowski of Alaska, said in a statement Sunday that she would not support confirming a replacement for Ginsburg before Election Day.
According to a Reuters/Ipsos poll released Sunday, a majority of Americans, including many Republicans, want the winner of the presidential election to name Ginsburg's successor.
The poll found that 62 percent of US adults agreed the vacancy should be filled by the winner of the election, while 23 percent disagreed, and the rest said they were not sure.
Eight out of 10 Democrats — and 5 in 10 Republicans — agreed that the appointment should wait.
Democratic donors broke fundraising records, funneling nearly $90 million to Democratic candidates and progressive groups in the 24 hours following the news of Ginsburg's death, according to ActBlue, an online fundraising organization for Democrats.
"I will be putting forth the nominee next week; it will be a woman," Trump told supporters at an outdoor rally Saturday in North Carolina. "I actually like women much more than I like men."
According to The New York Times, Trump is privately considering two judges from the US Court of Appeals: Amy Coney Barrett, 48, of the Seventh Circuit in Chicago, and Barbara Lagoa, 52, of the 11th Circuit in Atlanta.
Reuters contributed to this story.