Cabinet highlights role of private sector
By XU WEI | CHINA DAILY | Updated: 2020-09-22 09:16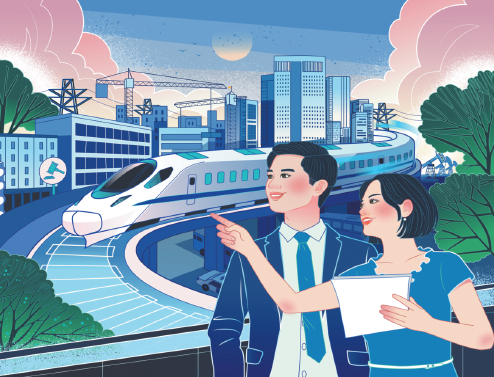 The State Council has pledged continuous efforts to level the playing field for private firms, rolling out steps to broaden market access for private businesses and support their participation in the construction of major railway projects.
The Cabinet highlighted the important role of private businesses in creating jobs when it adopted the decision at its executive meeting on Thursday.
It vowed quicker steps to enable power grid operators to shed services such as equipment manufacturing and better focus their businesses, allowing subsidiaries to stand on their own or be sold off. Oil and gas infrastructure will be opened to businesses of various types of ownership, and private businesses will also be encouraged to take part in the construction and operation of passenger and cargo transport terminals, according to a statement released after the meeting.
The government will make key national research infrastructure more accessible to the private sector and speed up measures to accredit national-level technology centers in private businesses, the statement said. It will also be easier for employees at private firms to obtain professional titles.
Smaller private firms will be allowed to form partnerships to participate in the tendering and auction of land for industrial use, while local authorities will be encouraged to establish risk-sharing mechanisms for loans made to micro-sized, small and medium-sized companies.
Premier Li Keqiang emphasized the private sector's key role in job creation at the meeting, citing figures that showed private businesses contributed to over 90 percent of newly created jobs in China.
"We have always stressed the employment first policy, and it is quite an extraordinary achievement for China to attain sufficient employment for its 1.4 billion people," he said.
"From the perspective of protecting market players, we will be able to protect the bedrock of the job market with measures to ensure the survival of private businesses."
Li also highlighted the importance of creating more room for the development of private firms to allow them to give play to their strengths and blossom.
The private sector contributed more than 50 percent of tax revenue, more than 60 percent of GDP, more than 70 percent of technological innovations and more than 80 percent of urban employment, and accounted for more than 90 percent of the enterprises in China.
Analysts at Central China Securities said in a research note that the measures rolled out at the meeting will further energize the economy, open up more monopolistic sectors to private capital, and encourage private investment in the research and development of fundamental technologies.
The latest policies will benefit sectors including oil and gas services, electrical equipment, 5G telecommunications and semiconductors, they said.
Liu Xiaochun, vice-president of Shanghai Finance Institute, said it is important to adhere to a principle of competitive neutrality and ensure private businesses enjoy equal status in market competition with their State-owned counterparts.
Ensuring resources are allocated by the market will increase the competitiveness of all market players, he said.
With private businesses still facing major hurdles in obtaining financing, Liu said the government must encourage the financial sector to establish a long-term mechanism to support the private sector.
Thursday's meeting also called for concrete measures to carry out the three-year action plan for the reform of State-owned enterprises, saying that all SOEs must be relieved from commitments to fund social programs by the end of this year.
The mixed-ownership reform of SOEs will be deepened, and the establishment of modern corporate systems will be pushed forward to refine their market-oriented operating mechanisms, the Cabinet said.
It also pledged support to SOEs in stepping up fundamental research and innovation and to bolster research and development on key technologies, saying that SOEs must focus on their main business portfolios and give up nonessential business.
The meeting also decided on steps to improve electricity supply services for residents and small and micro-sized businesses. Individuals and smaller firms will only need to apply for such services online starting from next year, and the amount of time required for approvals will be shortened to five workdays for residents and 25 workdays for smaller businesses.
By 2022, all small private businesses applying for access to low-voltage electricity will be exempt from making investments, the Cabinet said, adding that the move is expected to save them a total of 130 billion yuan ($19.2 billion).