Feeling and healing their pain
By WANG XIAOYU | CHINA DAILY | Updated: 2020-09-22 09:32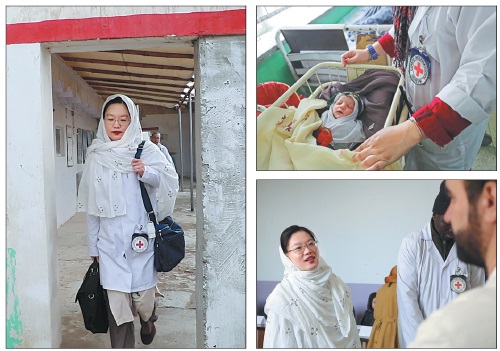 "This scene broke my heart," the doctor said, pointing at a photo of an empty hospital ward, with shredded clothing littering the bloodstained ground.
The picture was taken in May at a hospital in Kabul, capital of Afghanistan, after gunmen disguised as police attacked a maternity clinic run by the humanitarian group Doctors Without Borders, killing 24 people including mothers, two newborns and a midwife.
While the pain and sadness felt are universal, they are more palpable for An Na, a 38-year-old obstetrician and gynecologist who showed the picture during a sharing session in Beijing last month. "Attacks against healthcare facilities and humanitarian workers must be reduced and even prevented. As a maternal health doctor, I felt deeply sad about the loss of women and children during the attack," she said.
Since 2011, An has been employed as a humanitarian medical worker for the International Committee of the Red Cross, delivering lifesaving aid in countries with fragile healthcare systems such as Sierra Leone, Somalia and Ethiopia.
Her latest mission lasted about 11 months in Afghanistan, with the majority of her time spent in Mirwais Hospital in Kandahar, in the country's southeast. She returned to Beijing in July.
An is fortunate not to have encountered similar horrifying attacks during her overseas assignments, but nonetheless the risks are inherent in her job.
"Mirwais Hospital was only five minutes' walk away from my accommodations. Out of security concerns, we rode in a car to our workplace every day," she said. "That was the only route we took outside on a daily basis."
Wider impact
For An, who has eight years' experience in top-tier hospitals in Beijing, the more disturbing fallout from conflicts and war is the impact on people's health and a country's healthcare system.
An said Mirwais Hospital, with 630 beds, not only treats patients from Kandahar, but also those from four adjacent provinces. "Sometimes, we saw patients traveling thousands of kilometers from Pakistan to seek treatment," she said.
In war-ridden areas, many diseases that have been nearly wiped out in the developed world, such as poliomyelitis and typhoid, continue to affect a sizable proportion of the population, according to An.
"Also, many patients, who were either intimidated by the long distance to a hospital or the risks of being attacked on the road, decided to delay hospital visits. That means a large number of patients were already in severe or critical condition when we took over," she said.
The COVID-19 pandemic exerted a heavy toll on the provision of healthcare services. Afghanistan saw its first imported case from Iran in February and has since seen clusters of infections.
One case that left an impression on An was an 18-year-old woman who was seven months pregnant with twins when she was admitted to Mirwais Hospital in March.
"She was comatose and apparently suffering severe jaundice, which had turned her skin yellow," An said.
The young patient tested negative for viral hepatitis, the most common cause of jaundice. "I was paged when the physician was puzzled by her symptoms. He consulted me and asked if she had other maternal illnesses," An said.
The woman was later diagnosed with acute fatty liver, a rare and dangerous complication of pregnancy. "With what we had on hand in the hospital, the only way to save her life was to terminate her pregnancy immediately," An said.
When talking with the patient's family members, An asked why they had not taken the woman to hospital before she slipped into a coma.
It turned out the family lived near the Afghanistan-Pakistan border. "They usually crossed the border to visit a Pakistani clinic, but the disease outbreak had forced the closure of the border. Instead, they had to drive three hours to visit Mirwais Hospital and the patient's condition deteriorated rapidly on the way," An said.
After the pregnancy was terminated, the patient regained consciousness and was eventually discharged.
"What we did during the pandemic was to keep the medical institution operating as normally as possible to enable every patient to receive standard treatment to the best of our capacity," An said.
Normal is good
Despite the foreign culture, the scant infrastructure and volatile environment, An saw her work in Kandahar as a simple task. "It was not so different from Beijing. We did ward rounds in the morning and some training in the afternoon. Each month, we performed about 2,200 deliveries, which means 80 new births a day," she said.
There were also moments that both saddened and enlightened her. "There was one pregnant patient who needed a cesarean section as fast as possible due to hypertension. When we looked for her husband to obtain consent for the surgery, she told us her husband was in the trauma wing after stepping on a mine in their farming fields," An said.
When An found him, the husband had had both his feet and one hand amputated.
"I was really sad at that moment. The husband was the breadwinner of the family and the expectant mother was unable to work due to the C-section. That means they lost their source of income overnight," she said.
"As a doctor, I had always focused on medical treatment. But for a family, financial support is equally important to prevent them from slipping into poverty and to help them ride out the most difficult times."
An added that it was a relief to learn later that the International Committee of the Red Cross could offer cash support, artificial limbs and rehabilitation services for the family.
During her leisure time, An took delight in appreciating the peonies and roses blooming in the garden outside her apartment and playing volleyball with other humanitarian aid workers in the courtyard.
Most group activities were called off due to the spread of the novel coronavirus, An said. For solace, she retreated to handwriting religious scriptures in her room and talking to her cats.
"Of course I felt nervous in a foreign place where I knew the local healthcare system was fragile," she said. "But I got found a way out to relieve the anxiety and carry on with my work."
wangxiaoyu@chinadaily.com.cn