Market hub buzzes despite downturn
By Ma Zhenhuan in Yiwu | China Daily | Updated: 2020-09-28 07:18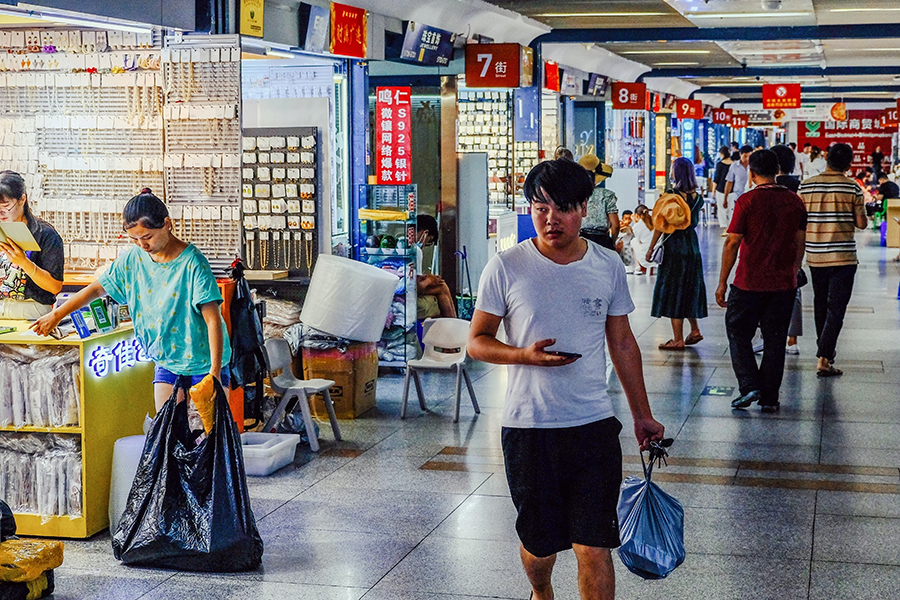 Domestic and overseas traders flocking in numbers to key trading venue in Yiwu
The new dual-cycle development pattern proposed by the country's central leadership has boosted foreign trade in a Chinese city dubbed the "world's supermarket".
This progress has been achieved during the COVID-19 pandemic and other global uncertainties.
This year, the top leadership has on a number of occasions reaffirmed the idea of a dual-cycle development pattern for economic growth.
This means such expansion will rely on economic developments at home and overseas-with the domestic cycle being the mainstay-along with the development of tourism and the services sector.
As a result, domestic and overseas traders are now flocking to the Yiwu International Trade Market in Zhejiang province.
One of the world's largest trading hubs for small commodities, the market is a key player in consumer goods sales.
Despite the pandemic and other worldwide economic woes, the trade volume at the venue has surged, and the market is playing a significant role in stabilizing China's foreign trade and restoring confidence in consumer goods production.
Yiwu is home to more than 2 million medium-, small-and micro-sized businesses, which sell commodities to some 200 countries and regions every year.
The total value of the city's imports and exports reached 136.25 billion yuan ($19.58 billion) in the first six months of this year, a year-on-year rise of 1.6 percent, according to the city's customs authorities.
After a short pause in business due to the pandemic, the Yiwu International Trade Market has sprung back to life as the outbreak has been largely contained in China.
The hardware sector has been among those most severely hit by the pandemic in the city.
Exports, which used to account for 90 percent of hardware product sales, have declined rapidly this year. Local exporters have shifted their focus to the domestic market, with the proportion of hardware products sold in China rising from 10 percent to 30-to-40 percent.
Chen Yanzhen, manager at a hardware exporting company at the market, said, "The pandemic is a golden opportunity and has made us make changes to integrate both the domestic and overseas markets."
Zeng Xiangwan, a clothing exporter at the venue, said he has expanded his store this year and hired more employees. They have been trained in sales tactics aimed at domestic buyers and also in new selling methods, such as livestreaming.
"I'm now thinking about selling clothing to supermarkets in China, as compared with foreign trade, there is more potential in the domestic market," he said.
Textiles and fashionable clothing at Zeng's store recently passed tests for national safety standards, paving the way for him to enter the domestic market.
"The test reports offer us a passport to domestic supermarket chains, and vice versa, and these reports are also acknowledged worldwide. So, when foreign trade improves, more overseas buyers will recognize the quality of my products and purchase them," he said.
"The domestic market is untapped territory and a 'huge cake' for us to take a bite of, as it has exemplary logistics, financial and business services, and a huge consumer base to tap. I think my company will remain focused on domestic sales, but will also place considerable emphasis on exports," Zeng said.