Fallen Korean War soldiers reach their final place of rest
By WU YONG in Shenyang | CHINA DAILY | Updated: 2020-09-29 07:09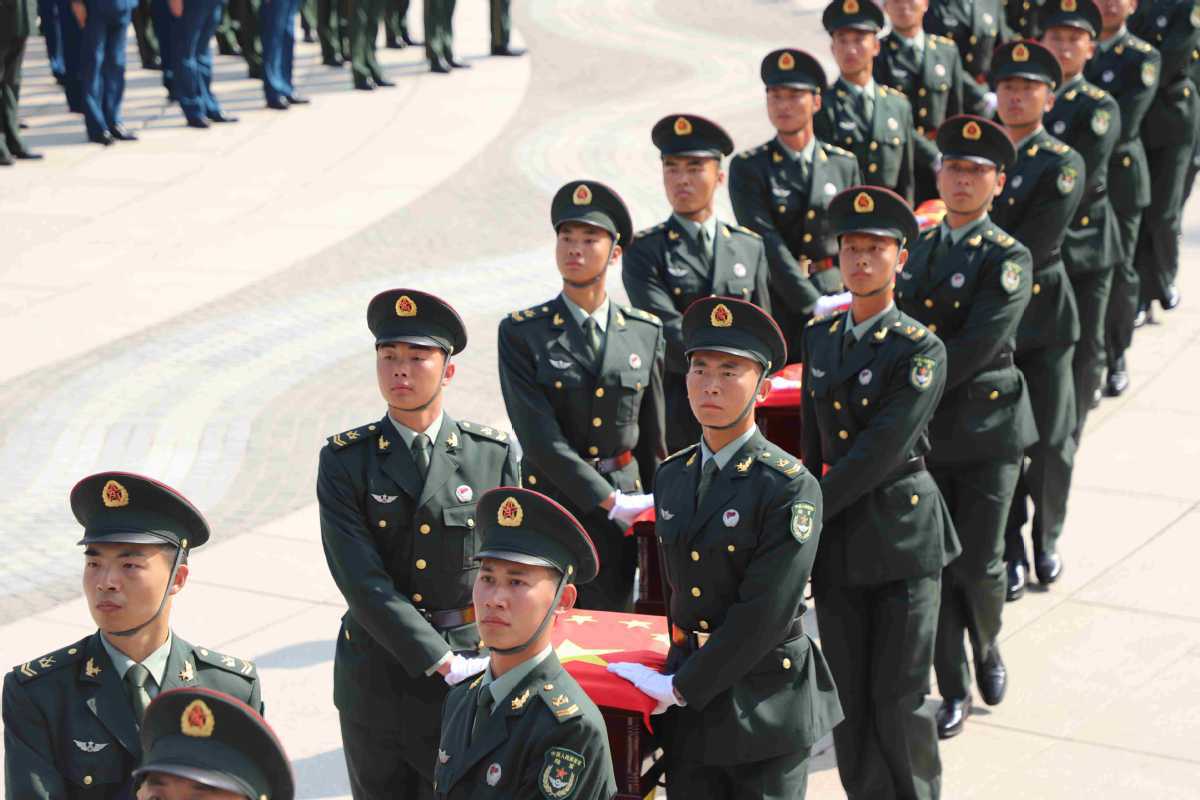 A burial ceremony was held on Monday at a martyrs' cemetery in Shenyang, Liaoning province, for 117 Chinese soldiers who died during the 1950-53 Korean War.
Speaking at the ceremony, Sun Shaocheng, minister of veterans affairs, said: "These martyrs have defeated the strong enemy and made a great contribution to our country and world peace. We will inherit their will and work hard for the Chinese Dream. The heroes who died in the 1950-53 Korean War will live forever!"
Veterans of the war, soldiers and senior officials took part in Monday's ceremony to show their respects.
This was the seventh such repatriation of Chinese soldiers' remains from the Republic of Korea since it signed a handover agreement with China in 2013.
Between 2014 and 2019, the remains of 599 soldiers had been returned and buried at the cemetery.
People's Liberation Army soldiers carried caskets containing the soldiers' remains and escorted them during Monday's ceremony.
This year marks the 70th anniversary of the Chinese People's Volunteers participation in the 1950-53 Korean War.
A total of 2.9 million CPV soldiers fought in the war, and 197,653 of them were killed. The names of the fallen soldiers whose remains have been repatriated from the ROK are inscribed on a memorial wall at the martyrs' cemetery in Shenyang.
"I could not help crying when recalling the days when we fought bloody battles. I am proud of our prosperous motherland. All the sacrifice and dedication was worth it!" said Xiao Huaping, an 86-year-old veteran of the war, living in Wuhan, Hubei Province.
"They have sacrificed their lives for the country and peace. This spirit is what we should learn. I hope more people know about this history and never forget their contribution. Welcome home," said Zhang Shiwei, a Shenyang resident who joined the ceremony on Monday.
The Korean War broke out in June 1950, shortly after the founding of the People's Republic of China, and fighting soon reached the Yalu River, which separates China from the Democratic People's Republic of Korea, wreaking havoc in Dandong, a city on the China-DPRK frontier.
On Oct 19, 1950, at the request of the DPRK, CPV forces crossed the Yalu River to aid the DPRK in the war until an armistice was reached in 1953.
Zhou Lihua in Wuhan and Lin Yajie in Shenyang contributed to this story.