Foreign enterprises find new growth momentum on easier entry into market
By ZHONG NAN and LIU ZHIHUA | CHINA DAILY | Updated: 2020-09-29 07:24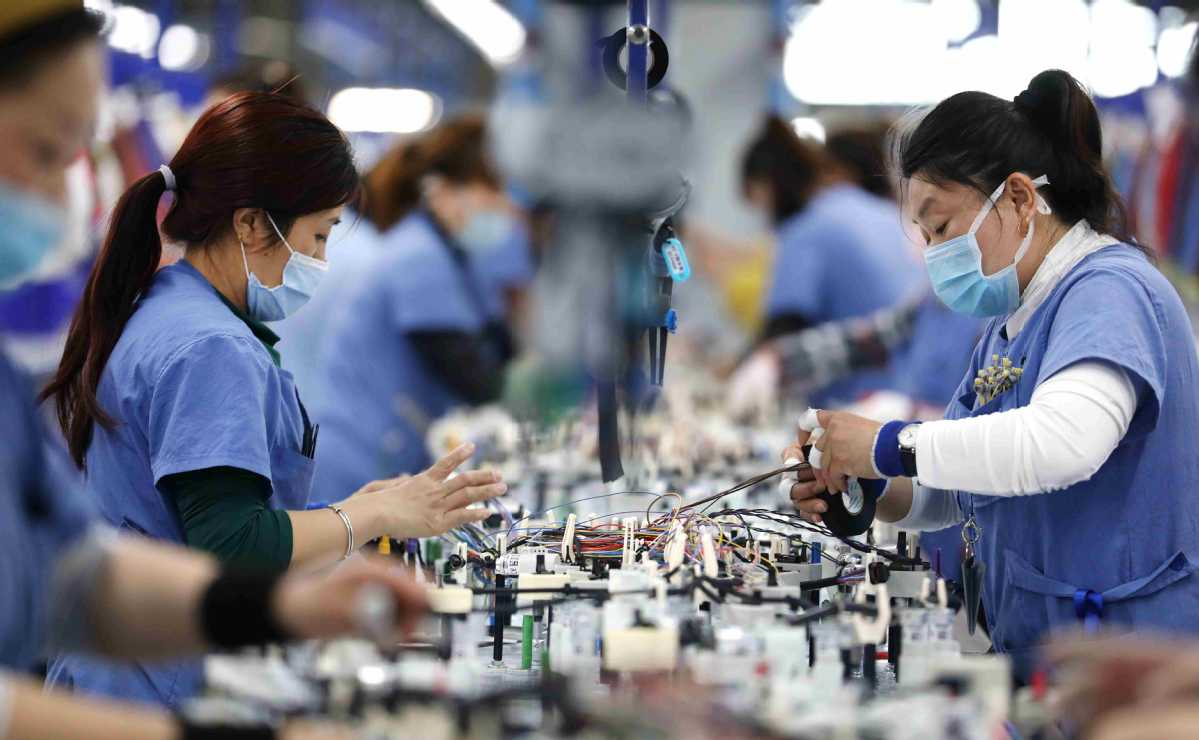 Foreign companies that have long been a thriving part of China's economy and strong supporters of global supply chains are finding fresh momentum from the improved market access in the nation and the ongoing efforts to create a more transparent and free business environment.
At his speech delivered during the 2020 China International Fair for Trade in Services earlier this month, President Xi Jinping said that a review of human history shows that the world economy thrives in openness and withers in seclusion, and that China will stay committed to further opening up.
Measures mentioned by Xi include the establishment of a sound negative list management system in cross-border services trade, the advancement of constructing open platforms for piloting innovative development of trade in services, the easing of market access in the service sector, and the active expansion of quality services imports.
Xi also stressed on raising the level of opening up in an all-around manner, and building higher-level new institutions for the open economy, while chairing a symposium on economic and social work in Beijing in late August.
Many opportunities are also arising from China's new policy measures introduced this year to stimulate consumption, attract global capital, boost both goods and services trade to mitigate the COVID-19 epidemic effect and support its early economic recovery.
Foreign direct investment in the Chinese mainland grew by 18.7 percent on a yearly basis to 84.13 billion yuan ($12.3 billion) in August, the fifth successive month of positive growth, according to the latest data released by the Ministry of Commerce.
FDI inflows amounted to 619.78 billion yuan in the first eight months, up 2.6 percent year-on-year.
In order to assess the effect of many challenges facing businesses going forward, the American Chamber of Commerce in South China conducted a comprehensive study involving 172 companies from Aug 28 to Sept 8.
The survey found that about 90 percent of the respondents, regardless of origin, had a positive outlook for the second half of this year. These companies, including those from Germany, Belgium, Switzerland, Spain, the United Kingdom, France, Japan and the United States displayed a strong willingness to continue to grow and expand in China.
Over 78 percent of companies said they no longer face difficulties with the supply chain, up 46 percent since March 12, when the chamber released its report on the effect of COVID-19 on the supply chain in China.
Global business leaders said that building on the effective containment of the pandemic, China has rigorously rolled out a string of measures to stabilize foreign trade and investment. China, with its excellent economic resilience and potential, will remain an attractive investment destination for global investors, said the survey.
Alfonso Alba, country division head for Bayer Crop Science in China, said the company is optimistic about the good business environment and innumerable market opportunities in China, one of the most important global markets for the company.
"We appreciate China for its excellent supply chain management and good economic recovery during the pandemic, which has provided strong support for us to conduct regular business in the Chinese market and ensure the supply of products and services," he said.
Alba said Bayer has a long-term development strategy and market commitment in China, and will continue to invest in innovation, sustainability and digital transformation. China's agriculture has entered a stage of high-quality development and his company will keep pace with this trend, he said.
The German company to date boasts about 80 plant protection products in five categories that can prevent and control major diseases, pests and weeds. It also develops and markets conventional vegetable and corn seeds for Chinese farmers through its wholly-owned subsidiary and a joint venture.
In terms of new market opportunities, he said Bayer regards digital technology as one of the key areas. Digital farming plays an essential role in the high-quality development of agriculture in China, and it is also the global innovation direction of Bayer Crop Science.
Woody Guo, president of Herbalife Nutrition China and senior vice-president of the US-based nutrition company Herbalife Nutrition, said the company enjoyed double-digit growth in sales on a yearly basis in China during the first and second quarters of this year despite COVID-19, thanks to the growing demand for high-quality health products in China.
The company has accelerated its new product launches in China since the second half of 2019, and expects to double the same in the next five years.
Its first product innovation center globally, the Herbalife Nutrition Product Innovation Center, will be launched by end of the year in Shanghai. With investments totaling 100 million yuan, the center will enable the company to rapidly transform the cutting-edge scientific and technological achievements in nutrition science into nutritional products, Guo said.
Wilson Ho, vice-president and managing director of SAS China, part of the US-based analytics firm, said the company has always been optimistic about the Chinese market and has full confidence in China's economic development prospects.
"SAS mainly serves analytics applications in various industries, especially as we are passing through a special phase this year. However, business data show that the pandemic had little effect on SAS' business in China in the first half of the year. In fact our business in China managed to see some improvements," he said.