Finland experiments with dogs at airports to sniff out virus-carriers
By WANG MINGJIE in London | China Daily Global | Updated: 2020-09-30 09:48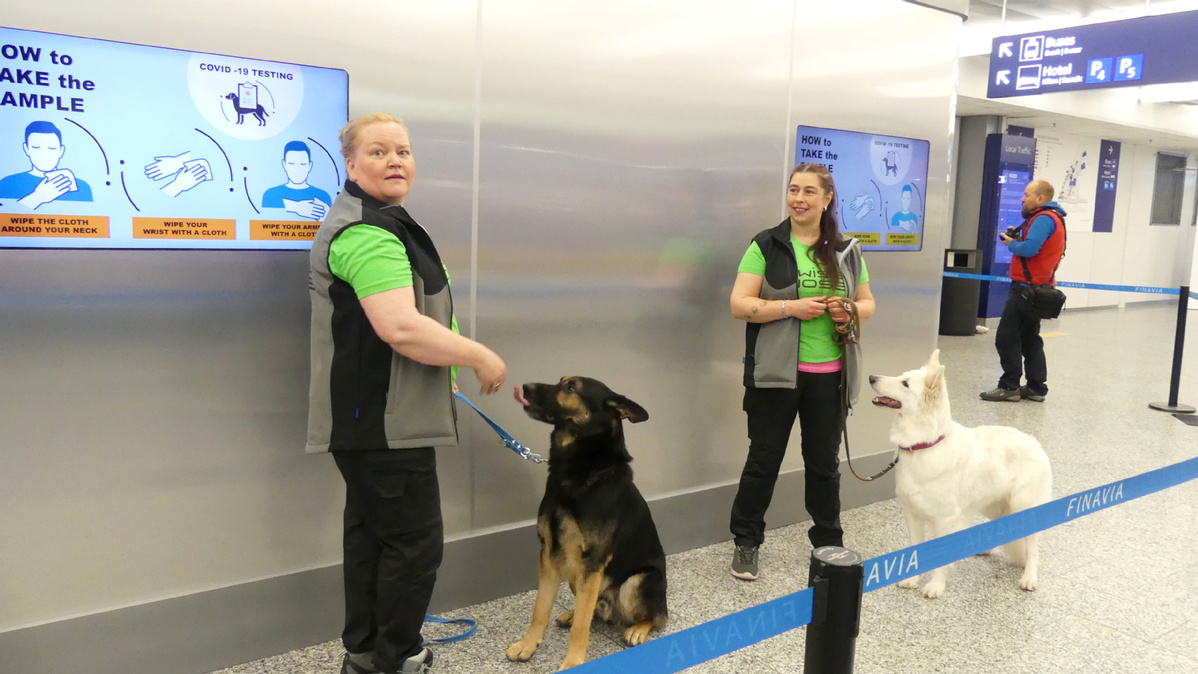 Researchers in Finland have begun using sniffer dogs at an airport as a potential and unconventional way to detect people carrying the novel coronavirus and the COVID-19 disease it causes.
Four specially trained dogs began sniffing passengers last week as part of the pilot project at the nation's Helsinki-Vantaa airport.
"It's a very promising method. Dogs are very good at sniffing," said Anna Hielm-Bjorkman, a professor of equine and small animal medicine at the University of Helsinki and the lead researcher for the trial. "We have solid experience in training disease-related scent detection dogs. It was fantastic to see how fast the dogs took to the new smell."
According to preliminary results, trained scent-detection dogs seem to be quick to recognize novel coronavirus samples and may even be more sensitive than many tests that are now on the market.
The testing has been designed carefully and take into account people who are allergic to dogs or afraid of them.
After arriving, passengers who have collected their luggage are invited to the sniffer dog station to swab their skin and leave the sample in a box. Behind a wall, a dog trainer places the swab in a can next to other scent samples and allows a dog to sniff them.
Dogs are able to detect a virus-infected sample within 10 seconds and the whole process takes less than 60 seconds to complete, researchers say.
If a result is positive, the passenger is directed to the Helsinki University Hospital's health information station for further instructions.
"We have 10 dogs that can reliably work in the airport environment," said Susanna Paavilainen, research coordinator at the University of Helsinki and chief executive officer of Nose Academy.
Almost all of the dogs have some scenting background and some are already able to identify several different smells.
"Some of the dogs will remain as laboratory dogs that will sniff samples in very calm circumstances without distractions. The work shifts of a dog proceed in terms of the dogs' endurance, so we always have two dogs ready to step in while two others are on a work shift," Paavilainen added.
Researchers say dogs find it easy to detect novel coronavirus and training of sniffer dogs is relatively fast. They say dogs can learn to identify the scent in anything from a few hours to a few months.
International peer-reviewed studies have shown that a trained dog's ability to find positive patients has a success rate of about 94 to 100 percent.
Although there have been reports of animals being infected with the virus, such as mink in farms in the Netherlands, Paavilainen said dogs are not susceptible because they lack the receptor to which the virus attaches. She said there have, therefore, been no reports of dogs becoming ill from the virus.
Karol Sikora, dean of medicine at Buckingham University in the UK said: "It is indeed very interesting to deploy dogs to detect virus as dogs have been used for diagnostic purposes to detect cancer, heart disease, and diabetes. With COVID detection, the obvious question is how specific they are. Do they distinguish between (a COVID strain) and the common cold? Are they better at picking up sick people than a non-contact thermometer? No medical test has 100 percent accuracy, so we can discount that as hype."
However, Sikora hailed Finland's creative move to introduce such testing and noted that the UK currently does not have any testing at airports. Instead, the government has imposed 14-day quarantines on people arriving from certain locations, something the travel industry says is costing the industry dearly.
"Our government has trashed the airline industry and the travel companies," Sikora said. "Far more imagination could have been used not only to regionalize the quarantines but also to use a combination of tests to reduce its duration from 14 days. Many of the countries where travelers need to quarantine when arriving here actually have a lower incidence than here. That makes no sense at all."