Small home appliances see big growth in sales
By Fan Feifei | China Daily | Updated: 2020-10-05 09:39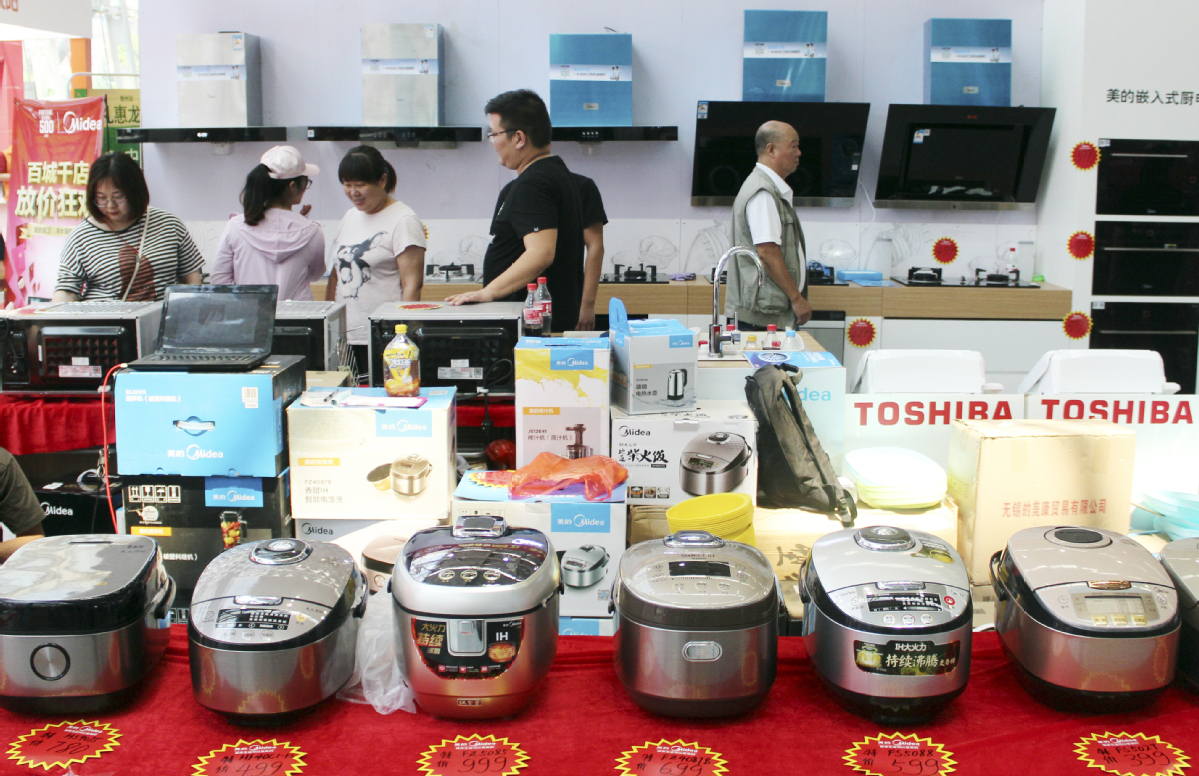 Focus on personal health and food safety boosts demand for high-quality goods from tech-savvy buyers, Fan Feifei reports.
Liu Chen, 31, an employee from a financial magazine in Beijing, prefers using a soybean milk machine or juice extractor to make soybean milk or fruit juice every morning since the outbreak of the COVID-19 pandemic.
She used to dine out with friends during the weekends. But nowadays, Liu would stay at home and prepare breakfast and dinner by herself, such as stewing a bowl of chicken soup with the electric cooker and baking food.
"I bought juice extractors, a yogurt machine and electric ovens that are easy to operate, and spend much time studying cooking these days," Liu said, adding she could make yogurt, bread, cookies, egg tart and even fried chicken wings with the help of these kitchen appliances.
Liu is just one of the fans of mini home appliances in China as the outbreak has boosted the consumption of small household appliances.
Air fryers, electric ovens, blenders and steam mops enjoyed increasing popularity among Chinese consumers and saw robust growth in sales during the epidemic period, said a report released by the China Center for Information Industry Development of the Ministry of Industry and Information Technology.
In addition, products with sterilization and disinfection functions increased significantly, such as disinfection cabinets, water purification equipment and dish washers.
Joyoung, one of China's leading home appliance manufacturers and soybean milk machine makers, said small household appliances have been gaining traction in China since the outbreak of COVID-19, as tens of millions of Chinese were confined indoors due to restrictions on large gatherings and travel.
The company has launched a string of stylish and exquisite kitchen appliances such as sandwich makers, portable juice extractors, noodle makers and mini electric ovens in a bid to cater to the tastes of young Chinese consumers who have an increasing demand for the quality, function and appearance of products.
For instance, it collaborated with Line Friends, a global character brand featuring memorable characters which are originally created as stickers for a mobile messenger application Line, covering the categories of noodle makers, electric kettles, milk pans and soybean milk machines.
"Chinese consumers are increasingly cooking at home and like small home appliances with multiple functions and attractive appearances," said Si Zhenming, brand director of Joyoung.
"Compared with European countries and the United States, the penetration rate of household and kitchen appliances in China is relatively low, and this segment has huge growth potential in the future," Si added.
He noted the popularity of small home appliances reflected the great importance for people on making themselves comfortable and improving the quality of life, and Joyoung will continue to roll out healthy, light and handy home appliance products.
Moreover, consumers pay more attention to health and hope to improve their immune system and eat healthier, so products with sterilization and disinfection functions saw a significant increase in sales, he said.
According to him, Joyoung will actively promote the research and development of new products to meet the needs of consumers and pass on the healthy lifestyle and attitude to more users through innovative marketing strategies.
For instance, it has increased the frequency of livestreaming at e-commerce sites and lets users upload funny short videos through video-sharing platforms like Douyin and Kuaishou, and social commerce shopping app such as Xiaohongshu.
Joyoung cooperated with top-tier influencers such as Li Jiaqi or Viya Huang for brand endorsements, with online sales reaching 700 million yuan ($103.39 million) during last year's Singles Day shopping carnival.
Statistics from market consultancy All View Cloud showed the sales of small kitchen appliances amounted to 130.16 million units during the first six months of this year, up 6.5 percent on a yearly basis. However, its related revenue stood at 27.82 billion yuan, a decline of 12.5 percent year-on-year.
In addition, sales from online channels reached 107.93 million units during the first six months, up 25.4 percent year-on-year, while offline sales of small kitchen appliances dropped 38.5 percent to 22.23 million units compared with the same period last year, the consultancy said.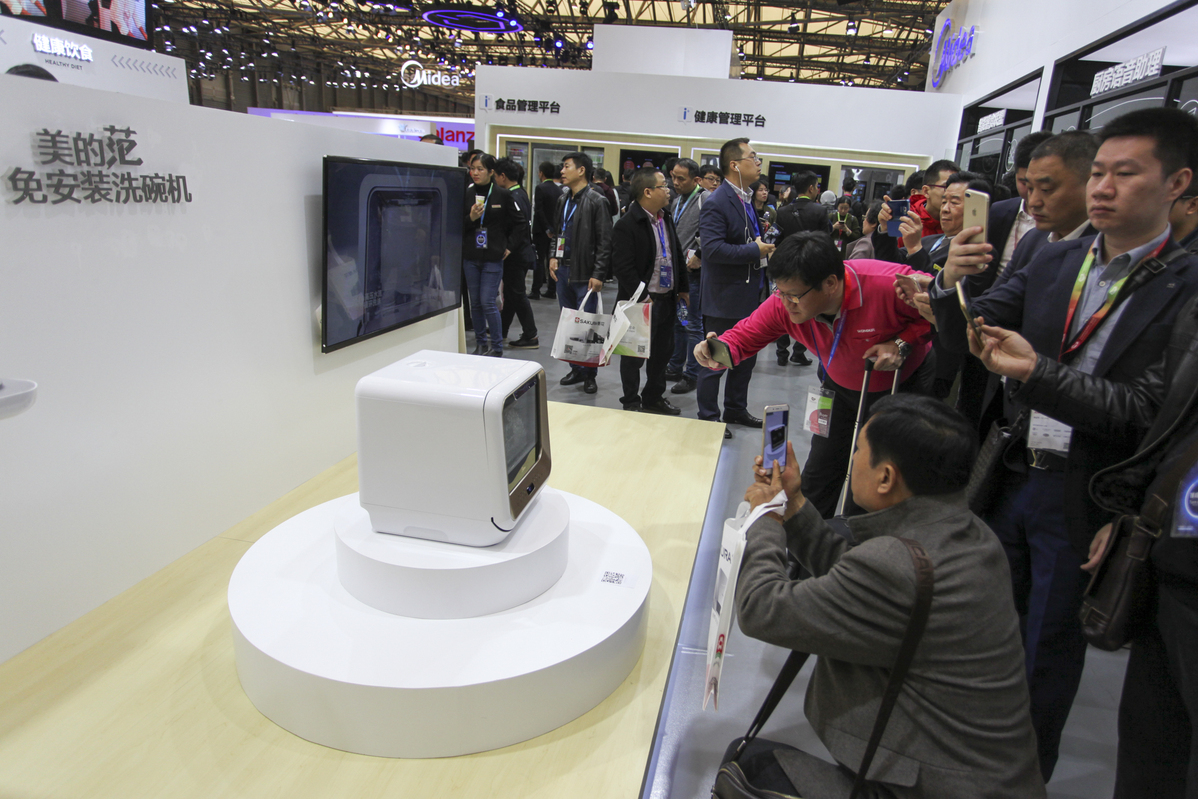 AVC said the overall sales of small kitchen appliances are expected to reach 226.20 million units this year, an increase of 5.7 percent on a yearly basis.
Yan Leyu, research manager from the kitchen appliances department of AVC, said: "Small household appliances with simple-to-use features, low unit prices and small size, showed strong resilience during the pandemic period."
Yan said the epidemic had an impact on the catering and food delivery industries, stimulating consumers to spend more time in cooking, so the demand for small kitchen appliances such as electric ovens and air fryers skyrocketed in a short period of time.
Guangdong Bear Electric Co Ltd, a Shunde, Guangdong province-based manufacturer of small home appliances, said its sales at Alibaba's shopping site Taobao increased by more than 50 percent year-onyear in the first half of 2020, while its sales at JD rose by over 40 percent on a yearly basis.
Sales of high-speed blenders rose six-fold in the first seven months compared with the same period last year, and that of the electric rice cookers increased three-fold yearon-year. Ninety percent of the companies' businesses are from online channels, which have been less affected by the COVID-19 outbreak.
Founded in 2006, the company has developed and produced a series of unique and creative small household electrical appliances, including yogurt makers, egg boilers, electric stewpots and electric steamers to entice a breed of young consumers.
Moreover, it has been keen on selling these products at social e-commerce websites, short-video and livestreaming platforms. It has increased its investments in the construction of new intelligent small home appliance manufacturing bases.
The company said the pandemic has changed the consumption habits and lifestyles of Chinese people, who are more willing to return to their families and focus on the quality of life, personal health and food safety in the post-epidemic era.
The rising demand for high-quality consumption will continue to be consolidated, with small household appliances becoming popular among tech-savvy consumers, it added.
The big data institute of Chinese e-commerce giant JD said the post-1990 generation showed great interest in dish washers and cleaning robots during the COVID-19 outbreak. They also bought many kitchen and self-care appliances such as facial machines, electronic toothbrushes and hair dryers.
Air purifiers, electric kettles and electric footbaths were also popular during the epidemic, indicating the desire of these consumers to take better care of themselves.
Yan of AVC said some household appliances with sterilization and disinfection functions have ushered in rapid development, such as disinfection cabinets, electric lunch boxes and portable sterilizers, which solve the concerns of consumers about hygiene and food safety.
He is bullish on the prospects of small household appliances when the pandemic recedes, adding the whole industry will reshuffle as traditional retailers will speed up their transformation. The online shopping habits of consumers will be cultivated further, so the proportion of online sales involving small home appliances is likely to rise, he added.
Liu Buchen, an independent researcher in the home appliances sector, said China's small household appliance enterprises should abandon the low-quality and low-price competition strategy as soon as possible, and make continuous innovations in the fields of technology, quality and design.