Sequel to Thunderstorm set to strike audiences
By Chen Nan | China Daily | Updated: 2020-10-10 09:56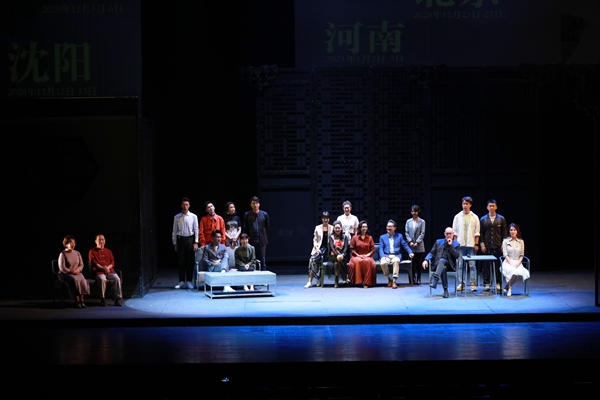 The play will tour China to mark the 110th anniversary of the birth of playwright Cao Yu.
In 1933, a student at Tsinghua University wrote a script, titled Thunderstorm. It was published in 1934 and premiered in 1935.
Revolving around two families whose complex relationships lead to inevitable tragic consequences unfolding against the backdrop of turmoil of the decade, the script was critically praised both at home and abroad. It enabled the young student, whose original name was Wan Jiabao, to become well known.
Wan was born in Tianjin and fell in love with acting during middle school. He died in Beijing in 1996 after being hospitalized for eight years.
Thunderstorm has been described as one of China's most enduring dramas of the 20th century and Wan, who wrote under a pen name Cao Yu, is called "the father of the country's modern drama". He was appointed the director of the Beijing People's Art Theatre in the early 1950s and was elected the chairman of the Chinese Dramatists' Association in the early 1980s.
As this year marks Cao Yu's 110th birth anniversary, his classic works, including Sunrise, Wilderness and Peking Man, are being staged by Beijing-based drama company Magnificent Culture Co.
Thunderstorm is also on the program list. What makes it special is that Cao's daughter, Wan Fang, will premiere her latest work, Thunderstorm II, which is seen as a sequel to her father's classic piece.
On Sept 20, two weeks after the rehearsal of the new version of Thunderstorm commenced, actors, actresses and creative members of the two plays, Thunderstorm and Thunderstorm II, were unveiled in Beijing.
French director Eric Lacascade will turn those two plays into one long production, which will premiere on Dec 5 in Haikou, Hainan province, and will be staged in Beijing's Poly Theater from Dec 23 to 27. It will tour key cities, including Changsha in Hunan province, Nanjing of Jiangsu province and Tianjin until next January.
According to Wan, she first watched Thunderstorm when she was about 5 years old. It was performed at the Beijing People's Art Theater, where her father was one of the theater's founding members and its first president.