US faces second wave of novel coronavirus cases
By AI HEPING in New York | China Daily Global | Updated: 2020-10-16 11:02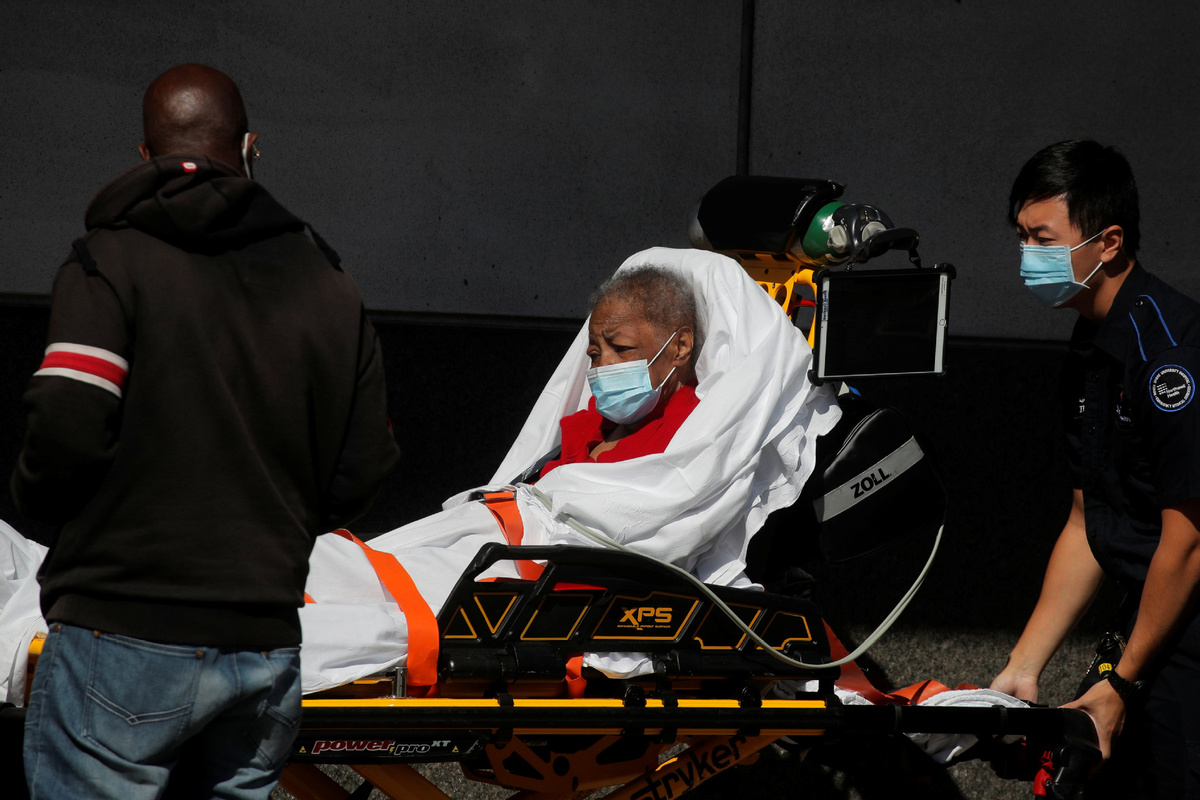 A second wave of novel coronavirus cases is on the rise in the United States, which might force some cities to reimpose tough restrictions.
Epidemiologists warned of a new phase as 17 states are seeing case surges unlike what they experienced earlier in the pandemic. States including Alaska, Minnesota, Montana and Wisconsin reported more new cases during the seven-day period that ended on Wednesday than in any other week since the virus hit the US.
The US is averaging approximately 52,345 new daily cases, an increase of 16 percent from the previous week, according to data from Johns Hopkins University, and deaths per day are climbing in 30 states.
Many of the 17 states seeing more new cases than ever — located mostly in the Midwest or in the Mountain West — had relatively few cases until recently.
"What's happening in the Upper Midwest is just a harbinger of things to come in the rest of the country," said Michael Osterholm, an infectious-diseases expert at the University of Minnesota.
Dr Anthony S. Fauci, the nation's top infectious diseases expert, warned on Thursday that the increase in cases across multiple regions of the country could have dire consequences over the coming months.
"The issue is that as we enter, as we are now, the cooler season of the fall, and ultimately the coldest season of the winter, you don't want to be in that compromised position where your baseline daily infection is high, and you're increasing as opposed to going in the other direction," he said on ABC's Good Morning America.
Fauci also called a herd immunity proposal being considered by the White House "total nonsense".
Assembled by a small group of doctors, it calls for quickly reaching herd immunity by letting the coronavirus spread uncontrolled among the young and healthy population while protecting the vulnerable. Herd immunity is the point at which a disease stops spreading widely throughout a population because enough people have already had it and are immune to it.
"If you just let things rip and let the infection go … that, quite frankly, is ridiculous," Fauci said on the ABC television program.
President Donald Trump told supporters at a midday rally in Greenville, North Carolina, on Thursday that Fauci has been consistently wrong about how to mitigate the spread of the virus.
"But he's a nice guy so I keep him around, right? We'll keep him around,'' Trump said of Fauci.
The president also accused Fauci, a member of the White House Coronavirus Task Force, of being politically biased. "He is a Democrat. Everybody knows that. He's Cuomo's friend," Trump said.
A spokeswoman for Fauci didn't immediately respond to a request for comment, and a spokesman for New York Governor Cuomo didn't immediately comment on whether they are friends.
On Thursday, the Centers for Disease Control and Prevention (CDC) said in a new weekly forecast that it expects the US death toll to reach between 229,000 and 240,000 people by Nov 7.
The COVID-19 death toll in the US as of Thursday was 217,656, and the number of cases was almost 8 million, according to data from John Hopkins University.
US Treasury Secretary Steven Mnuchin said Thursday that the Trump administration was prepared to meet Democrats' request for a national coronavirus-testing strategy as part of a larger economic-relief package.
Trump reissued his call for Congress to pass new stimulus legislation, saying in a tweet that he was "ready to sign" a bill.
But many Republicans in the GOP-controlled Senate are wary of approving another major aid bill, with several — including Majority Leader Mitch McConnell — criticizing the administration's latest offer as unacceptably expensive.
Democratic US presidential candidate Joe Biden flew on an airplane with a person who subsequently tested positive for COVID-19, but Biden was not in close contact with the person and there is no need for him to quarantine, his campaign said on Thursday.
"Vice President Biden was not in close contact, as defined by the CDC, with this individual at any time," the statement said, adding they both wore masks during the flights, which occurred on Monday and Tuesday.
"Given these facts, we have been advised by the Vice President's doctor and the campaign's medical advisors that there is no need for the Vice President to quarantine," it said.
On Thursday, US Senator Kamala Harris of California, the Democratic vice-presidential nominee, canceled all campaign travel through this weekend after a flight crew member and her communications director tested positive for coronavirus.
Harris has tested negative for coronavirus twice over the past week, the campaign said.
In Europe, the weekly number of new coronavirus cases is at its highest point since the start of the pandemic, a top World Health Organization official said Thursday.
The UK, Germany, the Czech Republic, Italy and France are experiencing surging coronavirus numbers. London will join Paris, Berlin and other cities in tightening restrictions to stem the rising second wave. Virus-related hospital admissions and deaths are on the rise in London.
In Italy, 11 members of the Swiss Guard have tested positive for the coronavirus, The Associated Press reported Thursday, prompting fears of an outbreak within the small corps charged with protecting the pope.
Reuters contributed to this story.