China, Philippines boost oil cooperation
By ZHOU JIN | China Daily | Updated: 2020-10-17 07:56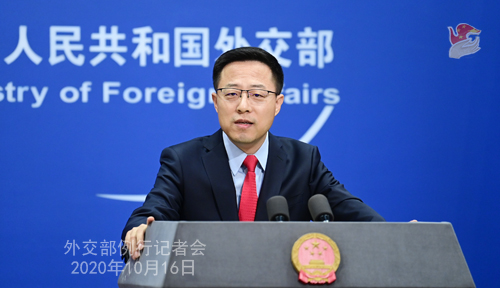 Beijing hopes that China and the Philippines will promote joint development of oil and gas resources in the South China Sea, Foreign Ministry spokesman Zhao Lijian said on Friday.
Zhao made the remarks after Philippines President Rodrigo Duterte lifted a six-year moratorium on petroleum exploration in the region.
"China and the Philippines have reached consensus on the joint development of oil and gas resources in the South China Sea and have established a cooperation mechanism for relevant consultations," Zhao said at a daily news briefing.
"I hope and believe that the two sides will meet each other halfway, promote joint development and continue to make positive progress," he said.
Reuters quoted Philippines Energy Secretary Alfonso Cusi as saying that the decision to lift the moratorium was arrived at "in good faith and with full regard of the ongoing negotiations between the Philippines and China", adding that the lifting of the moratorium has paved the way for three projects to resume.
Also on Friday, Zhao echoed Russian Foreign Minister Sergey Lavrov's remarks in an interview, which revealed that Moscow was not planning to maneuver toward the US-led anti-Chinese coalition for the sake of deriving any benefits.
In particular, Lavrov noted that, "It would be silly to distance ourselves from any agreements that we view as mutually beneficial and workable, and distancing ourselves from these agreements-in this case with China-just to show that we can also spin intrigues ... why should we do this? This is to our detriment," Tass News Agency reported.
China agrees with Lavrov's criticism of such practices that attempt to sow discord between China and Russia as they violate rules governing international relations and are beneath the status of the United States as a major country, Zhao said.
Zhao added that the stable, firm and resilient Sino-Russian comprehensive strategic partnership of coordination for a new era can withstand various risks and challenges.
China cherishes the high level of political mutual trust and strategic coordination between the two countries, and will continue to work with Russia to push forward bilateral ties, he said.