Goertek bets on higher global demand for AI, VR-enabled products
By ZHAO RUIXUE in Jinan | CHINA DAILY | Updated: 2020-10-17 09:20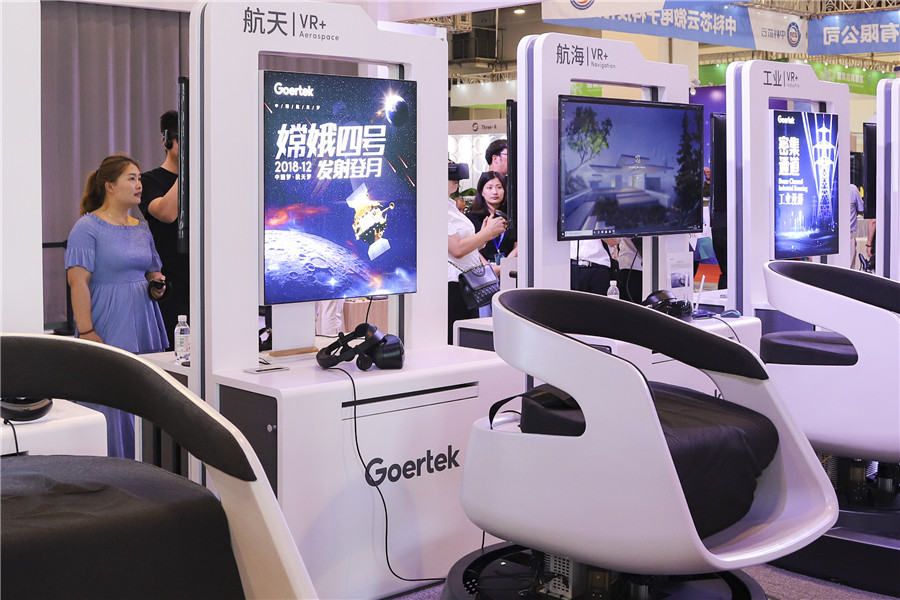 Wang Yuanyuan had never used a true wireless stereo earbud until her friend gifted her one as a birthday present last year. Since then the 38-year-old who works at a foreign-funded company in Beijing has been using TWS earbuds practically the entire day while not working or sleeping, for making calls, listening to music and searching for information.
"It's wireless, so it does not bother me when I am exercising, cooking or driving. At my yoga class, several of my friends sport TWS earbuds instead of those with wires," she said.
TWS earbuds, which contain two separate earpieces and a charging box, are fast becoming the go-to gadgets for the young and the old alike as they do not need any cables. They also appeal to consumers because of advanced features such as active noise cancellation. The tiny gadget has not only become a money spinner for Chinese companies like Goertek Inc, but also created a huge global market for similar products.
The Weifang, Shandong province-based Goertek has been one of the pioneers in this sector. The company earned a net profit of 1.28 billion yuan ($191 million) last year, up 50 percent on a yearly basis. Despite the COVID-19 pandemic, the company saw a 49 percent growth in net profit during the first six months of this year. The company attributes its strong growth to its enhanced focus on the smart hardware industry, including TWS and virtual reality-based wearables.
According to Jiang Bin, chairman of Goertek, the company has accumulated several mature technologies in the past 15 years in the audio and Bluetooth sector while making a wide range of wireless products.
"We are focused on the sustained development of the industry and committed to developing world-leading products," said Jiang, adding that the development strategy hinges on providing partners with both components and complete devices. Set up in 2001, Goertek has been developing and producing high-precision components such as acoustics equipment and sensors before branching into the wireless earphone sector in 2003.
Quality and a strong research and development focus have sustained the company's growth in the long term, said Jiang.
Last year, the company spent over 2 billion yuan on R&D of cutting-edge technologies. In order to provide clients with locally-based solutions and to take advantage of local talent, Goertek has established research networks in the United States, Denmark, Japan, South Korea, and in cities like Beijing, Shenzhen, Shanghai and Nanjing. It has over 10,000 people working on R&D at present, according to the chairman.
"Our strong investment in R&D ensures that we are rightly placed to grab the opportunities when the industry growth starts to accelerate," said Jiang, adding that 5G, VR and augmented reality commercialization will see rapid growth in the next few years.
Goertek started developing VR-related technologies from 2012 onward and will continue to increase its investment in the sector. "The domestic and international markets reinforce each other. We will continue to use our global resources to play a positive role in the global industrial chain," he said.
Sophie Pan, research manager at IDC China, a market consultancy, said smart hearables and wearables are being updated constantly to suit the diverse needs of customers. IDC estimates that the global VR and AR market to grow at a compound annual rate of 81.5 percent over the next five years.
Futuresource, another market consultancy, expects global TWS earphone shipments to reach 186 million units this year and 606 million units by 2024.