Dr Fauci caught in middle of heated presidential campaign
By ZHAO HUANXIN in Washington | China Daily Global | Updated: 2020-10-20 11:00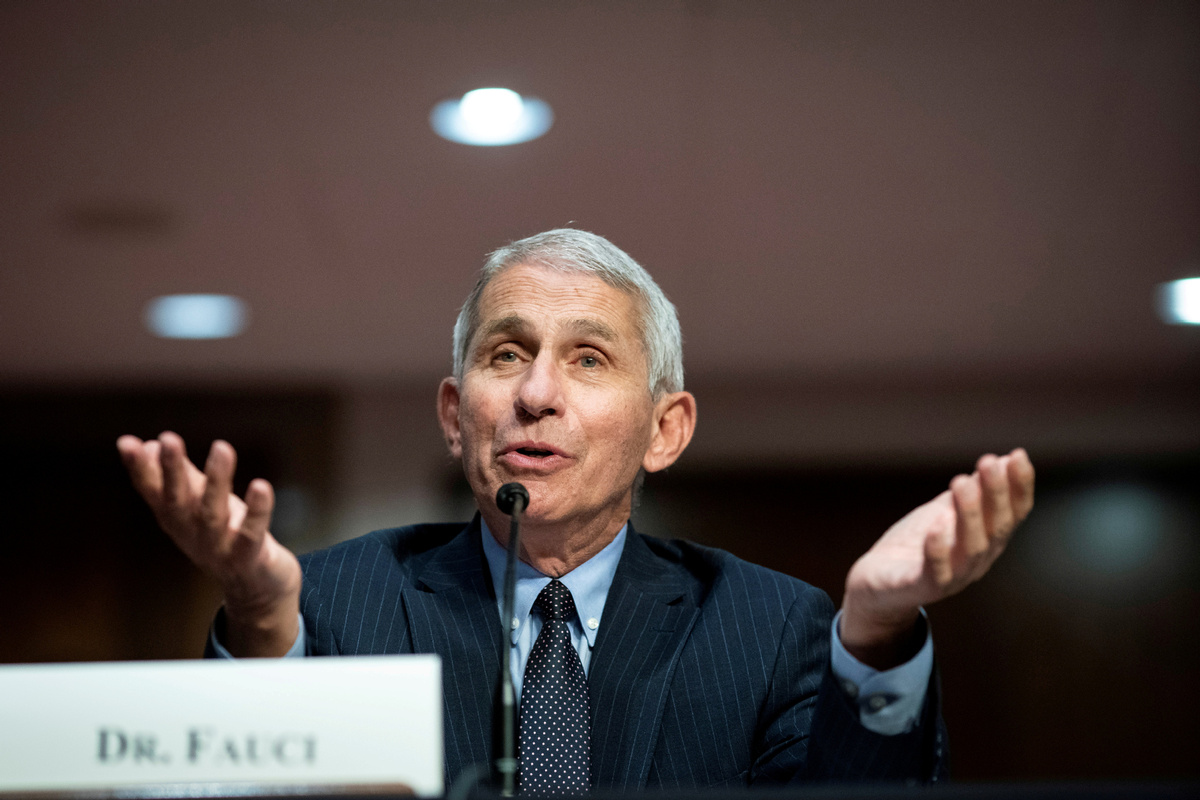 White House coronavirus adviser Dr Anthony Fauci, who has said he wanted to stay a scientist and "completely apolitical", found himself caught in the crossfire of the presidential campaign as Election Day looms, with one side calling him a "disaster" and another willing to listen to his advice.
"People are tired of hearing Fauci and all these idiots," US President Donald Trump said of the director of the National Institute of Allergy and Infectious Diseases and his administration's other public health officials on Monday.
"Every time he goes on television, there's always a bomb. But there's a bigger bomb if you fire him. But Fauci's a disaster," Trump continued during a call with campaign staff on the third day of a western campaign swing.
In the early stage of the coronavirus outbreak in the US, whenever Fauci or his other team members were not present at the White House Coronavirus Task Force briefings, it would make headlines.
The president and Fauci have been at odds over how best to handle a pandemic that had claimed at least 220,000 American lives as of Monday, according to Johns Hopkins University data, with the president and some other leading officials repeatedly flouting the advice of Fauci and other public health scientists.
"He's been here for, like, 500 years. He's like this wonderful sage telling us how — Fauci, if we listened to him, we'd have 700,000 [or] 800,000 deaths," Trump said.
Trump's remarks came a day after Fauci's appearance in a CBS 60 Minutes episode on Sunday, in which the infectious diseases expert dismissed the president's claim that the end of the pandemic was just around the corner and said it was not surprising that he contracted the coronavirus after he held a series of large events with few face coverings.
Early last week, the 79-year-old appeared on ABC News and in some other interviews, where he criticized a Trump campaign ad that he said took his comments out of context.
The 30-second ad, aired on Oct 10 to promote the president's response to the COVID-19 pandemic, includes a clip of Fauci saying, "I can't imagine that … anybody could be doing more."
The Trump campaign said Fauci did say those words and refused to take it down.
Fauci, who earlier said he wanted to be "completely apolitical" and remain a "scientist, a physician and a public health person", said on Thursday, "I have stated without any equivocation that I'm an apolitical person, I don't like to be associated with anything political or any, certainly, any political party campaign."
But the campaigns seemed to have dragged him in.
At a rally in Prescott, Arizona, on Monday, the Republican president railed against his rival, Democratic presidential nominee Joe Biden, for pledging to take the advice of scientists, saying "Biden wants to lock you down, he wants to listen to Dr Fauci."
To the new attack line, Biden simply tweeted "yes".
"President Trump even criticized me yesterday for listening to the scientists — that's not an attack, that's a badge of honor," the former vice-president said in a statement, in which he slammed Trump for unloading on Fauci and other scientific experts and accused the president of "waving a white flag" in the country's fight against the coronavirus pandemic.
"Coronavirus infections are spiking across the country, but President Trump decided to attack Dr Fauci again today as a 'disaster' and call public health experts 'idiots' instead of laying out a plan to beat this virus or heeding their advice about how we can save lives and get our economy moving again," Biden said.
Ashish K. Jha, dean of the Brown University School of Public Health, also said undermining Fauci and his message makes it "so much harder to control this pandemic".
"This is very sort of disturbing, upsetting to hear the president say this. We're in the middle of the worst pandemic in a century, and Dr Fauci is America's most respected infectious disease expert for good reason," he said in an interview with CNN.
US Senator Lamar Alexander, a Republican from Tennessee, defended Fauci on Monday.
"If more Americans paid attention to his advice, we'd have fewer cases of COVID-19, and it would be safer to go back to school and back to work and out to eat," Alexander, who chairs the Senate Health, Education, Labor and Pensions Committee, said in a statement.
It is unclear if the discussions on the response to the pandemic, including their starkly different opinions on Fauci, will reappear and flare up in the second and final debate between Trump and Biden on Thursday night.
Even if the topic makes its way there, there will be likely not so heated and chaotic trade of words as in the first debate late last month. The Commission on Presidential Debates announced late on Monday that both candidates will have their microphones muted during portions of Thursday's debate.