UK job support program 'flaws' fuel layoff woes
By JONATHAN POWELL in London | China Daily Global | Updated: 2020-10-21 09:12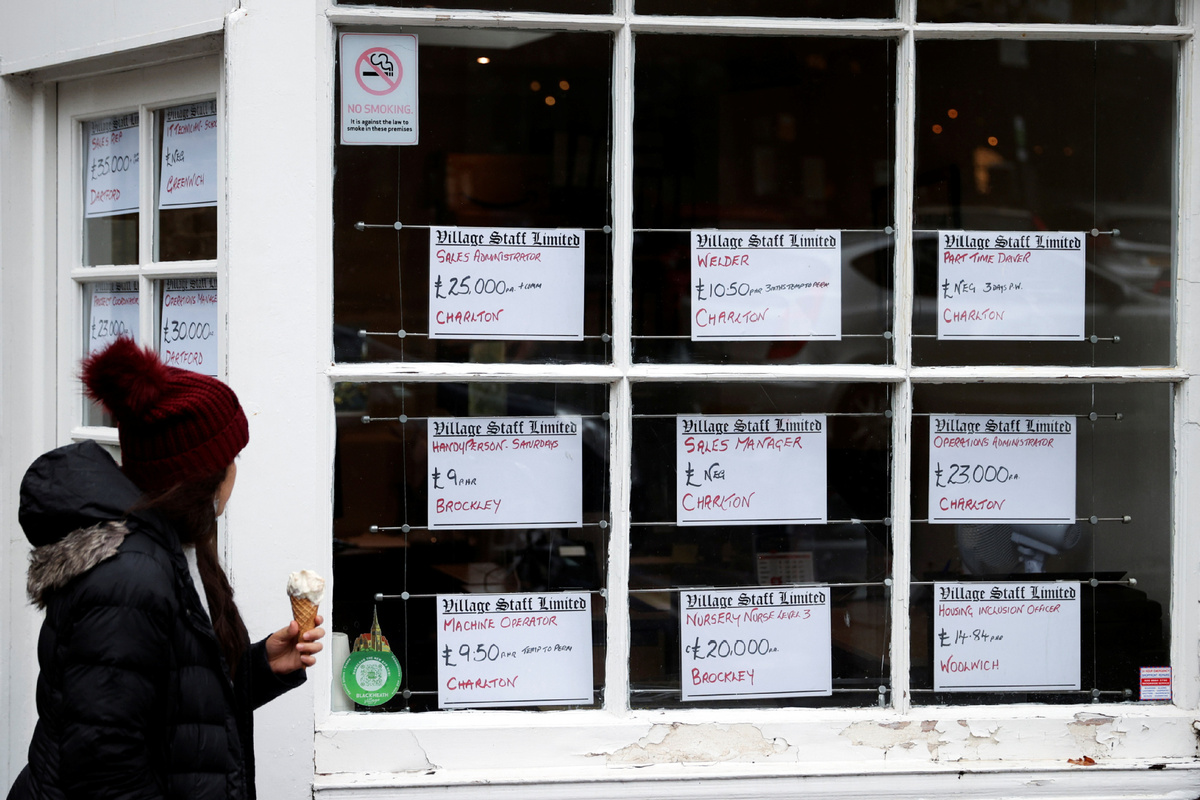 Britain's Chancellor of the Exchequer Rishi Sunak last month announced a new wage subsidy program amid the COVID-19 pandemic to support jobs, but his remedy may not achieve his stated intention of "protecting jobs and livelihoods", according to analysts.
Sunak's remedy, which, prior to being revealed, was expected to be very similar to the German Kurzarbeit program for avoiding mass unemployment during a crisis and his new measures are under a Winter Economy Plan that includes business loan extensions and tax deferrals.
Numerous countries in Europe adopted Kurzarbeit in various forms this year and it was the favored policy of the United Kingdom's Trades Union Congress, which had helped Sunak draft the original furlough program in March.
Kurzarbeit is an alternative to redundancy, where employers reduce their employees' working hours instead of laying them off. The workers' lost income is picked up by the state.
After the financial crisis of 2008, Germany was the only G7 country where employment did not fall and Kurzarbeit was credited.
Amid a second wave of novel coronavirus outbreaks across Europe, and with social restrictions expected to stay in place for six months through the winter, the UK needed a robust solution to avert mass unemployment.
Analysis last month showed that European economies, including the UK, are rapidly losing momentum. Indicators for the UK suggested that the surge in business activity over the summer was ending even before new restrictions came into force.
The chancellor's most significant policy announcement was the Job Support Scheme that is effectively a rebranded form of the existing partial furlough policy, which ends on Oct 31.
Sunak said it will provide income protection for workers that employers bring back for more than a third, but less than all, of their usual hours of work. For every hour not worked, the employer and the government will each pay one-third of the employee's usual pay. It means that workers will receive 77 percent of their pay and employers are paying half of total costs.
However, it means companies that cannot operate because of restrictions in place will not be able to access the scheme. Business leaders said this will lead to heavy job losses, particularly in the events and hospitality sector.
Trade bodies warned the government last month that a quarter of the UK's 100,000 pubs, bars and restaurants could close, with the loss of 675,000 jobs, unless they were given sector-specific support.
On announcing the policy on Sept 24, Sunak told Parliament "this targeted and temporary support will continue to promote as rapid a recovery as possible once restrictions are lifted, minimizing structural damage to the economy and public finances".
The executive director of the Institute for Public Policy Research, Carys Roberts, wrote in a column for the Guardian newspaper that "whereas the German scheme doesn't require employers to contribute to workers' salaries or make social contributions on unworked hours, British employers will have to pay a hefty sum, making it more expensive to keep on two workers than sack one".
"While Sunak's policy offers the dregs of certainty to businesses, German employers can place workers on the scheme for 24 months and enjoy increasing levels of subsidy," she added.
Roberts said that Sunak "chose to let employers select the workers they're willing to pay a heavy price for, and allow the market to deal with the rest".
Independent think tank The Resolution Foundation, which is focused on improving living standards, believes that while the job scheme will reduce the coming rise in unemployment, "it will far from halt it".
It noted that the scheme is broadly in line with the programs in other countries in terms of income protection for workers, but in the UK, employers are being asked to contribute more.
In an online report, the foundation said that the policy has "significant design flaws" that will limit its ability to deliver against the chancellor's objective of ensuring as many people as possible are able to keep working in "viable jobs".
The decision to require employers to contribute half of the costs means that some companies will use it to retain workers, but that "it is not well designed to encourage firms to cut hours rather than jobs", according to the think tank.
"This is particularly true in the low wage, high employment sectors like hospitality and leisure that are at the center of the unemployment crisis," it said.
A major criticism of the winter plan is that there isn't more support for restaurants and bars, theaters and music venues, and the events industry in general.
Roberts said the plan "does not support businesses enough to prevent layoffs, and will be cold comfort to firms that are fundamentally viable but can't operate at all due to local or sector restrictions."