Another UK region placed in strict lockdown amid spreading disease
By EARLE GALE in London | China Daily Global | Updated: 2020-10-22 09:15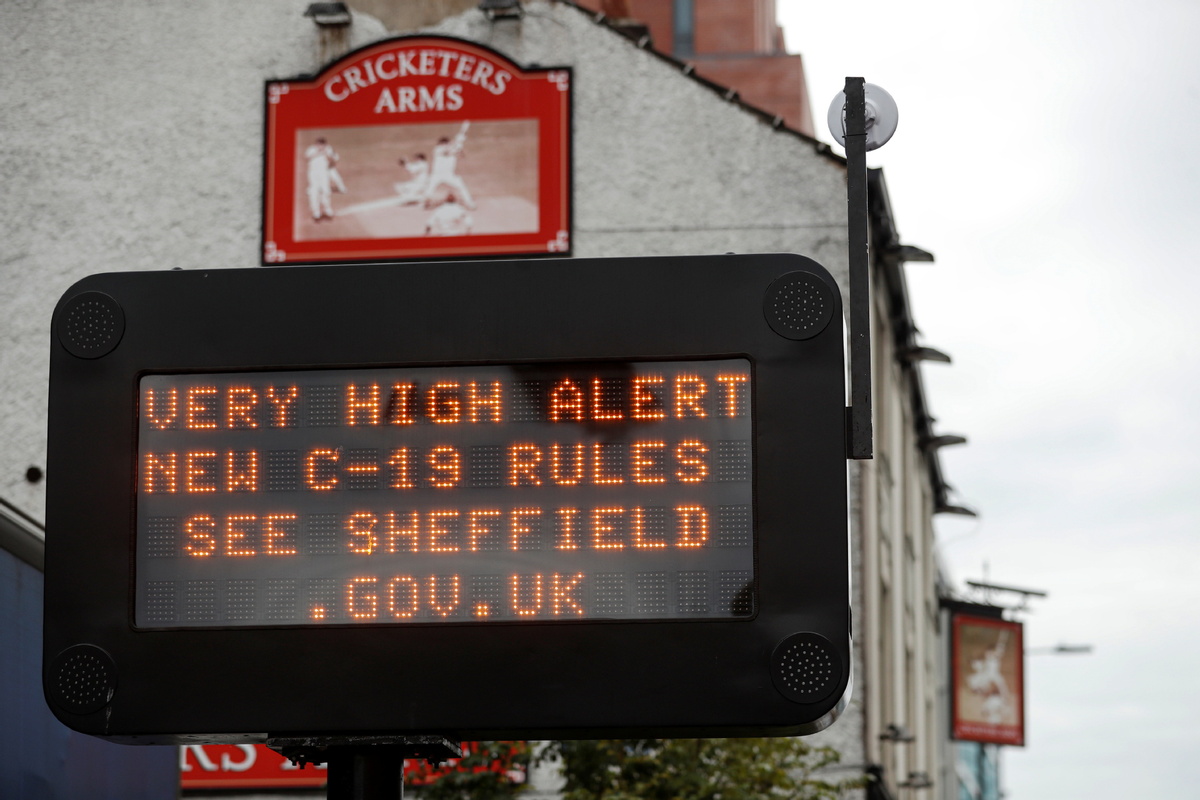 The United Kingdom is set to impose its strictest novel coronavirus lockdown conditions on another large part of the country, after having already put the city of Liverpool, the county of Lancashire, and Greater Manchester on the third and most severe level of its new three-tier alarm system.
The BBC said a local mayor has confirmed that South Yorkshire-an area that includes the urban centers of Barnsley, Doncaster, Rotherham, and Sheffield-will join much of the North of England on Tier 3 on Saturday.
Dan Jarvis, mayor of the Sheffield City Region, said: "If restrictions are effective, individual local authorities will be able to move to lower alert levels as soon as it is safe to do so, in consultation with fellow local leaders, myself, and national government."
People living in cities and regions placed on Tier 3 must not mix with those from other households, and bars, gyms and some other businesses must close.
The government is offering additional funding to regions placed on Tier 3 but some local leaders have complained it is inadequate and questioned whether the way in which Tier 3 restrictions are triggered is fair.
The government has countered by saying its three-tier system is the best way to avoid a full national lockdown in the face of fast-rising novel coronavirus infections and an alarming number of hospitalizations caused by the COVID-19 disease.
Communities Secretary Robert Jenrick said on BBC Breakfast: "We want going into Tier 3 to be a short-term measure that lasts 28 days."
The BBC said the government is believed to be considering placing other parts of the country on Tier 3, including the North East, Nottinghamshire, Teesside, and West Yorkshire.
Meanwhile, as the UK tries to get to grips with a second wave of infections, a top scientist has warned that a future vaccine may not necessarily fully eradicate the disease.
Patrick Vallance, the government's chief scientific adviser, told Parliament's National Security Strategy Committee on Monday that smallpox is the only disease to have been completely eradicated by a vaccine. Other diseases persist despite vaccines and must be dealt with on an ongoing basis, such as in the case of seasonal influenza.
"I think it is unlikely that we will end up with a truly sterilizing vaccine that completely stops infection," he told lawmakers. "It is likely that this disease will circulate and be endemic."
But he added that, "as management becomes better", it is likely that the risk of infection from novel coronavirus will fall, along with the severity of the disease.
Sky News reported that Vallance also said it is unlikely that a COVID-19 vaccine will be available in the UK on a large scale before the early part of 2021.
The UK is currently hosting trials for three potential vaccines. One, which was developed by the company AstraZeneca and the University of Oxford, is in Stage 3 human trials.
While the wait for an effective vaccine continues, the UK is relying on social distancing and hygiene measures to limit the spread of the pandemic, but new studies from Germany and Norway suggest any thought of closing schools in order to halt the virus should be abandoned.
The studies, and two reviews focusing on education globally, suggest school closures have little impact in restricting the spread of the virus.
The Financial Times said the findings will strengthen the arm of lawmakers who want to avoid school closures because of fears that students are falling too far behind.
The Financial Times quoted Franziska Giffey, Germany's minister for families, as saying: "Normal operations must be kept going as long as possible."
One study found that, since schools reopened in Germany, fewer than 0.1 percent of students had become infected with novel coronavirus.
Also, a study from Norway's National Institute of Public Health found most students who were infected in that country were made ill by adults in their homes.
The report writers said schools are relatively safe because of their preventative measures. And it has been well documented that companies that manufacture items used in those preventative measures, such as the makers of personal protective equipment and hand sanitizer, have done well out of the new normal.
Now, the manufacturers of condoms and what the company called sexual wellbeing products" can be added to that list.
Durex, a major condom maker, has reported sales jumped by almost 13 percent when social distancing rules in the UK were relaxed in the summer, as people wanted to mix with others but stay safe.
In continental Europe, the spike in new infections continues.
Slovenia reported a record 1,503 daily cases on Wednesday, Croatia reported a record 1,424, and Poland reported a record 10,040.
Russia is also seeing more infections than ever. It recorded 15,700 on Wednesday, and record 317 deaths.