'Peace general' wants to turn rivals to friends
By MAY ZHOU | China Daily | Updated: 2020-10-24 07:49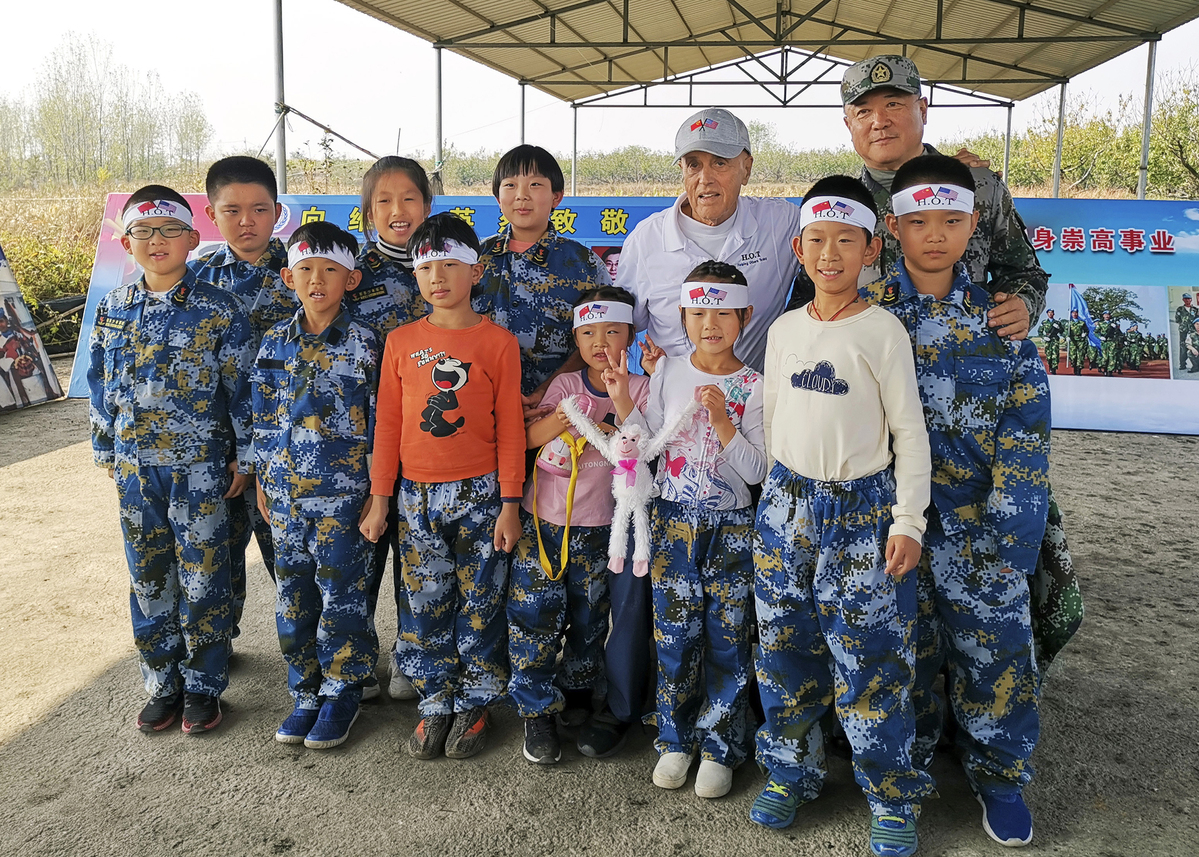 First US defense attache to China worried about current ties between two nations
He fought in the Vietnam War, rose in rank to major general in the US Army, and since retiring from the military, Bernard Loeffke has dedicated his life to world peace. He credits a US soldier with leading him to that path.
"I was with the first team deployed to Southeast Asia in 1959. I went back three times for a total of four years of combat. Yes, Vietnam changed me, but what changed me the most is the death of a soldier in my battalion, Larry Morford," Loeffke said in an interview with China Daily.
Morford, who was 20 years old at the time, didn't believe that war was the way to resolve conflict. Morford wanted to become a doctor to heal others after the war. But he was killed in Vietnam shortly before he was to return to the US at the age of 22. However, his personal philosophy left a deep imprint on Loeffke.
Loeffke first went to China as a White House Fellow in 1973 and became the first defense attache to China as an Army general in 1982. During those years, he learned about Lei Feng, a Chinese soldier who died also at the age of 22, in a truck accident.
Lei Feng was known for giving back to society and helping others. To Loeffke, Lei Feng represents the spirit of volunteer work.
Over the years, Loeffke has been carrying the torches of both Morford and Lei Feng. He completed his medical studies after he retired and became a medical missionary and helped treat people in war zones or poverty-stricken areas in Africa, the Middle East and South America for more than a decade. He has been working with Food for the Poor to build simple houses for poor people in Latin America.
He created the nonprofit organization Helping Others Today, dedicated to fostering friendship between China, the former Soviet Union and the United States.
"My dream is for Russia, China and the US to work together in helping the less fortunate. I am sorry that we withdrew from the World Health Organization. I hope that will change soon," he said.
Loeffke is worried about the current state of relations between the US and China. In an article published in a local newspaper in Florida where he retired, Loeffke wrote:"The Pentagon, a year ago, labeled China as an enemy. We don't need to be calling people enemies. A better name would be competitors. My experience tells me, if we continue calling people enemies, we miss opportunities to create friendships."
'Stone age'
He views the current situation as dangerous. "Many of us feel that small conflicts may lead to wars. It takes only 20 minutes or less for a nuclear missile from Asia to hit the US and vice versa. We can destroy each other utterly," he said.
"As Einstein once said: 'I don't know what weapons we will use for World War III. For World War IV we will be using sticks and stones because nothing will be left after World War III'. We will be thrown back to the stone age."
Loeffke said it's important for countries to have dialogues and build a strong relationship. He recalled one episode in the 1970s when he was a US Army representative during the Strategic Arms Limitation Talks between the US and the former Soviet Union.
"We met twice a week in Geneva, Switzerland. I remember vividly one time we got into a heated debate." he said. "The US general said 'let's stop'. He took out a harmonica and started to play a Russian tune. The Russians who were scowling at us started to smile and clap as he played.
"What was a confrontational situation was changed by singing a popular Russian song together. We ended the session with a toast with vodka to friendship."
He thinks that the US and China need to be having such a dialogue.
"The biggest challenge we have is not to make enemies. The more dialogues we have, the more chances we have to make friends," he said.
Loeffke has been focusing on medicine and children as bridges to build relationships.
In 2012, he created the Friendship Fund at West Point to send cadets to China for three weeks in the summer to teach Chinese children preventive medicine. "It has been said that peace will come when we love our children more than we hate our enemies. Let's make our children peace ambassadors," he said.
Loeffke has been called by a South American reporter the "American Peace General" for his work in that region. He was invited by a Chinese filmmaker to make a special trip to China to meet with Chinese General Wang Zhiyang in October last year. Wang at one time commanded Chinese peacekeepers at the United Nations and is known as the "Chinese Peace General".
Loeffke visited Wang's farm in a small village in Northeast China. Together they taught Chinese children preventive medicine. "The two peace generals became friends in the process," he said.
MAY ZHOU in Houston
mayzhou@chinadailyusa.com