Age of restoration
By Wang Kaihao | CHINA DAILY | Updated: 2020-10-28 07:08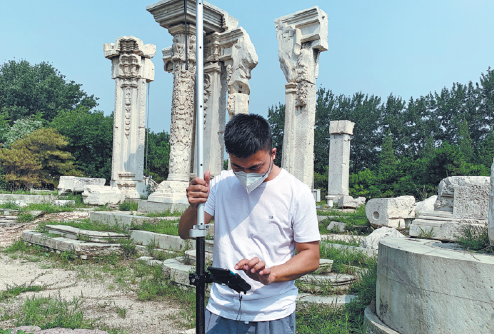 A researcher with Peking University does some 3D scanning of the Yuanying Guan ruins in Yuanmingyuan in July. LI RUI/FOR CHINA DAILY
It has survived rampaging foreign forces and still stands defiant and magnificent. Dashuifa, or the Great Fountain, a group of 18th-century stone ruins, resemble in their fallen splendor ancient Roman architecture. They provide a glimpse of another era, of the glory that was Yuanmingyuan.
Like its name indicates, Yuanmingyuan, or "the garden of perfect brightness", in the northwest of Beijing is generally considered the zenith of ancient Chinese gardens. First built in 1707, construction and expansion of this huge royal resort of the Qing Dynasty (1644-1911) lasted through five reigns. Spread across 350 hectares, the immense garden is five times the size of the Forbidden City.
However, 160 years ago, havoc was unleashed in the tranquil grounds. Anglo-French allied forces looted and burned down Yuanmingyuan during the Second Opium War (1856-60) and the resort was reduced to ruins after being continuously raided by bandits, more foreign invaders, and social upheaval.
The stone arch, columns of the fountain and the nearby Yuanying Guan (Immense Ocean Observatory) comprise some of the few surviving sites in Yuanmingyuan that remain visible above the ground.
In July, a group of archaeologists and history researchers from Peking University launched a detailed measurement and recording program on Dashuifa and Yuanying Guan. They used 3D scanning and high-definition panoramic photography to form a digitized 3D model of the ruins.
"The measurement of cultural relics can provide crucial references for our studies and enable us to produce a virtual restoration in the digital world," says Shang Jinyu, a researcher with Peking University. "It will also facilitate ongoing supervision of the ruins in their current state."
Shang adds that exquisite stone carvings are subject to erosion from wind and rain. The sites were reinforced in 2018, and the designing of a digital exhibition is also being planned.
Peking University is located just across from the Yuanmingyuan Ruins Park. Statues from the former royal resort are also scattered across the campus.
"This connection creates a closer, emotional attachment to Yuanmingyuan," Shang says.
"Protection of cultural relics has to rely on the participation of communities, and the university is one community."
Last year, 36 students from 15 schools of Peking University organized a "digital workshop" to comprehensively record these relics on campus.
The university signed a cooperative agreement with the administration of Yuanmingyuan Ruins Park to establish a research center dedicated to the imperial garden in its School of Archaeology and Museology.
According to Shang, more archaeological excavations in Yuanmingyuan will be led by the school-one of China's best education institutions for archaeology-to better uncover the original appearance of the destroyed gardens. Digital surveys of the surviving above-ground relics will also expand to more sites beyond Dashuifa and Yuanying Guan.