Pandemic deepens our relationship with remote working life, culture
By Barry He | China Daily Global | Updated: 2020-10-29 09:28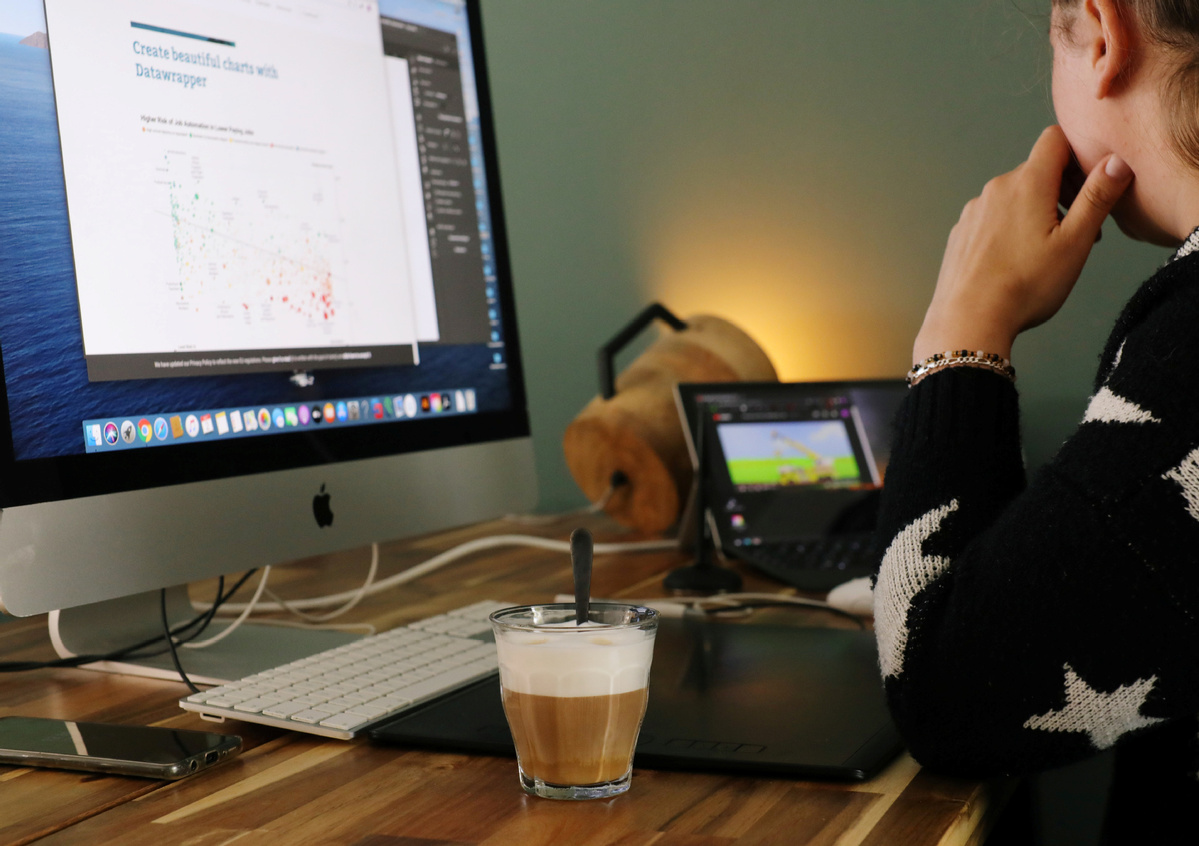 As more of us work from home and use video conferencing to communicate with colleagues, the practice has become almost a rite of passage for 2020. In the United Kingdom, it is estimated that 86 percent of people who are working from home are doing so because of COVID-19 measures, so the remote digital culture is still a new one for many people.
In China, remote working initially drew a mixed response. Many employees complained about intrusive bosses who had trust issues with employees, while some line managers were suspicious of family members distracting their employees, or them finding it difficult to focus in other ways. However, as time passes, and remote working becomes more of a fact of life in a COVID-19 world, many people are embracing the experience, reporting that it does in fact improve productivity and well-being.
Best practice for video conferencing and remote working is still in its infancy. If you are someone who does not have a lot of experience with video conferencing, it may take some getting used to, especially if the whole team is separated and working from home.
To improve your remote professionalism, ensure that your face is well lit, with natural lighting preferable and causing the least distortion. Back lighting can dim your appearance and should be avoided. Instead, ensure the source of light is in front of you.
Make sure that the area around you is clean, and check before a meeting that the camera has a full field of view of everything you are happy to appear in shot. This is also a good time to do a quick technical check to ensure everything is working and connected properly.
Avoid wearing clothes with stripes or complicated patterns, as they may add to distortion on camera or be distracting. Bright clothing may also cause the camera to auto-adjust and dim your face, so neutral colors are best.
The new minefield of remote office etiquette has taken workers worldwide into uncharted territory. According to an IWG Global Workspace Survey, 51 percent of businesses in China said they have a flexible attitude towards workplace policies. For many people, this new enforced working method is heralded as promoting the good work/life balance that for many years, some people have been campaigning, or secretly wishing.
Despite the challenges of the pandemic, many workers have found saving time and money on an early commute, and instead having a more relaxed start to the working day, is an improvement.
Remote working is still a mixed blessing, though, especially in the current global situation, where companies that may not necessarily be best suited to remote working are nevertheless forced to do so.
Increased isolation may result in team members feeling less attached or motivated towards goal-orientated operations. Meanwhile, employers may feel less in touch with their workers, reducing their ability to hand out promotional opportunities or track progress or well-being. The lack of bonding may also lessen feelings of camaraderie between workers than exists in the office.
Efforts to deepen the richness of remote office life, such as welcome delivery treat baskets for new employees, and online social events for teams, will go some way to rectify these shortcomings. The longer the pandemic continues, the deeper our professional lives will become entrenched in remote working culture.
But one day in the future, when this is all over, we may find that our newly-normalized relationship with and comfort in the world of remote working may be more sophisticated than pre-pandemic times.
Barry He is a London-based columnist for China Daily.