Breeding heightens fears over locusts in E. Africa
By EDITH MUTETHYA in Nairobi, Kenya | China Daily | Updated: 2020-10-29 09:47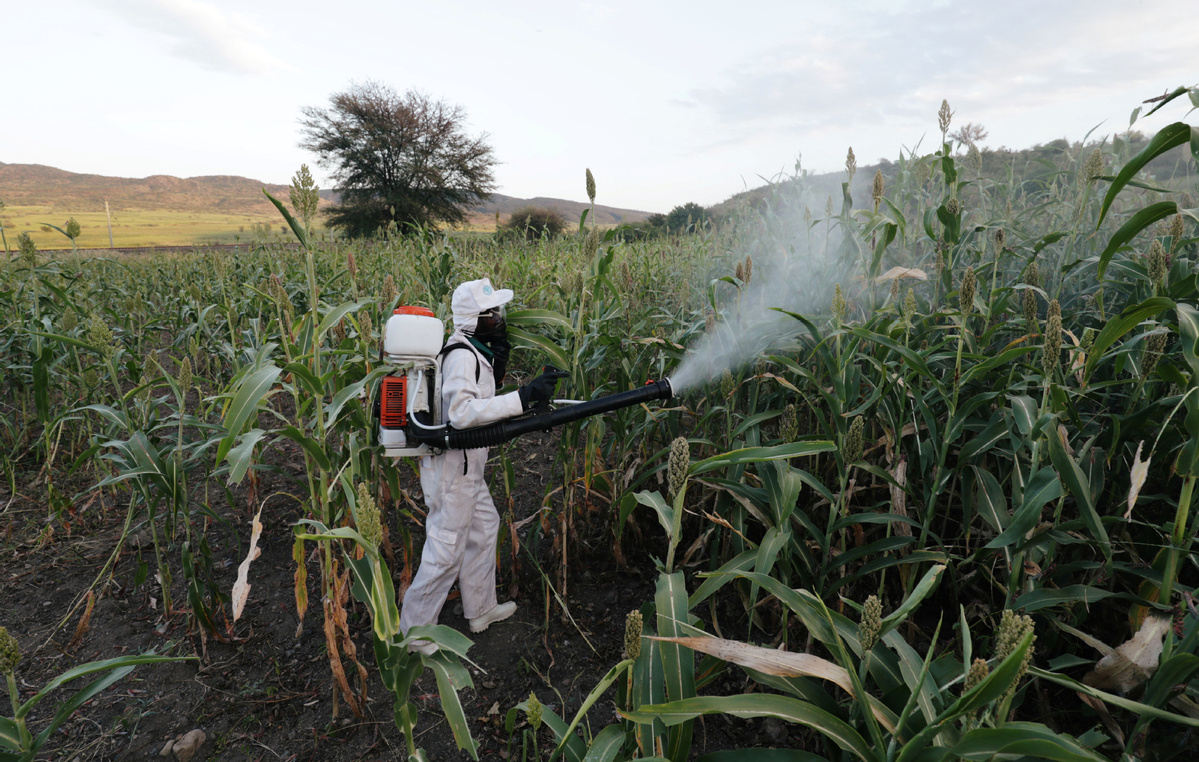 Desert locusts that first invaded the East African region in June 2019 still remain a threat as the third generation of the damaging pests begin breeding in some countries, raising fears of continued food insecurity which has been worsened by the impact of the coronavirus pandemic.
According to the Food and Agriculture Organization, or FAO, the situation remains critical in the region, as swarms form and a new generation begin breeding in Ethiopia and Somalia.
The UN agency said the breeding will cause fresh swarms to form by mid-December that are likely to move southward, threatening Kenya among other countries.
"Although countries are better prepared compared to a year ago, survey and control operations need to continue to detect and reduce as many infestations as possible. In addition, locusts are increasing along both sides of the southern Red Sea," the FAO said.
Somalia, Ethiopia and Kenya have been the most affected countries in the region, with the pests leaving a trail of pasture and crop destruction in those countries.
In Somalia, immature and mature swarms are present in the northwest between Boroma and Hargeisa while mature adult groups are present and breeding in the northeast and in the central areas of Mudug and Galgaduud.
The FAO said hatching and band formation have commenced in the past few days and more is expected in the coming weeks, including in the northwest once the insects begin laying their eggs.
In Ethiopia, numerous swarms are present along the western and eastern edges of the northern Rift Valley in the Afar and Somali regions.
New generation
While some of the swarms have moved into the highlands of Tigray and Amhara, most of them are moving south into the Rift Valley to Asela, and east to the Harar Highlands and beyond into the Ogaden to Degeh Bur, according to the FAO.
A new generation of breeding insects has also started in the far eastern portion of the Somali region where hatching and hopper bands are forming.
The FAO expects more laying, hatching and band formation to occur in the area during November.
A few small maturing swarms also persist in Kenya's Samburu County, with local breeding likely to occur in the northwest with the onset of short rains.
The FAO said while the next generation of swarms that form in eastern Ethiopia and central Somalia are likely to arrive from mid-December. There is a low risk that a few swarms currently in Ethiopia may arrive in the northeast in mid-November.
In Sudan, more hatching and hopper bands have formed in the east between the Atbara River and the Red Sea Hills, with some of the hoppers fledging and forming groups of immature adults.