Roadmap plots course of China's auto industry
By ZHANG DANDAN | China Daily | Updated: 2020-11-02 09:57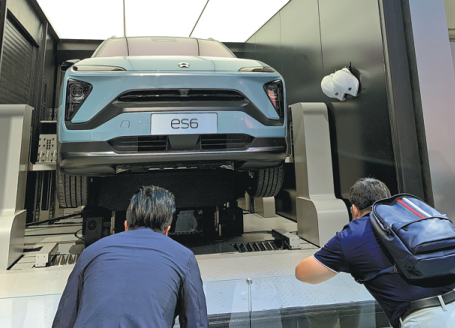 Annual production, sales of new energy vehicles to vastly increase by 2035
The annual sales of energy-saving and new energy vehicles is estimated to account for 50 percent of the country's total by 2035, according to an updated technology roadmap launched by the China Society of Automotive Engineers on Tuesday.
The updated technology roadmap, or the Technology Roadmap for Energy Saving and New Energy Vehicles 2.0, reveals that by 2035, the annual production and sales in China's automobile industry will be dramatically improved, and safety, efficiency, convenience, economy and going green will become the main upgrading directions in travel.
At that time, gasoline-powered passenger vehicles will be converted to hybrids, as NEVs will become the mainstream, said Li Jun, director-general of the China Society of Automotive Engineers.
The new technology roadmap also proposes overall goals for China's automobile industry by 2035, which include that the industry will realize electrification transformation; intelligent connected vehicle technologies will be mature and widely applied; a concerted, efficient, safe and controllable automobile industry chain will be formed; an intelligent mobility system comprising travel, energy and urban development will be established; the mechanism of technological innovation will be improved.
According to the upgraded technology roadmap, by 2035, the annual sales of electric vehicles will account for more than 95 percent of all NEVs in China.
From 2030-35, hydrogen and other fuel-cell vehicles will have a wide application, and the number of such vehicles will reach about 1 million.
In 2025, 2030 and 2035, the average fuel consumption of new cars including NEVs will reach 4.6, 3.2 and 2.0 liters per 100 kilometers, respectively. The average fuel consumption of new cars excluding NEVs will reach 5.6, 4.8 and 4.0 liters per 100 km.
High-level autonomous vehicles will enter the market by 2025, and will be widely used on highways by 2030. And by 2035, autonomous vehicles are expected to be able to run with other vehicles on the same road.
In terms of power battery technology, the technology roadmap states that by 2035, China's power battery technology will be in a leading position in the world, and a complete, independent and controllable power battery industry chain will be formed.
It is estimated that by 2035, the number of slow charging piles will total more than 150 million, comprising private and public ones. And the public fast charging poles will reach 1.46 million units, serving more than 150 million vehicles.
At the same time, battery swapping will be widely used in the urban mobility service industry, which includes taxis and online car-hailing.
By 2035, it is expected that the lightweight index of fuel-powered passenger vehicles will be reduced by 25 percent, and that of electric passenger vehicles by 35 percent.
According to Li, by 2035, China's automobile industry will realize an independent and controllable industry chain, complete intelligent industrial transformation and will have an enhanced innovation capability.
Meanwhile, a policy system conducive to low-carbon and intelligent development will be formed for the country's automobile industry, and a comprehensive talent system will be established.