Companies hail 'milestone' in vaccine development
By Julian Shea in London | chinadaily.com.cn | Updated: 2020-11-10 09:00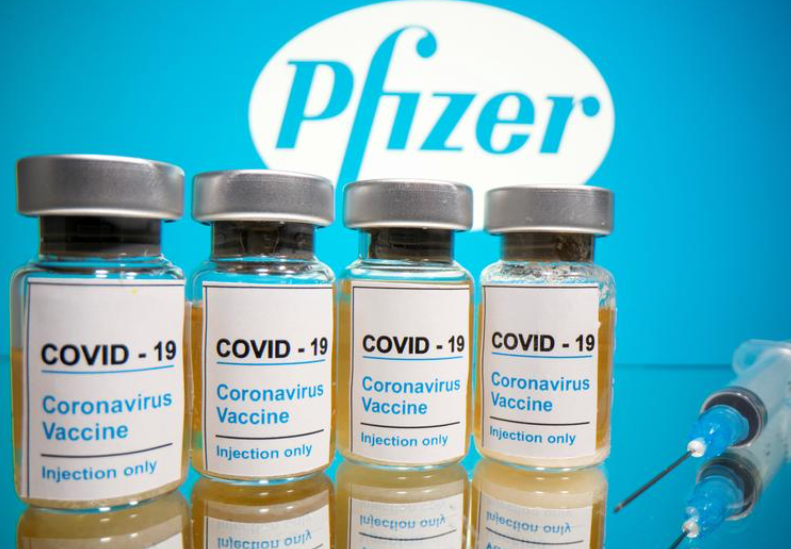 The global fight against the novel coronavirus has taken a major step forward after pharmaceutical companies Pfizer and BioNTech said initial studies of a vaccine showed 90 percent success and no safety concerns.
The companies have carried out tests on 43,500 people in six countries, and called the announcement a "great day for science and humanity".
It is believed they plan to seek emergency approval for the vaccine's use by the end of the month.
"We are a significant step closer to providing people around the world with a much-needed breakthrough to help bring an end to this global health crisis," said Pfizer Chairman Albert Bourla and Ugur Sahin, one of the BioNTech's founders.
They added that the results were a "milestone".
Globally, there are around a dozen trials at an advanced stage, but this is the most significant breakthrough so far. However, there are many challenges, not least the practicality of production.
Two shots, taken three weeks apart, are needed, and trials have shown that it the vaccine becomes effective seven days after the second dose. The vaccine must also be stored at very low temperatures, which will present a major problem in many parts of the world.
Pfizer estimates it could supply 50 million doses by the end of this year, and around 1.3 billion by the end of 2021. The United Kingdom government is believed to have ordered 30 million doses.
Meanwhile, the deputy chief medical officer for England has told every hospital in the country to take immediate action to isolate any patients suspected of carrying a new strain of COVID-19 that emerged in mink in Denmark.
A letter sent to health chiefs, co-signed by Jonathan Van Tam and the medical director of the National Health Service, Steve Powis, said any novel coronavirus patients known to have traveled recently from Denmark need isolation and specialist treatment.
The Daily Telegraph newspaper has seen the letter warning that the new strain seems to show "less sensitivity for neutralizing antibodies" and is therefore more vaccine-resistant.
It goes on to say that any patient who has been to Denmark recently and needs urgent hospital treatment should be "managed in strict isolation in a single room with en-suite bathroom facilities". Should they go on to test positive for COVID-19, they should be transferred immediately to a specialist infectious disease center.
Concern about potential infections from Denmark led to the introduction of new travel curbs on Sunday. Non-British nationals or residents who have been in or transited through Denmark in the last 14 days will be barred from entry, and anyone who is allowed in must isolate for 14 days, along with members of their household.
Passenger planes, ships, and shipping companies from Denmark also face restrictions, but trade association Logistics UK said the industry should be able to handle any potential disruption.
"Importers can switch between transport modes to ensure that products still arrive at the end customer," said a statement. "In any case, much of the ferry transport between the UK and Denmark is sent in unaccompanied trailers, so drivers simply collect their loads from ports, with no need to travel across the border."
Britain's foreign secretary, Dominic Raab, told the BBC the travel precautions were "common sense measures that the public would expect us to take".
Authorities in Denmark said the mutated virus has not been found in humans since September, with Tyra Grove Krause from Denmark's Statens Serum Institut suggesting it is "either … in circulation without us having discovered it … or otherwise it may have died out".
Britain has not farmed mink since the early 2000s, but has a wild mink population of around 112,000. New cases of novel coronavirus linked to mink farms have been reported in six countries, according to the World Health Organization.
Veterinarian staff in Denmark must now cull and dispose of 17 million mink. James Wood, a veterinary professor from Cambridge University, told the Guardian newspaper this might not kill off the new strain, but could prevent further mutations.
"If the reports of nearly 800 people being infected with the mutated strain are confirmed, it is highly likely this scale of transmission will have been driven by person-to-person transmission, rather than from direct mink-to-person transmission," he said. "That means culling mink may not in itself cause the strain to disappear, but it may stop further mutant strains from developing."
It has also been reported that scientists advising the UK government are keen to get hold of virus samples from Denmark, to study how it reacts to antibodies from recovered patients and also those currently taking part in vaccine trials.