Capacity building booster
By Jiang Xiheng | China Daily Global | Updated: 2020-11-10 08:25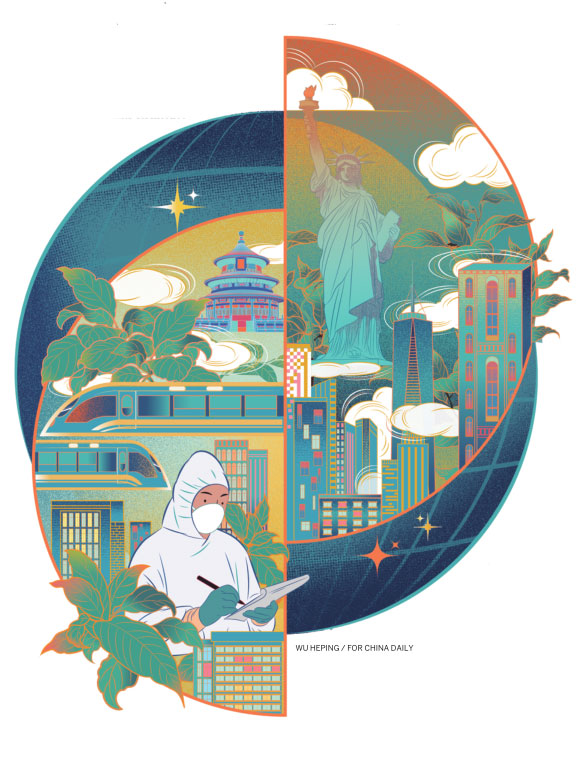 China's industrial and digital technologies can be leveraged to promote the capacity building of developing countries in the post-pandemic era
Industrial and technological capacity is the bottleneck for many developing countries, which are showing an ever-increasing demand for technology transfer and capacity building. China's international development cooperation has focused on capacity building for countries through development assistance, trade and investment, bearing in mind the principle of "teaching one to fish is better than giving him fish". Chinese companies are competitive in offering applicable technologies with low costs. Over recent decades, Chinese government institutions and companies have been transferring applicable technologies on agriculture, water conservancy and sanitation, healthcare, hydropower, and manufacturing to many developing countries, contributing to the development of the countries and gaining wide local recognition.
However, the impact of the COVID-19 pandemic reminds us that the supply of clean water, food and power is still a huge challenge for many developing countries. Enhanced momentum in technology transfer and capacity building is an urgent need for the post-pandemic era. However, there are some hurdles to overcome.
Many developing countries expect to introduce advanced technologies and industries to achieve leapfrog development. However, companies lack enthusiasm to invest in high-tech industries in the countries due to the lack of local industrial support, as the labor force, supply chain and market prospects in some countries are not up to the commercial conditions. We can see the dilemma in the development of industrial parks in some countries. Moreover, the increasing environmental and social standards have increased demands for environmental and climate friendly technologies but at the same time limited immediate options for applicable investment. The economic impacts caused by the pandemic will also reduce the financial capacity of governments in infrastructure investment.
In light of this, the following policy recommendations are proposed. First, efforts are needed to strengthen the partnerships between governments and the market. Trade and foreign direct investment is a main channel of technology transfer. The market mechanisms include sales of the ownership and licensing the right to use technologies or patents through market channels as well as the signing of commercial agreements on intellectual property rights. Multinational companies are the most active entities in international technology transfer through foreign direct investment, including establishing subsidiaries to receive technology transfer from parent companies, developing joint R&D projects and technological exchanges, and the establishment of joint ventures. In the post-pandemic era, the recovery and promotion of foreign direct investments is crucial to developing countries. International development cooperation policies among North-South and South-South countries should attach more importance to investment facilitation policies and collaboration.
Second, technology transfer needs to be combined with the post-pandemic economic recovery plans of countries. The pandemic has severely affected the global economy and prompted people to further reflect on the relations between people and nature. While taking measures to control the pandemic, countries are rolling out economic stimulus plans. While increasing economic relief expenditure to overcome difficulties, the countries have increased investment to improve their capabilities to fend off risks to people's health, and address climate and environmental changes, to "build back better". As many leaders noted, countries are facing dual crises posed by the pandemic and climate changes. For instance, according to a report released by African leaders on May 25, the stimulus plans of African countries need to focus on infrastructure construction, and food and water safety. Cooperation on the development, transfer and application of green technologies will therefore be especially important in the post pandemic era. For instance, China's digital and industrial advantages can be leveraged to promote the digital transformation of traditional industries and boost telemedicine, e-commerce and online education, which are essentially green and inclusive. Not only the technologies, but also the experience and lessons of China to shift the development model and adopt the philosophy of pursuing innovative, coordinated, green and open development for all.
Third, technology transfer cooperation can be integrated with finance, especially green finance which is increasingly becoming an important driver of sustainable development. Concepts such as green and sustainable investment are prevailing in the international capital market. According to a study by Deutsche Bank and Global Sustainable Investment Alliance, the scale of global sustainable investment under environmental, social and governance mandate will reach $135 trillion in 2030, accounting for 95 percent of total assets. China is leading the growth of green finance and in 2019 China was the top green bond market. Following President Xi Jinping's announcement that China is committed to achieving carbon neutrality by 2060, China's financial regulators and institutions are gearing up efforts of green finance.
Fourth, efforts are needed to improve tripartite and multilateral cooperation. The Chinese government has advocated multilateralism and highlighted cooperation based on consultation and collaboration for shared benefits. Through bilateral, tripartite and multilateral cooperation, the strengths and potential of all involved parties can be given full play through their complementarity. For example, China has improved cooperation on vocational education and training with the German development agency GIZ and enhanced joint R&D work with France in African countries. Developing countries can benefit from the rich supply of knowledge and technologies through tripartite and multilateral cooperation, to search for what is best in their development context.
It is expected that greater efforts in technology transfer and capacity building will help promote countries' post-pandemic recoveries, better safeguard people's health and improve their well-being.
The author is a vice-president at the China Center for International Knowledge on Development. The author contributed this article to China Watch, a think tank powered by China Daily. The views do not necessarily reflect those of China Daily.