Benefits from students outweigh IP concerns
By LIA ZHU in San Francisco | China Daily | Updated: 2020-11-10 10:48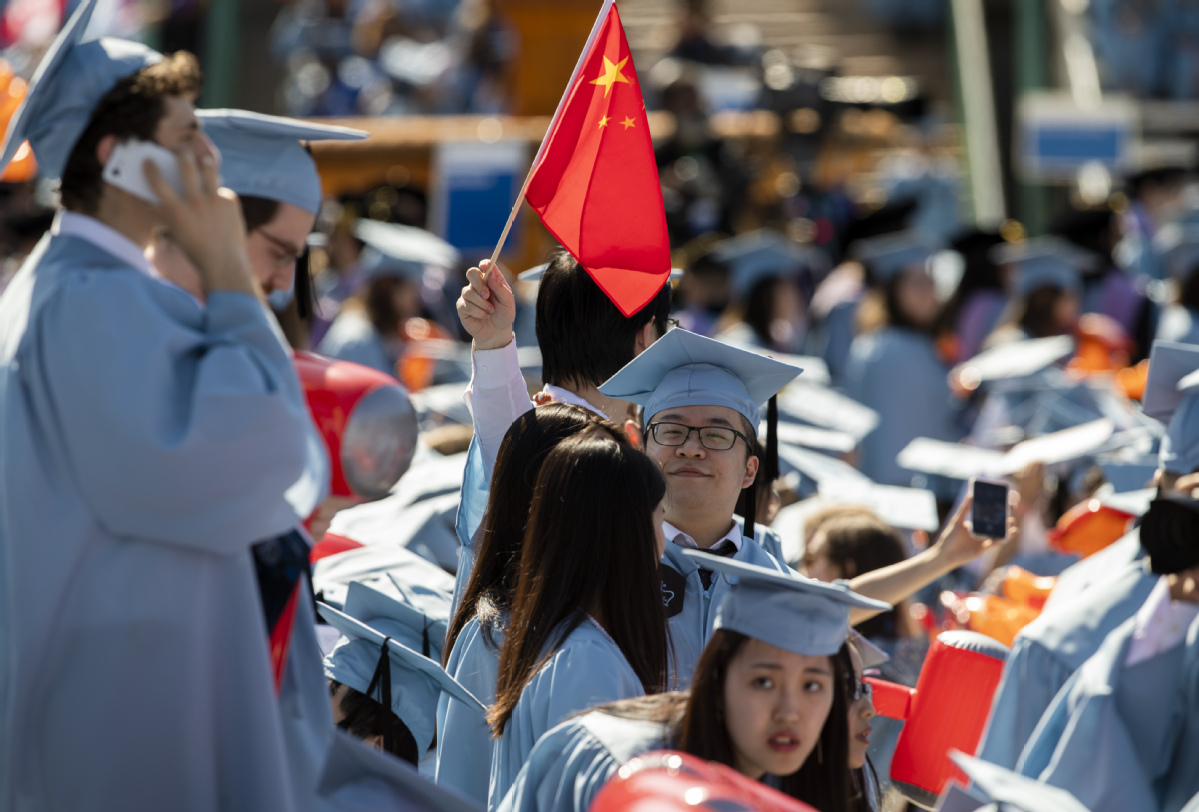 While the administration of US President Donald Trump cracks down on Chinese students over alleged intellectual property theft, a prominent US professor said the economic, scientific and technological benefits coming from those students "far outweigh" those from university-generated IP.
"Students are the most important product of our nation's universities, not the IP, and we should never forget that," said Arthur Bienenstock, co-chair of the American Academy of Arts and Sciences' Committee on International Scientific Partnerships.
Bienenstock, also professor emeritus of photon science at Stanford University, said that virtually all university research is intended for the open literature that is widely available.
"China will see it once it's published or patented," he said. "The national security, economic and health benefits of that research typically come years later, after development by industry."
He used Stanford as an example to compare the economic benefits of a university's IP with the benefits provided by students after graduation.
From September 2018 to August 2019, Stanford received $49.3 million in gross royalty revenue from its IP, the university said.
A 2012 study by two Stanford professors showed that companies founded by the university's alumni generate $2.7 trillion in annual revenue and created 5.4 million jobs since the 1930s.
"Now, who are those students? NSF(National Science Foundation) data show that foreign students earn more than 50 percent of the master's degrees and doctorates in computer science, mathematics and engineering and 40 percent in the physical sciences, the field that is so important in artificial intelligence, 5G and quantum information-the designated industries of the future," said Bienenstock.
"About half of those foreign students are from China, with many also from India."
In Silicon Valley, 67 percent of the new tech talent in the core working age group-from 25 to 44 years old-are Asian, the majority from India and China, according to the 2020 Silicon Valley Index by Joint Venture Silicon Valley.
"It's vital that the nation maintain a strong science and technology workforce, and graduate students from China are an important part of that. It is vital that the US remain a leader in fundamental research, and international collaboration, including with China, is an important part of that," said Bienenstock.
"Thus, a primary goal of national science and technology policy should be to encourage a steady flow of Chinese, Indian and other foreign students to our graduate schools and to ensure that most of them remain after gaining their degrees," he said.
'Key attracters'
But the government's policies are "doing the opposite", weakening "the welcoming openness and vitality" of US graduate schools that are "key attracters" to foreign students, he said.
In September, a US State Department spokeswoman said the visas of more than 1,000 Chinese students and researchers were revoked for alleged ties with the Chinese military. China has denied the claim.
"With over 80,000 Chinese engineering graduate students studying in the US, we have heard of less than 10 prosecutions. Similarly, with thousands of Chinese-born NIH (National Institutes of Health) grantees, as of last June, the FBI investigations have led to determinations of violations of NIH rules by 154," said Bienenstock.
Of the 154 violations, he said, nine involved peer review, and seven were patent violations, with the remainder failure to disclose foreign grants or talent awards.
Patrick Toomey, senior staff attorney in the American Civil Liberties Union's National Security Project, also noted the "disproportionate prosecutions" that have targeted people of Chinese or Asian ancestry.
"It comes in no surprise that we find those statements (of IP theft) completely over broad," said Toomey at a recent webinar. "The result is what would have been treated as administrative issues or private employment disputes a few years ago is transformed into criminal charges brought by the government in different parts of the country."