Studying abroad in China fulfills woman's dream
chinadaily.com.cn | Updated: 2020-11-11 15:26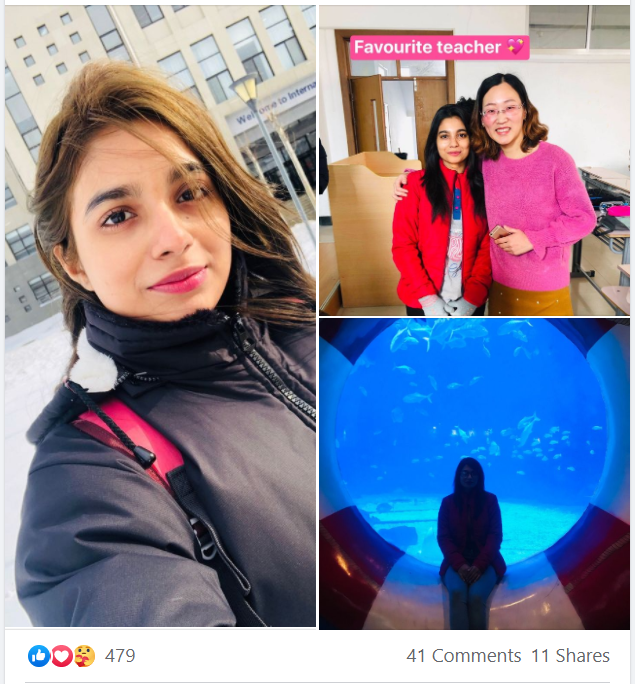 Being a woman and studying abroad alone, as well as living without family, is not an easy thing to do.
I'm 21, a student at Shandong Technology and Business University, which is in Yantai city, East China's Shandong province, China. My major is electrical engineering and automation. Here's the story of my journey to China.
When I received my admission letter, I thought I was day-dreaming. I couldn't believe my wish to go to China for higher education had come true. I took one step forward towards my life's dreams. However, it also was a challenge for me since I had never lived alone before or knew how to buy groceries, so it was quite tough for me.
I traveled to China all alone and this was my first time to travel alone in my entire life. When the plane started taking off, I looked out of the window: I was leaving my family, my home and my country behind. I cried my heart out. My transfer was at Kunming airport. After I arrived at Kunming, I could feel that I didn't need to worry because China is so safe for everyone. At Kunming airport, people helped me in every possible way because I was too nervous and also struggled to carry my heavy luggage. The next day I safely landed at Penglai airport, Shandong by another flight. My university sent three Chinese students to pick me up from the airport and take me to the university. How responsible they were! I was relieved and pleased too.
Like the other universities, my university has their own dormitories on campus. I live in a university dormitory, which is very comfortable. My university is charming and beautiful with two huge campuses. I'm lucky to be a student in China. Indeed, it's a dream country.
I still remember my first day at the university: A female teacher spoke to me in the corridor and said, "Hi, maybe you're my new friend. My new student," and then hugged me and said, "Welcome to China". When I arrived, I was very confused about the food. As I am a Muslim, I have to eat halal foods. To my surprise, my teacher told me that they have Muslim canteens for the Muslim students and these canteens provide 100 percent halal foods. Also, I can cook in the dormitory's kitchen. Another important thing I want to mention is that our teachers and other Chinese people are very sensitive and respectful towards our religion. At every occasion, such as Chinese New Year, teachers give us treat. They made sure the foods are 100 percent halal because many of us are Muslims. Even if any teacher eats any non-halal food in front of us, they ask permission so that it won't hurt our religious perspective. They are very careful about the religious restrictions of all the religions and have total respect towards them.
I have never been bored here. My teachers help me to find wonderful places nearby so that I can have happy weekends by exploring new places and foods. I often visit the historical museums, parks, mountains, beaches and tourist spots. If anyone loves to travel, like me, they will love China for its beautiful scenery. The museums are full of China's historical background. Their ancient kings, kingdoms and their lifestyle, their weapons and swords, the export and import business history, economic development, all are presented in the museums. I personally find it very interesting to know about their antiquity and history. The second interesting thing is, I have visited Yantai Haichang Whale and Shark Aquarium. All the marine animals are there, especially some cute baby whales, many kinds of sharks and more than a hundred kinds of jellyfish. Seeing them is breathtaking and a new way of learning about sea-life.
Talking about the winter season another memorable thing comes to my mind - the first snowfall in my life. I enjoyed my first snowfall in China in the winter of 2019. I can't express in words how tremendous the environment becomes when snow falls. We went out to play in the snow and made snowmen. When the pandemic started, I was in China. I will never forget how our teachers cared for us, and how they handled the situation. They comforted us and let us feel that we were not alone there; they were 24/7 with us. They gave us free food and masks, along with other necessaries so that we didn't have to go outside campus to buy them. Whenever any of us felt ill, the teachers took us to the university hospital immediately to make sure we were in good health during the pandemic. They ensured 100 percent cleanliness of the dormitory. Every day they came to disinfect the rooms, making sure we were healthy and hydrated and our body temperature was normal. I am so grateful to the teachers; they have done a lot for us. I thank them with all of my heart.
I can write pages after pages about China, although I have written a little but there's a lot more. Once a person comes to China, he can't stop himself from loving China and Chinese people. I made the right decision. I choose the right country. I love China!
Arabia Hossain is a student at Shandong Technology and Business University, which is in Yantai city, East China's Shandong province.