Blissful life on paddleboard draws enthusiasts in Dalian
By ZHANG XIAOMIN in Dalian, Liaoning | China Daily | Updated: 2020-11-23 07:27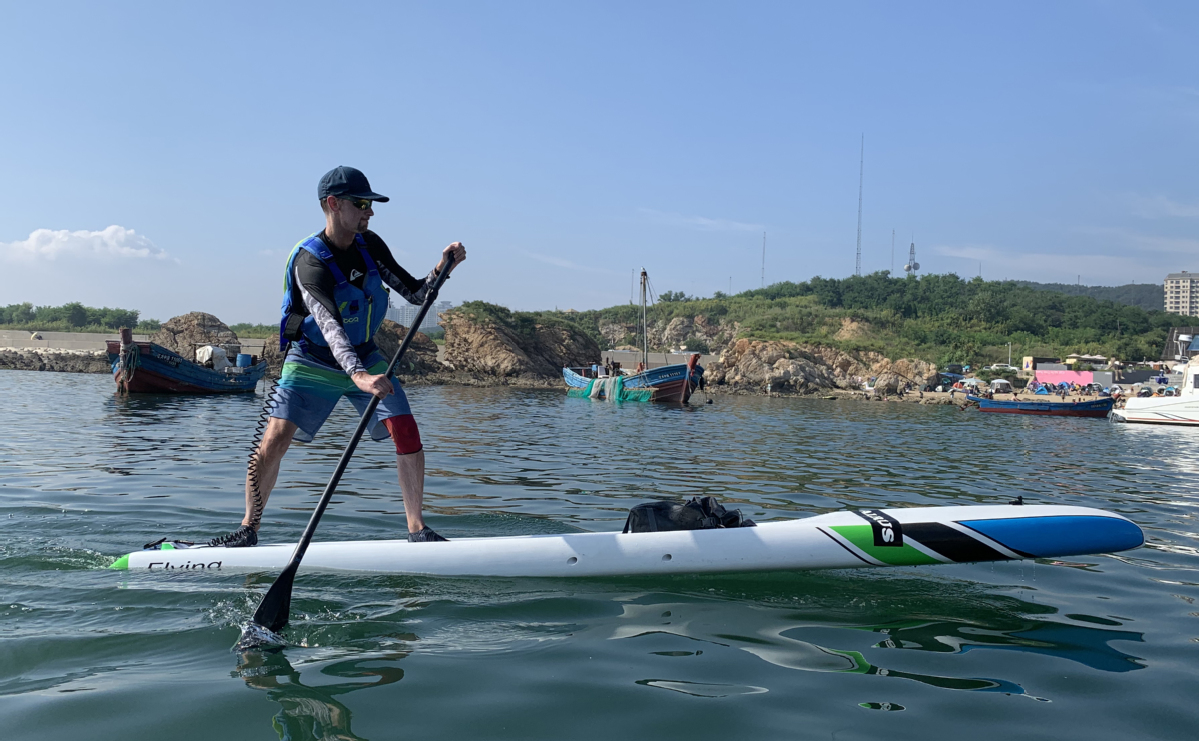 Were it not for the coronavirus pandemic, stand-up paddleboarding enthusiast Bartosz Zimoch from Poland would have gone with his family to Hawaii for their summer vacation.
But since he couldn't travel, he realized that Dalian, the northeastern coastal city where he has been living for nine years, is an ideal aquatic destination for what enthusiasts call SUP.
"SUP is part of my life now. In the past two years, I would usually take an inflatable board with me as I traveled around," said Zimoch, the manager of a multinational corporation's Dalian plant.
"This summer, I tried some areas in downtown Dalian, the city's Jinpu New Area and the Jinshitan National Tourism Resort. I find that the water is clear and more local people are enjoying SUP."
Sometimes, Zimoch takes part in the activities of a local SUP club. People sharing the same interest held some recreational races or rented boats to carry them far from the shore to paddle.
"Most of the time, I did SUP in the Jinpu New Area. There is a good seaside resort only 1 kilometer from our home," Zimoch said.
The family went paddling virtually every weekend this summer. Zimoch and his wife took their 6-year-old son and 10-year-old daughter. The daughter can paddle herself on her own board.
Three friends were inspired and bought paddleboards.
"It's easy to start and good family fun," Zimoch said. "For those who cannot swim, the secret is a life jacket."
Zimoch now has five boards. As his skills grew, the boards became narrower and faster.
He is designing his own board now and planning to order 20 tailor-made boards to share with his friends in Poland.
"Inflatable paddleboards are cheaper and easy to store," he said. They're available for about 1,000 yuan ($152) on Taobao, the e-commerce site of internet giant Alibaba.
The open environment of the ocean, which ensures social distancing, is one reason for SUP's rising popularity in Dalian, said Jiang Huawen, general manager of Dalian-based Smart Founder Sports Co, which organizes marathons and bicycle races. When the pandemic came along, all the company's core events were suspended. That's when Jiang turned to SUP.
"Unlike running, it does not yet have a good mass base. But it has little risk related to gathering. Whether as a spectator sport or mass participation races, SUP will have relatively large development potential in the future," Jiang said.
Since May, Jiang did some SUP training from time to time and recruited 40 members for a teen SUP summer camp that combined sports training and marine knowledge.
But the emergence of a confirmed COVID-19 infection on July 22 in Dalian disrupted his plans once again.
It wasn't until the end of September that he organized the first event of the year-a SUP race in Dalian's Changhai, an island county in the Yellow Sea.
On June 23, Jiang and several other paddlers met four finless porpoises in the open sea near an island. He posted photos and video on social media and received many "likes".
We can hold more races as localsget involved in SUP, said Fu Chunqiang, director of the county's culture, tourism and sports bureau. He added that the races promote the development of the sport.
Fu said the local government is planning to build a SUP sports base and develop the race as a new brand for the county.
"As a renowned island resort, Changhai is famous for its delicious seafood, beautiful coastlines, pristine beaches and serene bays," he said. "It is an ideal place for water sports."
Wang Jie, a local SUP enthusiast, feels the same way.
"We have numerous beaches and bays here. When the south wind blows, we go to paddle at the north shore, and vice versa. We can always find a calm place," Wang said.
A dozen of his friends have followed his lead and bought boards. They enjoy seeing the sunrise or fishing from a board.
"It's getting cold here in Dalian. Fewer people are paddling out. But I'm quite sure SUP will become much more popular next summer," Wang said.